Ride with the Pony Express
Story and photos by Kathleen Walls
"Help wanted. Young, skinny, wiry fellows, not over eighteen. Must be expert riders, willing to risk death daily. Orphans preferred. Wages $25 per week." Would you answer this ad? During the 18 months the Pony Express was in operation, over 230 young men applied and were accepted. Some died in performance of their duties. Others went on to different careers after the Pony Express ended.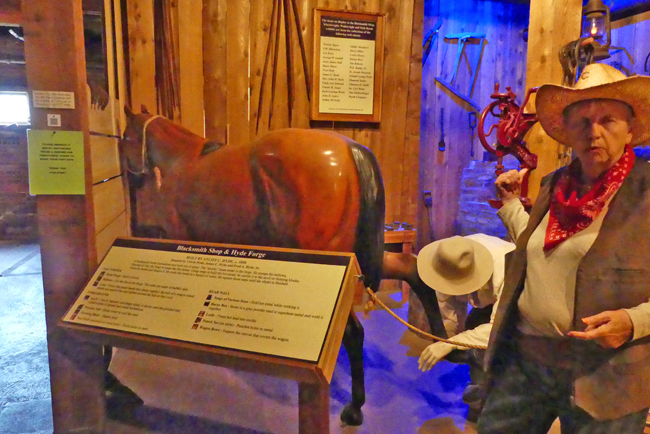 The Pony Express Museum in St. Joseph tells that story. It is located at the site of the Pony Express stables and has one of the original walls. Our docent, Annie, led us through the Pony Express Museum. One of the first exhibits is a wheelwright's shop, the equivalent to a present-day tire shop. Adjacent to the wheelwright is another business equally important at that time, the blacksmith's shop and forge. The forge was built by Anliff Hyde. There's a picture of his Hyde's son, Calvin, taken in 1960 when he was 92 inside the forge just before they dismantled it.
<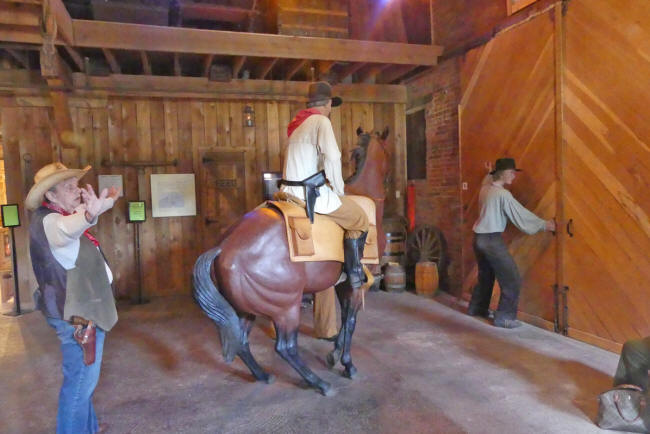 One exhibit shows the first Pony Express rider, Johnny Fry, as he prepares to leave this same stable in St. Joe with the first batch of mail. Spectators cheered him on. The exhibit is so realistic and Annie, in her western costume, fit in like part of it.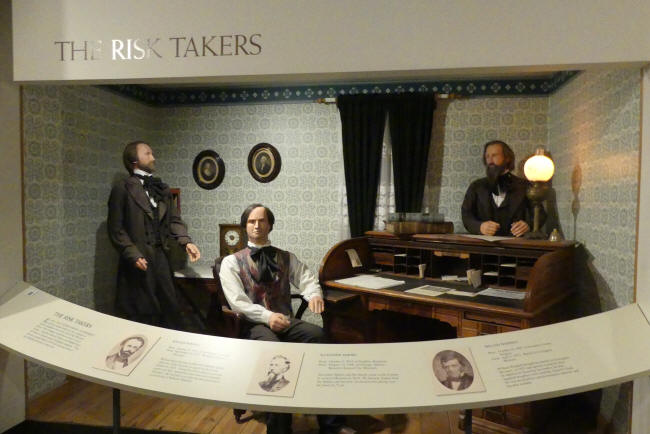 There is an exhibit portraying William H. Russell, Alexander Majors, and William B. Waddell, the founders of the Pony Express.
Another shows a realistic covered wagon drawn by oxen. Annie pointed out a common misconception. If you were a westbound settler, you would walk alongside, not ride inside the covered wagon. The wagon carried necessities like food and precious items from your former home you hoped to take to your new home. Settlers ended up discarded many items along the way as it became a choice of lightening the wagon's load or losing all. You choose between your piano or your food. There are some of the items found along the route that had been tossed out to lighten the wagon load.
In front of the stagecoach exhibit, there is a real well where we were able to pump water. Annie explained it took a lot to water the oxen.
There's an exhibit where you can mount a wooden pony equipped with mochilas you can toss over a different pony.
Since a horse can only run top speed about 10 to 15 miles, there were relay stations about that distance apart on the routes. There would be a stationmaster and a horse tender who would have a fresh horse ready for the rider who would take his mochila, toss it on the new horse and continue his run.
We could enter a recreated rest stop cabin where the riders would stay overnight. It was furnished with a simple bunk bed and basics.
An exhibit telling the futures of many of the riders is interesting. Johnny Fry, the first westbound Pony Express rider, enlisted as a soldier in the United States Cavalry and was killed by Quantrill's Raiders during the Civil War.
Another rider, Billy Fisher, who claims his life was saved when he almost fell asleep under a tree during a blizzard and a rabbit jumped on him and awakened him saving him from freezing to death in his sleep. His great-great-grandson, William Fisher, became an astronaut and flew in the space shuttle. He took Billy's belt buckle,now part of this exhibit, into space with him.
William Cody, another rider, has a place here. He became famous in later years under his better-known stage name, Buffalo Bill. When he learned that Alexander Majors, the founder who had originally hired him went bankrupt in later years, Cody took care of him for the rest of his live.
The art in the museum is fantastic.There are paintings and bronzes. I particularly loved one bronze piece that looked like a Remington, but was another artist. It was of a wagon coming down a steep incline pulled by and horse. There are an ox and a rider alongside.