Our Newest Content
Story by Tom Straka


Photographs by Pat Straka


Published 1-6-2022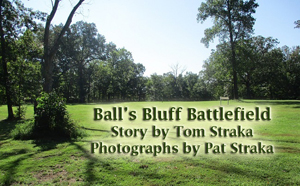 The Battle of Ball's Bluff was a small one by Civil War standards, but a consequential one. It occurred early in the War on October 21,1861, by accident, just a couple of months after Bull Run (or First Manassas). The battlefield is on U.S. 15 in Leesburg, Virginia, just before the highway crosses into Maryland on to the Antietam and Gettysburg battlefields. We've passed it many times and recently had the time to visit. It turned out to be a well worth the stop; it is a small battlefield, but an interesting one that abuts the Potomac River. The 300-foot bluff is surprising, while being so close to the ocean, it contains 100-foot cliffs, is covered with outcroppings, and only a single steep trail led up to the top. Union troops had to cross the Potomac River twice to reach the battlefield, as Harrison Island stood in the middle of the river. Union pickets protected the island during the crossing, taking cover behind entrenchments for protection from hostile Confederate fire.
Kathleen Walls
Published 12-17-2021
Tampa Bay is one of Florida's most popular playground areas. It has such a variety of attractions even a picky group will find something each party will enjoy.


St

ory by Tom Straka
Photo by Pat Straka
published 12-16-2021
Horne Creek Farm is a living history farm, a North Carolina Historic Site, and the actual Hauser family farm (as opposed to many living history farms that are relocated farm buildings or rebuilt farm buildings). This is the real thing, allowing visitors to experience farm life in North Carolina's northwestern Piedmont circa 1900. The site features the family's original farmhouse (with original furnishings), a tobacco curing barn, a corn crib, adjacent fields under cultivation, and even a heritage apple orchard. The Site also offers programs ranging from old fashioned ice cream socials to an annual corn shucking frolic. There is a visitors' center with exhibits and a gift shop. This living history is a chance to learn about the rural past, a chance to see, smell, touch, and hear things once common in rural North Carolina.
St
ory by Tom Straka
Photo by Pat Straka
published 12-5-2021
During the COVID-19 pandemic we have visited attractions that were primarily out-of-doors and generally not that far off the highway.Fort Dobbs State Historic Site meets those requirements, being nearly at the intersection of Interstates 40 and 77, just north of Statesville, North Carolina. Most forts in the South were associated with the Revolutionary or Civil Wars. Fort Dobbs is a French and Indian War fort. It is the only state historic site associated with that period in North Carolina. The site is similar to Oconee Station in South Carolina, visited last October and described in an ARGH article, in that it is mainly a blockhouse and it is situated on what was back then the frontier, the foothills of the Blue Ridge Mountains.
Kathleen Walls
Published 11-29-2021
For my friends who have never visited Jekyll Island, the
holiday season is the perfect time to visit. Take a ride on
Jekyll's Holly Jolly Trolley to see over half a million lights
around the island. There are lights from the Historic District
to Beach Village. Trolley riders will enjoy festive holiday
beverages, and sing along to Jingle Bells and other carols.
For older stories click here

Public Disclosure-- Please Read


As an Amazon Associate, I earn from qualifying purchases.
The FTC has a law requiring web sites to let their readers know if any of the stories are "sponsored" or compensated. We also are to let readers know if any of our links are ads. Most are not. They are just a way to direct you  to more information about the article where the link is placed. We have several ads on our pages.  They are clearly marked as ads. I think readers are smart enough to know an ad when they see one but to obey the letter of the law, I am putting this statement here to make sure everyone understands. American Roads and Global Highways may contain affiliate links or ads. Further, as their bios show, most of the feature writers are professional travel writers. As such we are frequently invited on press trips, also called fam trips. On these trips most of our lodging, dining, admissions fees and often plane fare are covered by the city or firm hosting the trip. It is an opportunity to visit places we might not otherwise be able to visit. However, no one tells us what to write about those places. All opinions are 100% those of the author of that feature column.  .  

Renée S. Gordon
Published 11-28-2021
Cherokee Bill was born Crawford Goldsby in 1876 to a Buffalo Soldier and a mixed Cherokee and black mother. Bill's father abandoned the family but at the age of 10 his mother managed to send him to Pennsylvania's Carlisle Industrial School for two years. Stories differ but it is generally believed that he shot his first man at age 12 and soon after joined up with the Cook Brothers for a string of robberies and murders. During his brief career he both led his own gang and rode with other notorious felons such as Billy the Kid.
A North Carolina Grist Mill Tour
Story by Tom Straka
Photographs by Pat Straka
Published 11-28-2021
Gristmills were a commonplace in the eighteenth and nineteenth century South. Many gristmills still exist in North Carolina, including a few that still are commercial enterprises. We visited a historical gristmill which includes a surrounding historical district. Murray's Mill Historic District is just ten minutes off Interstate 40 in eastern Catawba County. The mill is on the banks of Balls Creek, with a mill dam and large tranquil mill pond. It is a small historic district, not requiring a lot of walking. Of course, the highlight is an operating 28-foot waterwheel. The District qualifies as a National Register Historic Site. The tour starts at the General Store, which includes goodies, local and regular, and many general store items. There is a porch swing out front if you need to build up the energy for the tour.
Renée S. Gordon

Published 11-14-2021
People tend to forget that America's frontier changed over time. The earliest European settlements were along the coast and gradually settlers and explorers, following Indian trails and waterways, moved inland. Early 18th-century events opened the Louisiana Territory and made western Arkansas the frontier, the last stop between "civilization" and Indian Territory and from 1817 until 1897 Fort Smith was the westerly outpost of law and order.
Kathleen Walls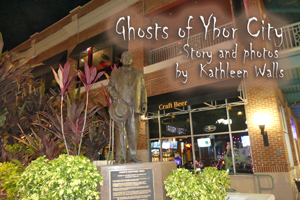 Max Herman of Official Ybor City Ghost Tours introduced me to his "friend," Don Vicente Martinez de Ybor, the cigar entrepreneur who founded Ybor City in 1886. Of course, the "friend" is just a bronze statue, but without him, Ybor City would not exist. Ybor City is like a city within a city. It has some of the most haunted building in America. It's one of only three National Historic Landmark Districts in Florida. Max led me on a terrific ghost tour of Ybor City. The Official Ybor City Ghost Tour is so good it's ranked #1 ghost tour on US City Traveler. One thing that differentiates it from other tours is you go into some buildings, not just look from outside. In addition, my guide told a lot of authentic Ybor City history.
Maybellene's first camping trip went well as far as her performance. The rain both days dampened the trip some but it was a good test. She sprung no leaks. The drive there and back went smoothly. Just wish vans were quieter.
For more abouit Maybellene's begiinings.
Sure, you visit Chattanooga for the world famous attractions like Rock City, Ruby Falls, and Tennessee Aquarium. You do the less known ones like Naughty Cat Café, Incline Railway, and Bluff View Art District. You fed your soul with these interesting places, but your body needs nourishment too. Here are some choices near the attractions.
Warren Resen
This is a city that continues to amaze, entertain, and educate visitors even those who have previously been here. As a frequent visitor to this old city, I can attest to the fact that there is always something new happening in America's oldest continuously occupied city.
Kathleen Walls
I'll bet the first thing the early Rocky Mountain explorers said when they viewed Grand Lake near the headwaters of the majestic Colorado River with the backdrop of the Rockies framing it was, "Ain't it grand!" I had the good fortune to visit and get out on Grand Lake recently and absolutely agree. Native Americans considered it special long before that. They called it "Spirit Lake" because of an old legend. The Utes and Arapahos were going to war. They put their women and children on boats in the lake and a storm overturned the boats and they drowned. The Native Americans believe the spirits of those drowned people abide there.
Story by Tom Straka

Photographs by Pat Straka
The right factory tour can be a ton of fun and a great learning experience. One of the right ones is the Julius Sturgis Pretzel Bakery in Lititz, Pennsylvania. It isn't a long tour, at just under a half hour (tours are offered every half hour). However, the bakery is located in the middle of Pennsylvania Dutch Country, with plenty of other attractions to fill out a day. The claim is that in 1861 Julius Sturgis opened America's first commercial pretzel bakery in Lititz. More than 150 years later the Sturgis family continues to make pretzels, and the original bakery is now used to give visitors a unique view into the history of pretzel making in America.

Kathleen Walls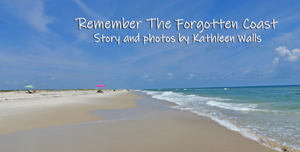 It earned the name "The Forgotten Coast" when it was omitted from a map depicting the local businesses in Florida. Once you visit, you won't forget it. It's in the Big Bend area of Florida and has around 200 miles of uncrowded beaches and fantastic attractions. The food, especially the seafood, is heavenly and so fresh. The local oysters are the best in the world. What you won't find are crowds, traffic, and theme parks. This is REAL Florida.