A Walk in the Park
Article by Kathleen Walls
How many towns have a train depot in a park downtown
Winter Park, Florida gets neglected. People lump it together with its big sister, Orlando. While Orlando is filled with big theme parks and glitzy attractions, Winter Park is more low key. Winter Park is one of the prettiest little towns in Florida and one of the most artistically inclined. It has its own charm and repays visitors with memories of a wonderful time. Not only the time they spend enjoying their stay at a unique hotel like Alfond Inn (see earlier article), browsing the boutiques and restaurants on Park Avenue, taking a boat tour of the Winter Park chain of lakes, exploring the Winter Park History Museum, attending the Rollins College Theater or visiting the Farmers Market, they get to glimpse what life was like in another era.
----------
Brick streets, cute shops, greenery, sunny climate, a fountain in the park, what more can you ask?
Things are not rushed here. The train still stops on the main street. In fact, they are just rebuilding a new depot. People picnic in the downtown park. Winter Park is a trip in time as well as place.
The Colony now houses shops

A stroll down Park Avenue finds not much changed since its founding at the turn of the 20th century for wealthy Northern businessmen.

You won't find any Wal-Mart or Dollar General stores here. There is a vintage village feel. There's even an Art Deco building still in use. The Colony Theater is now The Pottery Shop with several different art stores inside.

Greeneda Court, a three-building Mediterranean Revival style complex with a charming open-air Spanish-style courtyard with a babbling fountain, was designed by Gamble Rodgers ll. It houses Brandywine Books, Kellgrace Spa, Through the Looking Glass Jewelers and others.

You might want to browse the Williams-Sonoma Store for hard to find kitchenware where the displays are not on rigidly arranged counters but antique stoves, baskets and barrels. You will always know the time by glancing at the old fashioned square clock above the Peterbrooke Chocolatier. You can stop at the Wine Room and sample craft beers or flavorful wines. cafes and bistros with lots of outdoor seating are abundant.

A chance to sample an award-winning chef's offerings awaits you at Hamilton's Kitchen. This brand new restaurant is part of the Alfond Inn which opened in August 2013. The hotel, owned by Rollins College and funding scholarships with its profits, enticed Chef J. Christopher Windus, a Winter Park native, away from his former position as executive chef of Todd English's Bluezoo at the Walt Disney World Swan and Dolphin Hotel. This was a wise choice as in just three months Orlando Life Magazine named him "Best New Chef "in their Silver Spoon Awards.
Chef Windus at Farmers Market.
Photo Credit Alfond Inn

Windus defines his style of cooking as

"refined rustic. I'm taking comfort food and trying to refine it a little bit. The dishes may seem simple but there are a lot of things going on to layer the flavors."

My daughter and I had lunch there recently and have to agree. "Simple is good."

I tried the Shrimp And Grits made with Gulf shrimp, Bradley's north Florida grits, datil pepper vinaigrette and my daughter had the Chicken Wrap. For dessert, we sampled the Chocolate Torte with Raspberries (more about this at Chuckwagon Roundup) and the Bourbon Bread pudding. I will have to say, they all were simply delicious.
Winter Park Plaza Gardens for courtyard dining
The menu changes as Chef Windus is a firm believer in the "Farm to Table" concept and visits nearby farms to personally choose the food. He is a regular at the Winter Park Farmer's Market on Saturdays. Farmers from Central Florida and even some from farther away come to display their wares. The marketis located n Winter Park's historic old train depot in the same building with the History Museum.
Chef Windus is always on the lookout for new food choices to enrich the menu but has his regulars. He states." Lake Meadows Naturals is where we get all of our eggs from. There's a local honey purveyor and another farmer who has the best citrus, things like pink tangerines and giant pomelos. I also purchase from a couple in their 80's who have a farm in Georgia and they bring down amazing persimmons. These are all small farmers who are proud of their product, and should be."
The Annie Russell Theater at Rollins College is a perfect nighttime activity. This is Florida's oldest university theater. The grand entrance, the red velvet seats, the ornately carved decor, the priceless artwork, all contributes to creating an atmosphere of another time: an era when the play was the thing.
An old fashioned clock on the candy factory and a cigar store Indian are all part of the decor
Annie Russell's entire artistic life revolved around the college and the theater that bears her name. It was dedicated in March of 1932 She directed her first play there, Romeo and Juliet, in April 1932. Her living quarters and office are preserved in the theater building.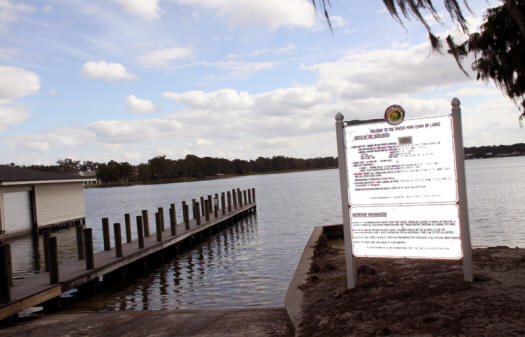 Dinkey Dock is one gateway to Winter Park's Chain of Lakes

Annie's last portrait hangs in the complex. It was done by Eugene Coleman in 1987 from a photograph and caught her role as founder and director of the theater well.

Like all good theaters, this one has it's ghostly legend. I wrote about it for my book, Finding Florida's Phantoms. Annie's spirit has been sighted in balcony of "her" theater many times She always sits in the second seat of the last row on the far left. So common are the occurrences it has come to be known as "Annie's chair." She always wears a lavender dress and is a gentle benevolent ghost. Here to protect her theatre. She once said, "I only wish I could live long enough to see how famous it will be."
WP is the place to visit if you want to have fun

Her prediction has come true. The program at Rollins is considered one of the five best in the entire country.

True to its early village heritage, you can even take the train and disembark right there in downtown Winter Park. The new train depot is under construction and should be finished soon. It will be a craftsman styled building designed to blend in with the ambiance of downtown Winter Park and will serve Amtrack and Sunrail passengers.

Next time you head for Central Florida, remember, Disney isn't the only park that will transport you to your own private fantasy. Winter Park is a "for real" fantasy just waiting for you.

For more info:http://www.winterpark.org/