Best Dessert I Ever Ate
Article and photos by Kathleen Walls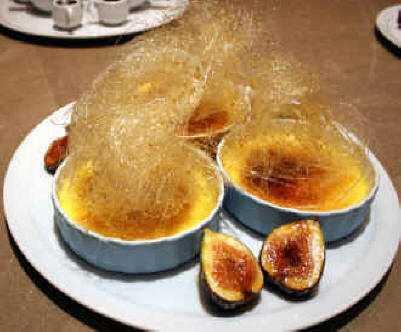 Cotton Row
No question about it, the prettiest dessert I ever ate was a Tahitian Vanilla Bean Crème Brûlee at Cotton Row in Huntsville, Alabama created by pastry chef, Jay Hendricks. With its gleaming strands of spun sugar arching above it for at least six or seven inches, It was almost too beautiful to eat. Almost! It was also the best tasting Crème Brûlee ever.
James Boyce is the executive chef/owner of this downtown sidewalk-cafe-style restaurant knows his way around the restaurant business as well as a kitchen. Cotton Row combines the best of Old South charm with the traditional 19th century club atmosphere.
----------
The traditional part is due in part to its fabulous setting., a 1821 red brick building that was the home to a prosperous cotton merchant in the days when cotton was king and the cotton exchange was the place to make a fortune. It was designed by famed antebellum architect George Steele. During the less prosperous years in the old south, it went through several other incarnations. Then New York Chef James Boyce discovered the building. Boyce had already achieved fame in the culinary world. He graduated from the Culinary Institute of America spent several years at New York's renowned Le Cirque, moved on to become executive chef at the Phoenician resort and just before moving to Huntsville, he owned Studio, at the Montage Resort in Laguna Beach, California. He appears regularly on the Today show. He and his partner who owned the building originally, have done wonders in restoring the decaying building to its former glory. On the ground floor, the bar and restaurant have a feel of old New Orleans about them. The exposed beam ceiling, back brick wall, granite and wood bar, stools and tables are cozily lit to offer an ambience of old world culture.
Underneath the old building, the massive wine cellar proudly houses the restaurant's collection of nearly 5,000 bottles and 300 different selections of wine. Here guest may dine amid the collection of famous vintages. The upstairs apartment is not usually open to the public but is used for parties. It is even more French Quarter style. The wrought iron balconies add to that feeling.
I had chance to sample several other desserts and can guarantee that the Crème Brûlee is not a fluke. There was a Chocolate bombe, a semi-frozen combination of light and dark chocolate and brandy garnished with light chocolate ganach and surrounded with chocolate truffles; Key Lime curd a little Genoise topped with baked meringue and dried coconut and hibiscus syrup; Semifreddo, a concoction of semi-frozen sugar, syrup and eggs combined with Kailua, chocolate and cinnamon; milk chocolate mousse with some Genoise and drenched with Myers rum; dark chocolate cheesecake and several real fruit sorbets raspberry, honeydew and peach.
They were all over the top but the Crème Brûlee was the prettiest.
My Just Desserts

Ann Badasch opened My Just Desserts in Alton, Illinois in a building loaded with history. The Ryder Building housed railroad offices and was owned by a man Abraham Lincoln did some legal work for. This was also the place where young Lincoln in his early political dabbling gave a speech for Whig candidate William Henry Harrison. The building is believed to be the site of trial of the man accused of murdering abolitionist Elijah Lovejoy who was shot in Alton defending his printing press. Lovejoy is considered the "first casualty of the Civil War."

Ann's pies rival the history as attention getters. You know Ann is doing something right as she had been there for over 30 years. She decided she wanted to "do one thing and do it well." She added. " I had children at home. I did not want to work evenings. Mornings didn't sit well either. I had to figure out how to do lunch a hundred different ways."

She devised 150 pie recipes and divided them into about 35 per week. Some, like pumpkin are seasonal so they will only appear in fall. The day I visited, some of the choices were Chocolate Mud Slider, chocolate cookie crust with milk chocolate filling then layers of chocolate and whipped cream are added, Oatmeal Raisin Pie with Maple Glaze

Lemon Chess a takeoff on the old Southern favorite has lemon but no cornmeal, Apple Praline, a apple pie pre-baked and then topped with the praline sauce and baked again , Cherry Cobbler, and finally, the one that nudged out the others for pride of place by just a hair. Fresh Peach Pie, prebaked crust lined with cream cheese with fresh peach slices placed over it then coated with powered sugar and covered with a special peach topping. This was a particularly hard choice. The Chocolate Mud Slider and the Apple Praline were nipping at the Fresh Peach Pie 's heels for first place.

The lunches here are also fantastic especially the half-pound chicken salad sandwich. The decor is attractive and fitting. The walls are draped with homemade quilts and your drink is served in a Mason Jar. It's one of those hidden treasures.
Mississippi Half Step
I'm always a big chocolate fan and love to try new chocolate desserts. The Mississippi Half Step does some culinary magic with chocolate to create their signature dessert, Muddy River Cheesecake. This toffee cheesecake combines carmel and chocolate sauce with cheesecake to work wonders for the palate.
The restaurant sits on Main Street in the tiny town of Grafton, Illinois in a stately red-brick Queen Anne Victorian mansion built atop a limestone foundation setting on a limestone outcropping. one of the many such bluffs along the Great River Road.
Inside, many of the original features of the house have been painstakingly restored. There are three fireplaces, pine floors and transom windows and right near the front door sits a beautiful ships wheel. In the early 1020s, it was part of the Corp of Engineers' towboat "Bixby,
Carla and Jim Newton operate the Mississippi Half Step. Carla confined, "My husband is a huge Grateful Dead fan. We named it after Grateful Dead song but also because it is only a half step from the Mississippi River"
The home was originally built in 1885 for Charles Brainerd, a former Civil War veteran and mayor of Grafton.. It is rumored to have its residence ghost, one of the daughter's of the Charles Brainerd named Clementine who died in the house.
Besides the desserts, their pasts dishes are out of this world. Chef/owner Jim Newton said " We make everything homemade except the noodles and French fries."
Firefly
On a recent trip toPanama City Beach, Florida with my daughter/assistant, Veronica. I was lucky enough to dine at theFirefly Restaurant. I was expecting a typical beach restaurant. Good but not very cosmopolitan. Boy, was I surprised. Dinner was fantastic, the service as well as the food. Duck for me and Filet Minion for Veronica. Luckily we saved room for dessert. I sampled the White Chocolate Crème Brûlee and Veronica had the fruit cheesecake. I fell in love with this new version of Crème Brûlee. It was unbelievably rich and you could taste the delightful mingling of all the flavors.
When the First Family made a brief stop in Panama City Beach in August of 2012, the Obamas chose to dine at Firefly. They all had different entrees but were united on the choice of dessert; that White Chocolate Crème Brûlee.
Chef Paul Stellato is justly proud of his record. "President Obama wasn't the first president (or famous politician) I've cooked for, I've also cooked for Bill Clinton and Al Gore. "
BP oil also recognized Chef Paul by choosing him as only one of two Florida chefs to send to the 2012 Olympics in London for their 'Spirit of the Gulf' to cook for the athletes. Firefly Executive Manager, Rick Shockley said, "We were very excited about this honor."
Firefly's atmosphere is a perfect match for its food. There is a Mediterranean courtyard feeling inside. The dining room's centerpiece is a huge tree filled with white lights. Deep within the branches tiny lights flitter on and off to create the effect of a real firefly. Our waiter told us "it came all the way from Disney World and was shipped in four different sections and then assembled here."
Another feature is the realistic mural of their former restaurant, Canopies. You are temped to smooth the drapery hanging around it. only to find it is actually a part of the mural and not the soft cloth it appears to be just as Firefly is not your typical beach restaurant. Sometimes looks are deceiving.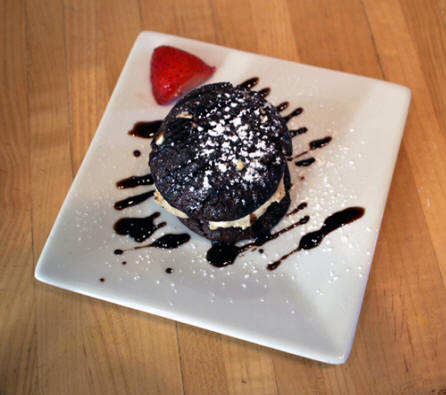 La Crema Tapas and Chocolates
Kevin Neel admits he is no great shakes as a chef but the people who cook in his restaurants are the best. Kevin was a mortgage broker until he and his wife, Kim, spent some time in Spain. They were impressed with the tapas, small dishes instead of large entrees, offered in many restaurants there. After returning to the states, the Neels moved to Rosemary Beach, Florida from Atlanta to get away from the big city rat race. He decided he wanted something more rewarding to do and found an empty storefront on Main Street in Rosemary Beach. They combined Kim's love of chocolate with Kevin's appreciation of the Spanish tapas and named the place La Crema and Tapas.
Kevin said, "We wanted to make it a place people would linger, sit on the street in the evening, have a glass of wine and a little chocolate and go to bed,"
When we visited, the restaurant was going full tilt serving lunch. Kevin took time to come to our table and explain the origin of many of his dishes. We sampled most of them. The tapas were all excellent. The Serrano Wrapped Figs consisting of two figs marinated in white wine, spread with honey, goat cheese then wrapped with thin Serrano ham was my favorite.
The desserts were heavenly. It made my decision as to "best" difficult. Difficulties like this I can handle. The Chocolate Dipped Bacon, two thick slices of cherry wood smoked bacon dipped in dark chocolate, tasted like a Nestle's Crunch Bar. It stood out for its originality but it got edged out by a few other delicacies. I narrowed my choices down to the Chocolate Fondue, warm melted chocolate for dipping served with apple, bananas, strawberries and pound cake; Hot Chocolate Molten Cake, a mug of molten fudge cake crisp on top with hot lava chocolate below; and the OMG Espresso Cookie, two warm triple chocolate cookies with a whipped espresso cream center that's drizzled with chocolate sauce. Of course, I had to sample each one a few times in the decision making process.
It had to be the OMG Cookie. Not only was it unique, it was melt-in-your mouth delicious. Kevin explained how it got its name, "People take one bite and say ' OMG'."
The Summer Kitchen Cafe
A dessert doesn't have to be fancy to be good. Sometimes just simple fresh ingredients take the cake. Or in this case the brownie.
The Summer Kitchen in Rosemary Beach, Florida serves a Brownie a la mode that has pride of place. The brownie is large, fresh and warm. The vanilla ice cream is flavorful and tastes as if it was just churned. Together they are a real winner.
James Dillon, owner of The Summer Kitchen, had a simple plan in mind when he opened his restaurant: he wanted a place where friends, residents, visitors and workers would all feel comfortable. The name relates to a time way before air conditioning when summer kitchens were outdoors to keep the home from becoming stifling in the Florida's summer heat. The building is not fancy, the decor rustic and there is more outdoor seating then indoor, but the food is top-drawer. The service matches. I sampled the Grilled Chicken and Balsamic Salad, comprised of a generous helping of chicken and , spring mix, topped with feta cheese, tomatoes and honey balsamic. Yummy!
Going Green is a part of business at The Summer Kitchen. No Styrofoam here. To-go boxes and cups are made from fast growing natural products and are totally biodegradable. Menus are on recycled paper. Timers keep appliances such as water heaters from running when not needed. It's just good sense and helps the environment at the same time.
James, who trained at the Culinary Institute of America in Hyde Park, New York, opened for business in 1999 making The Summer Kitchen the oldest restaurant in Rosemary Beach. That alone says he is doing something right.
Court of two Sisters
Court of two Sisters is a uniquely New Orleans experience. In New Orleans, food is considered a deity and food preparation a mystical experience. To say the least, the art of fine dining has been taken to a new high in the Big Easy. At no place is this more true than at the Court of Two Sisters. One of their most memorable experiences is the Jazz Bruch. It is a fantasy in itself with more than 80 items on the buffet and others available to order, but be sure to save room for dessert. Their Bananas Foster is out of this world. Just the experience is worth the price. The trio of jazz musicians playing in the background add to the ambience.
Your waiter prepares the dish table side over a flaming cooking device. He caramelizes the brown sugar and butter as he cooks the bananas. Then the coup de grace. He tosses the brandy into the pan and it ignites and glows with a beautiful blue flame. The result is then placed gently over a dish of vanilla ice cream. Simple but delicious.
The entire dining experience at The Court of Two Sisters is somewhat mystical. When you step through the huge double doors leading to the largest restaurant courtyard in New Orleans, you are transported to a different realm. It would be so easy to believe you stepped back to the late 1800s and were visiting the home and notions shop of two aristocratic Creole sisters, Emma and Bertha Camors. With just a bit more imagination, you might feel you had stepped back even farther into the home of Sieur Etienne de Perier, royal governor of colonial Louisiana between 1726 and 1733. The history of this upscale eatery is impressive, but the present-day food and service live up to the legendary past. The premises served as home to these and many other historical personages before finding a niche as a fine-dining establishment.
Whether you dine indoors in one of the three dining rooms or in the courtyard letting the tinkling fountains compete with the soul-stirring music, you will know you are in New Orleans. Only here could history, music and food combine into such a perfect package.
Ritz Carlton's Georgia's Bistro
The Ritz Carlton's Georgia's Bistro at Reynolds Plantation in Greensboro, Georgia puts on the ritz when it comes to food. Their Georgia Pecan Tart with whipped Anglaise and vanilla Ice Cream deserves a mention in this list. This thing is scrumptious.
The surroundings are pretty scrumptious also. Exposed timber ceilings, huge stone fireplace, leather banquettes, copper table tops and lots of glass with a view of the lake give it a feel of elegant informality.
Aaron Baxendale, Georgia's head chef, knows his way around food. He earned his degree from Pennsylvania Culinary Institute in Pittsburgh. Prior to making the move to the Ritz-Carlton, Aaron was the executive chef of Old Hickory Steakhouse at Gaylord National hotel in Washington, D.C. His style is to blend the freshest local ingredients with a Southern flair. Low Country Boil, Shrimp with crab, mussels, crayfish, andouille sausage, corn and potatoes, served with drawn butter, cocktail sauce and cornbread is one great example. I enjoyed his Shrimp and Logan Turnpike Mill Grits when I visited. Both are classic examples of his use of local foods. The shrimp are from Georgia's Gulf Coast. The grits is stone ground at a small mill in the North Georgia Mountains.
The restaurant was newly revamped in April 2013 so if you haven't visited recently, you haven't experienced Georgia's Bistro.
For more info:
http://cottonrowrestaurant.com/
http://summerkitchencafe.blogspot.com/
http://www.courtoftwosisters.com
http://www.mississippihalfstep.com
http://www.ritzcarlton.com/en/Properties/ReynoldsPlantation/Dining/Georgias/Default.htm