Winston-Salem, Where Two Cultures Collide
Can you imagine a culture of socialistic church members in a society where the church controlled all aspects of life and owned all property in the settlement and smoking, drinking and partying was forbidden ever finding common ground with capitalistic tobacco manufactures?
Bethabara
It happened in Winston Salem. I felt I had traveled back in time to 1752 when 15 Moravians traveled south on the Great Wagon Road from Pennsylvania to North Carolina and founded a small village, naming it Bethabara, the first European settlement in the Triad Area of North Carolina. It was never meant to be a permanent colony. Today, thanks to well kept written documents, the old settlement has been recreated with a palisade, their church called a gemeinhaus, herb gardens, community garden, baking oven, and many of the log homes.
Historic Bethania

A group of Moravians moved from there to Bethania and began a small village. Historic Bethania tells the story of this unique community starting at Historic Bethania Visitor Center and the Alpha Chapel next door, but because of Covid they were closed when I visited.
Old Salem
In 1766, North Carolina's best-known Moravian community of Salem was founded. Today it is preserved as Old Salem Museums & Gardens. We began our tour with the Museum of Early Southern Decorative Arts (MESDA). The Old Salem Research and Archaeological Lab is housed here. The art and artifacts I saw in this museum are fantastic. My favorite is a huge white and gold organ.
Walking down the streets of Old Salem, we visited the Boys School and learned about the life of a young Salem boy. A clever set of videos, one showing the boy with his sister talking about life in the village and a second one showing the same two siblings as young adults, add to viewing the schoolhouse. We watched potters creating the same items the early Moravians made. We visited a typical home of the period and saw how quilters, shoemakers, blacksmith and other crafts people worked at making all the things a new village needed to stay alive in the days before malls and chain groceries.
Hidden Town


For many years, no one wanted to talk about the enslaved people of Winston Salem but today those hidden legacies are being revealed at Hidden Town. I visited Hidden Town that now helps tell those personal stories of 18th and 19th-century Salem's African American community.
St. Philips Church in Hidden Town is the oldest standing African American church in North Carolina. The graves in front of the church tell a sad story. Moravians adopted slavery but accepted it later and banned it earlier. The last burial in the church graveyard was an enslaved woman named Rebecca Hill who died in 1815. Many of the grave markers merely say "child."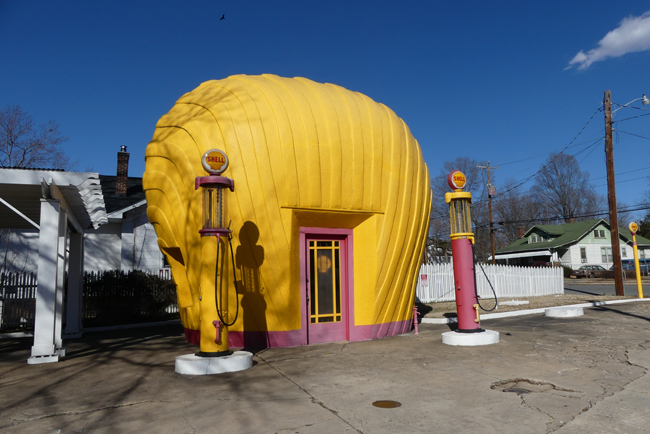 A reconstruction of the African American Log Church from 1823 serves as the heritage center for Hidden Town. On a lighter note, I visited a 1930 era Shell gas station. It had gravity pumps and was shaped like a shell. I wish I could buy gas at those prices now!
Brookstown Inn
Interestingly enough, it was a partnership between a Moravian mill owner, Francis Henry Fries, and R. J. Reynolds of Reynolds Tobacco that began the merging of the two towns. Reynolds brought Fries in to help create a railroad between Winston and Roanoke in 1887.
Today, a unique hotel, the Brookstown Inn, was re-created from the Arista Cotton Mill built by Francis Henry Fries' father, Francis Fries, in 1836. The hotel keeps much of the original mill structure while providing modern amenities. The artifacts displayed make it feel like a museum. Its display in the lobby tells the story of the mill and the merging of Salem with Winston. Be sure to meet Sally, the hotel cat, who has her own unique story. She wandered into the hotel and when the owners took her to their vet, her microchip said she belonged to people in Washington state. They didn't want to come get her, so she became the hotel mascot.
Reynolda Gardens
This beautiful botanical garden is tobacco tycoon, R. J. Reynolds, wife, Katharine's, contribution to healthy living. It was winter when I visited so many of the outside plants were not at their best, but those in the greenhouse were thriving.
Reynolda House Museum of American Art

Visiting R. J. Reynolds and Katharine's home was a glimpse into living with all the beauty money could buy. The art was breathtaking. Paintings and sculpture by renowned artists like Georgia O'Keefe, John Singer Sargent, Gilbert Stuart, John James Audubon, and Frederick Remington compete with furniture created by the finest artisans of the era for the most beautiful items.
They didn't neglect their kids. In the attic, there is a shooting gallery, a bowling alley, a skating rink, a full-sized pool, and more. There's an Art Déco bar where the kids can grab a soft drink and adults something stronger.
Reynolda Village
Reynolda Village is a mixed entertainment, shopping and dining area near the mansion.

The Village was once part of the 1,067-acre estate of the R.J. Reynolds family. It was modeled after an English Village and what was once the family's dairy barn, is now an event facility.



Dining
There are many vineyards, wineries, and breweries in the area, and some unique taverns and dining. Lavender and Honey Kitchen is a perfect breakfast stop. It's a mother/daughter owned restaurant specializing in baked items. I was told the cinnamon rolls are spectacular, but the sight of the chocolate cake just grabbed me.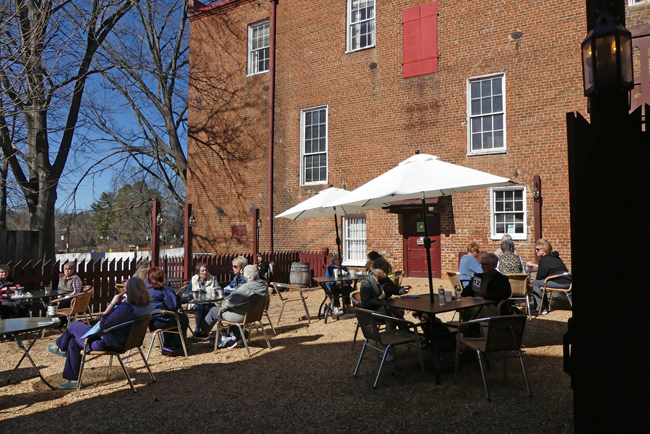 Muddy Creek Café is in Old Salem and gives a feel for being in an earlier time. You can dine inside or out here.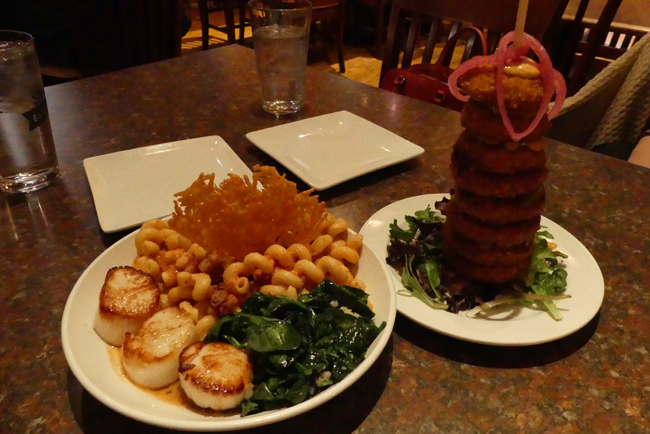 Willows Bistro has some unique touches to its menu with the chef's pickled items. Chef Niki Farington combines her pickle making business with the food she creates at Willows.
The Spring House was once home to a tobacco millionaire. Now it is themed to feel like a speakeasy. Loved the picture of Ma Rainey over the fireplace.
Village Tavern was voted best restaurant in Winston Salem. It is in Reynolda Village and has inside and patio dining.
Crooked Tail Cat Café is home to a bevy of kitties looking for a home. You can enjoy some baked goods and a drink while admiring the friendly felines.