Trinkle Mansion Bed & Breakfast
Story and Photos
by Kathleen Walls
A stay at Trinkle Mansion Bed & Breakfast in Wytheville, Virginia is a way to experience traveling like the elite in the Victorian era. Those days, wealthy people stayed at the homes of friends and family many times when traveling. That's how it feels when staying at Trinkle Mansion. It is a Classical Revival home built for William Trinkle, a gentleman farmer and brother of a Virginia governor, Elbert Lee Trinkle. Trinkle served as governor from 1922 to 1926 after serving in the Virginia Senate. That may give you a hint of what it would be like staying in William Trinkle's home. The home was completed in 1912. As soon as they moved into their new home, Mrs. Trinkle hosted a lavish seven-day long housewarming party.
Over the years, what was once a mansion deteriorated. When Patti and Bernie Pizinger, the current owners, found it, it was being used as a law office. It was purely accidental that they even found it. Unless you believe in fate. Both were postmasters in Iowa. Patti was retired, and Bernie was close to retirement. They stopped in Wytheville for gas and has a little time to kill so they drove around the charming little town.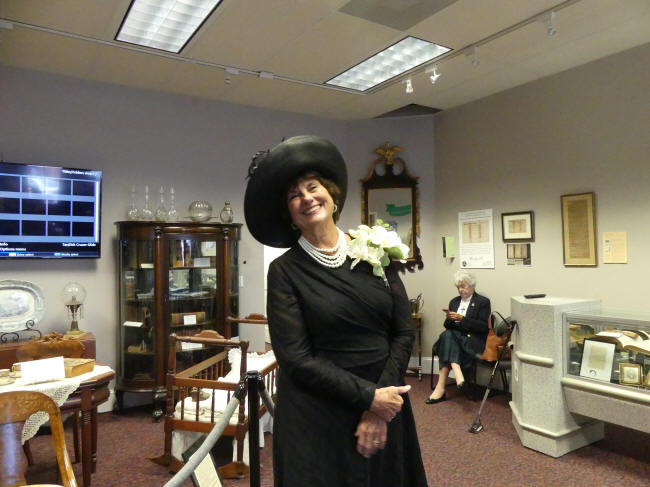 They liked what they saw. No surprise as it is home to The Edith Bolling Wilson Birthplace Museum, housed in the former first lady's birthplace.
Then there is the Wytheville Training School Cultural Center that preserves the historic Wytheville Training School constructed in 1883 for African American children and was in operation until 1952. Inside there is an African American Heritage Museum.
Maybe they stopped at the Thomas J. Boyd Museum, named for Thomas Jefferson Boyd, the "Father of Wytheville." It tells Wytheville's local history and local crafts and tells the story of the 1950 polio epidemic, called the "Summer Without Children." Wytheville was the hardest hit city in the country per capita with polio in 1950.
Just a short drive away, they would have found Fort Chiswell Animal Park. This is more than an interactive zoo that is home to animals from six continents. The Safari Bus lets you feed the animals out of the bus windows.
Another short drive would have brought them to Big Walker Outlook, the highest point on the Big Walker Mountain National Scenic Byway. It's Virginia's oldest privately owned scenic attraction with a 100-foot observation tower where, on a clear day, you can see five states.
But maybe they were just cruising around town and saw a mansion in need of some TLC. Patti fell in love first. Bernie was more realistic and saw the work needed to turn this into their dream bed-and-breakfast. They bought it and began doing most of the labor themselves.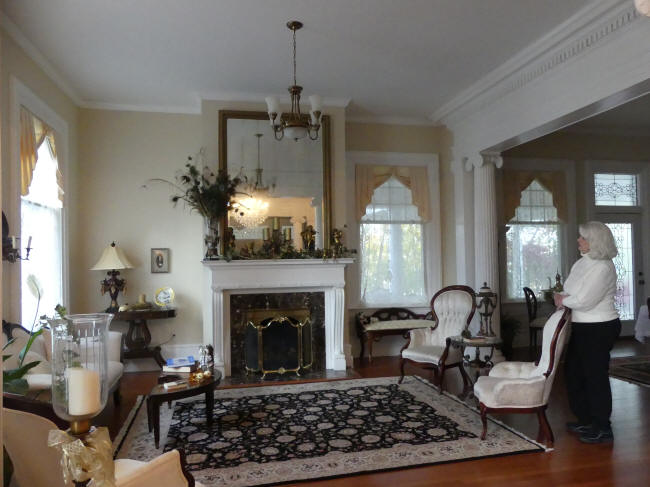 When I visited recently, it was in perfect condition. There are four guestrooms plus a private garden cottage, all done in a gorgeous Victorian style. When you enter from the front door, the first thing you notice are sparkling crystal chandeliers hanging from the 12-foot ceilings. In addition, there is a cozy library, ladies' parlor, gentlemen's parlor, conservatory, sitting room, plus outside balconies. The home features seven original fireplaces. Two of the guestrooms, Wilder and Rosspoint, have fireplaces.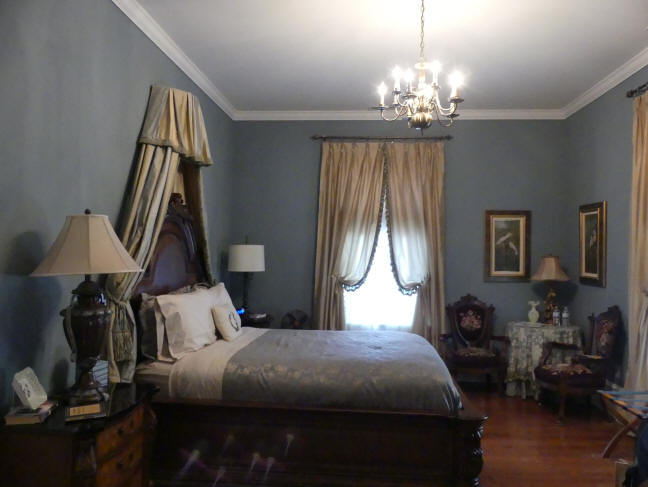 My room was the Monroe. It is the largest room painted a rich teal with white woodwork and gold drapes and bed crown. It is one of two rooms that has the original claw-foot bathtubs. Of course, there is a modern shower as well. The queen-sized bed was soooo comfy. The internet worked well so I could get my email and keep in touch.
Patti and Bernie copy the lavish part concept. They serve guests three-course breakfasts at a fireside table set with crystal and silver. Patti does all the cooking and is proud of her original recipes.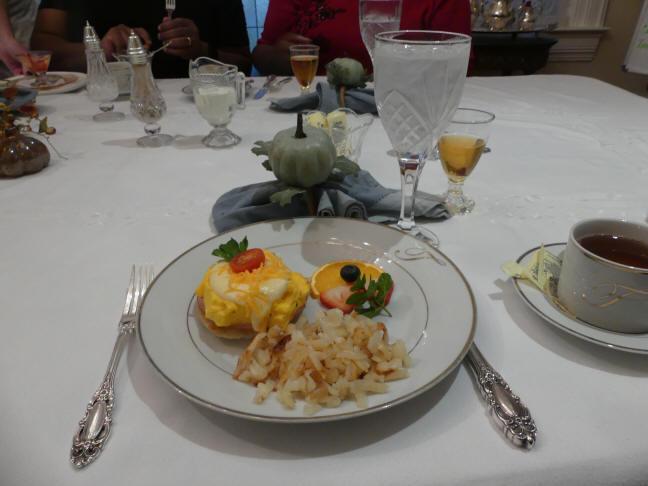 For breakfast, Patti served a three-course delight. Starting with a serving of fresh strawberries cut into bite-sized pieces and topped with whipped cream and decorated with a mint sprig. A Cinnamon Stick, a small roll made with fresh dough covered with cinnamon, topped it off. I am a tea drinker, so Patti served mine in a tea infuser with a little hourglass timer to tell when the tea had seeped to the right level. The main course was Benedict Bundles, a delightful take on Eggs Benedict. The softly scrambled egg atop the Canadian bacon on the English muffin was topped with a poached egg covered with Hollandaise sauce and topped with cheese and a cherry tomato. The plate was decorated with an orange slice, a sliced strawberry, and a couple of blueberries. The Ole Timey Hash Browns were nicely browned. Our dessert was one of Patti's homemade Almond Poppyseed Muffins.
Trinkle Mansion Bed & Breakfast was named in the top 10 B&Bs in the country in 2019 by Trip Advisor.