Best Dining in the South
Kathleen Walls
Published 6-11-2022


I've been doing a lot of road trips lately and have discovered some of the best dining in the South. Here are a few must-dine places.
Saint Augustine, Florida
Saint Augustine has so many fabulous restaurants, but I just discovered a wonderful new one yesterday. Ancient City Brunch grew out of two high school twins' project. Emily and Sophia Schroeder conceived the idea from their own family's eating habits. A 'brunchcuterie' which is a charcuterie board on individual choices served on a beautiful olive wood board. Their mother, Melissa, loved the idea. Today it is a cozy place in the heart of historic downtown, where you can have your own board with a lovely message written on it for breakfast or lunch. I loved my chicken salad on a croissant, with a chunk of the best cheese I have ever tasted, and some fresh fruit.
Henry County, Georgia
Just Dogs in McDonough is a mother-son restaurant specializing in unique hot dogs. Darrius was an Atlanta culinary school graduate who got burned out and worked a variety of other jobs before he returned to cooking. His hot dogs are special.
Two friends, Tracy North and Michelle Pyrtle, began Rutabaga's Market & Café in Hampton as an afterthought from their bottled LeAnn's Gourmet Food items. The music décor is a blast from the past with lots of vinyl records. The food is fantastic.
Welcome Home Creamery & Coffee is another Hampton treasure. The husband-and-wife team makes and serve homemade ice cream, pastries, and specialty coffee.
Rico's Mexican Restaurant in Stockbridge proves immigrants serve their adopted county well. Ricardo Olivares, Sr. immigrated from Mexico in 1971 and opened his first restaurant in Underground Atlanta. He moved it to Stockbridge in 1982. It closed in 2000 but in 2002 his daughter, Chela, and her husband Mike Davis, reopened and named the new restaurant, Rico's in memory of one of the Olivares sons who served in the United States Navy. it has been serving great Mexican food combining old family recipes with new twists ever since.
Southern Fusion Dining in Locust Grove is owned and operated by Chef Paul Lewis. A graduate of the Art Institute of Atlanta. His Bananas Foster Crepe special is a perfect example of the mix of southern cuisine with a modern twist. One of his specials is his huge delicious cinnamon roll.
Hamburger Mike's is a husband-wife team operation. His Black Angus burgers are done to order and you dress them from a serving cooler with a large variety of fresh toppings. They also offer grilled or breaded chicken breast, beef, Philly cheesesteak, fried bologna sandwiches, homemade chips, and more. He has an extensive vegan and vegetarian menu.
Florida Panhandle
Tropical Trader Shrimp Company in Panacea has not only delicious seafood. They have killer desserts.

Don't let the name fool you. Posey's Steam Room & Oyster Bar has all kinds of seafood. I has some of the best King Crab Legs ever there.

Dining in the historic Edward Ball Dining Room at the Lodge at Wakulla National Park is a trip back in history as well as delicious food.

Lucy Buffett branched out from her world-famous Gulf Shores, Alabama location and opened a LuLu's in Destin in 2015 at Legendary Marine complex, right under the Mid-Bay Bridge. I had the Shrimp and Oyster Combo and loved it. Dessert was an enormous brownie with ice cream.
You can always count on great entertainment there, too.

Pensacola dining is over the top. I had a Lighthouse Platter at Nick's Boathouse. Not only fabulous food, it has a great beach view.
Another Pensacola beachfront restaurant with delicious food is Casino Beach Bar & Grill . I tried my first Bushwhacker there. It won't be my last.
In Chipley I found two favorites. Sister's Sweets, Eats & More is a family-owned dessert bakery and where I had a delicious quesadilla sandwich. There's a touch of history in the old murals on her walls from the building's previous incarnation as a grocery store back at the turn of the 20th century.


.
Sliced Deli is the place for a quick snack or to buy fresh lunch meats and cheeses. I had their New York Hot Dog and loved it.
Macon, Georgia
Piedmont Brewery & Kitchen combines beer and food uniquely. I had their famous Smoked Wings and for dessert, one of their rotating kinds of homemade cheesecakes, Lemon Cheesecake.
Oliver's Corner Bistro, a downtown dining spot, specializes in fresh ingredients. I had the Steak Quesadillas and a side order of Sweet Potato Fries. Delicious and perfect portion size.
The Rookery is another popular downtown Macon restaurant. It's décor and Allman Burgers and Jimmy Carter shakes reflect the era. I had the Pot Roast. Very tasty.
Blairsville, Georgia
Hole in the Wall on the Square is a Blairsville institution since 1931, mainly famous for their huge breakfast served all day long. I heartily recommend them for the very hungry. Note: they do not take credit cards.
Downtown Pizza Company is a great lunch choice. They offer a variety of pizza at the buffet, all hot and delicious. They include a dessert pizza and will make specials if you ask. There's a salad bar, so you can get a healthy veggie fix.
You've got to have something to drink along with the great food. Why not a moonshine cocktail at Granddaddy Mimm's Distilling Company? You can ask for a tour. If you're lucky, owner, Tommy Townsend, who played with Waylon Jennings, may be singing or playing his guitar.
Chattanooga, Tennessee
The perfect stop for early or late dining. City Café Diner is open 24 hours and offers some of the best Banana Pecan Waffles.
Even if you aren't staying at Hotel Indigo, stop in and enjoy great food at the Wanderer Restaurant in the lobby. I had a delicious omelet there when I checked in.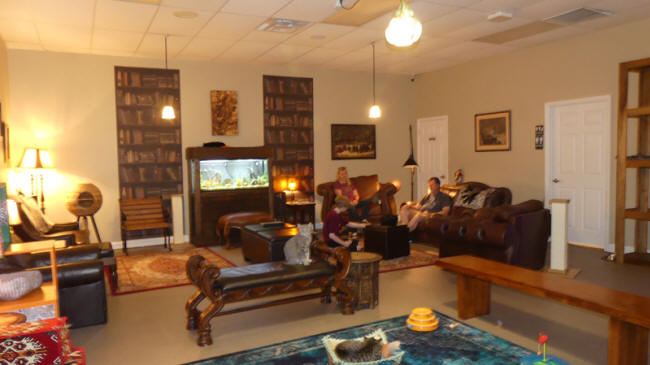 For something unique, try Naughty Cat Café, Chattanooga's only cat café, and share a cup of coffee or tea with some friendly kitties looking for a forever home.
Pluckett's Grocery is another great choice for a down home breakfast. I enjoyed their Biscuits and Gravy. They offer lunch choices as well in a old country store atmosphere.
Old Gilman's Grill used to be a paint store back in 1910. In 2018, it became an American dining experience with a French twist. I sampled the Bacon Wrapped Dates with applewood smoked bacon, reggiano parmesan, 12-year aged balsamic vinegar. So unique and delicious. For dessert, try the Flourless Chocolate Torte with raspberry coulis and topped with vanilla ice cream.
They are dog friendly.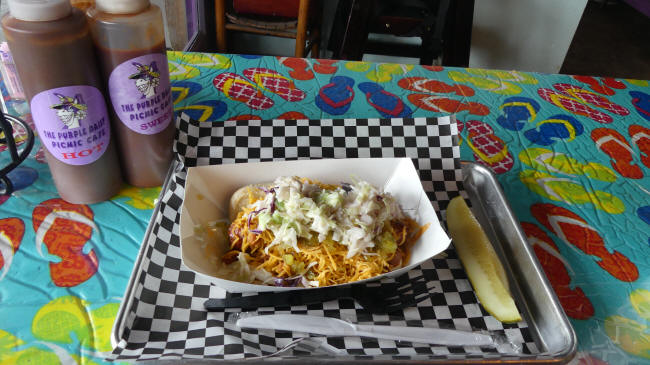 The Purple Daisy in St. Elmo at the foot of Lookout Mountain is great for a quick snack. Lots of hot dog choices here. Or you could go with barbeque or deli style foods.
Tony's is the perfect spot when you are browsing the Bluff View Art District. You can do a pick and choose pasta. I picked the fettuccini with Alfredo sauce and sausage. Huge portions will provide a dinner later.
If you are looking for something more upscale, try Stir Restaurant in the Chattanooga Choo Choo. I had their Spicy Chicken Samosas.
Nashville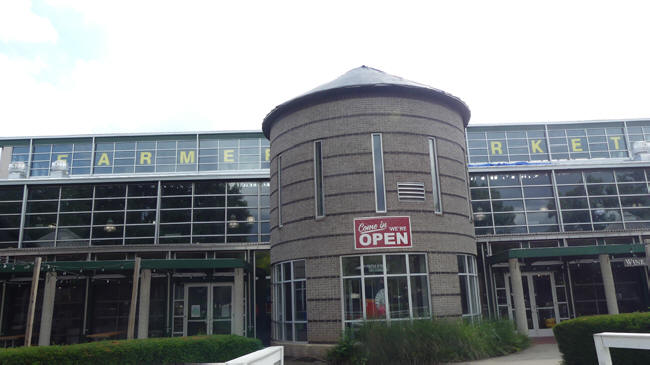 The local Farmers Market offers all sorts of ethnic food. I tried the BBQ. Very tasty.
Barlines at Omni Nashville Hotel is a good place for a quick snack if you are waiting for a timed visit to the County Music Hall of Fame. It's just a few feet away. I had their Pretzel with a cheese beer dip. Pretzel and sauce were both warm and fresh.
Nash House Southern Spoon and Saloon embodies the spirit of Nashville along with serving tasty southeren dishes.The decor is a good as the food. Each pillar is adorned with the image of a famous musician. Naturally, I'm partial to Johnnjy Cash but there are lots of other choices.
Florence
Big Bad Breakfast in downtown Florence lives up to its name. The owner, Chef John Currence, was born and raised in New Orleans, my original hometown, which is probably why my breakfast of biscuits and gravy felt so homemade. His first restaurant was City Grocery in Oxford, Mississippi. I ate there several years ago and loved it. In 2005, he was nominated for his first James Beard Award for Best Chef South, and again each year before winning in 2009. He now had eight Big Bad Breakfasts around the South.
Rosie's Mexican Cantina specializes in handmade Tex-Mex food. Portions are large and tasty. I had the Polo Loco, Char-grilled Chicken breast on a bed of Mexican rice with queso blanco. I think that translates to "Crazy Chicken" but you'd have to be crazy not to love it. The décor with Mexican art objects and old-time signs make you feel like you are in old Mexico.
Marriott Shoals Hotel has a great dining choice, Swampers Bar and Grille. I had the Shrimp and Grits for lunch and a Strawberry Cheesecake for dessert. On Sunday evenings, try their buffet. There is live music, and the room is decorated to represent the Muscle Shoals Sound with guitars and photos of the Swampers and other musicians.
Carrabelle
Since the most delicious oysters in the world come from Apalachicola Bay, I had to have some. Even more so, since now harvesting of wild oysters is shut down until 2025, so now all are farm raised. I found Fathom's Steam Room and Raw Bar, where I could do a sample platter of several kinds of roasted oysters. Delicious! The outdoor seating right on the water with live music is reminiscent of Key West places I have visited.
If you want more sophisticated dining, try The Crooked River Grill at St. James Bay Golf Club. I enjoyed their breakfast of Two Buttermilk Biscuits with gravy & sausage. They also serve lunch and dinner and have cocktails and local craft beers.
Carrabelle Junction is a step back to the days of old-fashioned café diners. They serve ice cream sodas, malts, and homemade soups and sandwiches. Prices are very reasonable. The menu is small but delicious and freshly made. I had the bacon, tomato, and melted cheddar cheese on an English muffin. They filled the walls with old time coke, Pepsi, and other vintage signs and cute items. Note: they do not take credit cards.
Eastpoint
The Red Pirate Family Grill and Oyster Bar is a family-owned Forgotten Coast restaurant with a Key West vibe. I had the southwest egg rolls with a peg-leg sauce that was unique and very good. They specialize in seafood, sandwiches, and burgers.
Southern food can hold its own with any other location in the world because it has that special Southern touch.