Shelby, North Carolina: Land of Rhythm and Roots
Shelby in Cleveland County is just 45 minutes west of Charlotte but a completely different world. Creativity reigns here. Two music legends were born in Cleveland County, Earl Scruggs and Don Gibson. Art is all over Cleveland County. Museums are unique. Shopping and dining is laid back and individually owned not chains.
The Hunt House

Start with a stay at The Hunt House, built by Dr. Robert Lee Hunt in 1926, and still family owned by the great-grandson of Dr. Hunt. It's a five-bedroom, Bed and Breakfast that feels like a family home. There's a living room, dining room, kitchen, and enclosed back porch you are free to roam. The front porch is furnished with rocking chairs. The kitchen and the baths are modern and delux and the rest of the house is furnished in antiques. There's a handwritten book of family history in the parlor and an 18-hole disc golf course and walking trail on the property behind the house so no matter your interests there is something for you to enjoy.
Earl Scruggs Center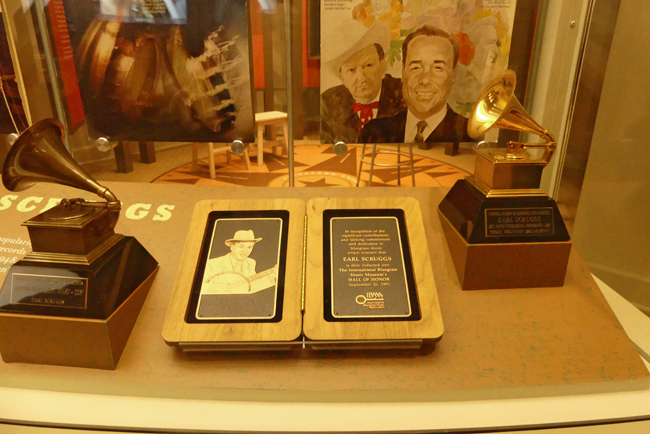 First stop head for the old Cleveland County Courthouse. It was built around 1907 and is now Earl Scruggs Center honoring a local banjo player who perfected the three-fingered way to pick a banjo.
Watch the video about Earl Scruggs' life, then check out the rest of the museum. Earl Scruggs stature is so lifelike you think he's going to swing that banjo around and start picking. The museum takes you through his career and that of his sons. Earl played with their band for many years after he and Lester Flatt dissolved their partnership.
The Center is not just about Earl Scruggs. It has exhibits about the rise of the banjo from its African roots on plantation to it's place in bluegrass and country music. There is an exhibit about the influence of cotton in the south, the founding of Cleveland County, religion in Cleveland county, exhibits of old radios and televisions, a photography exhibit of works by Daniel Coston, a room where you can play one of the many instrument there, and more.
Don Gibson Theater
The Don Gibson Theater built as The State Theater in 1939, is a combination of a museum about Don Gibson, who wrote Sweet Dreams, Oh Lonesome Me and I Can't Stop Loving You, among dozens of other hits, and a live theater. It's a venue for music and live theater and still shows some movies.
In the lobby, there are guitatrs, photos, and artifacts from Don Gibson's long career. Backstage the many artists who performed there signed the wall. There are autographs of Chubby Checker, Vince Gill, Travis Tritt, Lisa Marie Presley, and many other artists who played the theater.
International Lineman's Museum
This museum honors real-life linemen and the electrical utility industry and includes a touch of music with Glen Campbell's hit, Wichita Lineman exhibit
There're thousands of items on display going back to the 1880s. Pulitzer Prize winning photo "Kiss of Life" taken by Jacksonville Journal photographer, Rocco Morabito, in 1967. It shows lineman Randall G. Champion, who was unconscious and hanging upside down by his safety belt after being rendered unconscious by an electric shock. His partner, J.D. Thompson, saved his life by giving him mouth-to-mouth resuscitation. The photo is so powerful.
There are signs from rural electric co-ops, lineman tools, equipment, demonstrations of raising poles, even antique phones. Since allof us have benifited by a lineman's duty restoring our power, this museum has universal appeal.
Banker's House
The Banker's House, built in 1874, was always owned by bankers. It's a Second Empire Style with a mansard roof and turret. The house is furnished as it was when the last family, George and Nancy Blanton and their three daughters, Nancy, Catherine, and Lydia, lived in it.
The barn where teh family kept horses is now a bar for events. The stalls still have the horses names on them.
Shelby City Park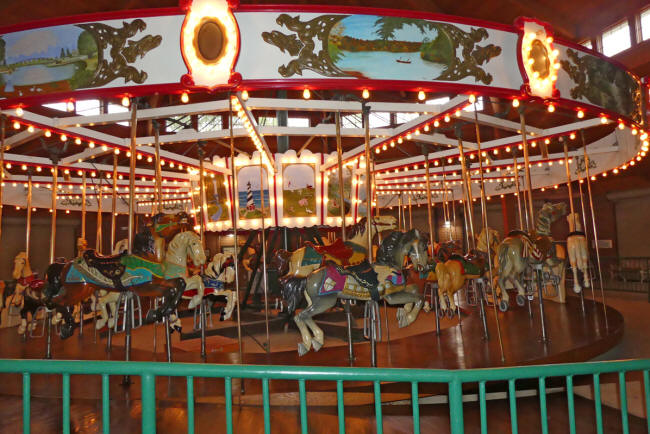 Shelby City Park is a fun place for families. Kids and grownups will love riding the Carrousel and Rotary Special Train. The Carrousel was built in 1919 and contains 29 original horses and three hand-carved new ones. It's restoration earned it the 2007 Preservation Award Winner by the National Carrousel Association. It runs year-round.
Shelby Rotary Train was purchased by the city in 1952 and after years of storage it was restored in 2000. The "Mickey Shull Izzi Depot" is also a rental venue. It goes into storage in winter, but for railfans it's summer fun.
Metcalfe Station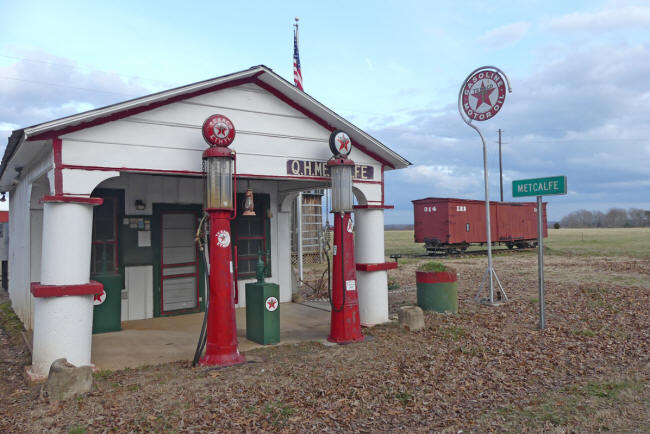 Metcalfe Station was originally the stop for the railroad connecting Cleveland's mills to major railroads. When automobiles came along, it morphed into a gas station. The gravity-fed pumps are still there. There's a boxcar used when Shelby was a big railroad town. It's open June through October on Sunday from 2 to 4 p.m.
Public Art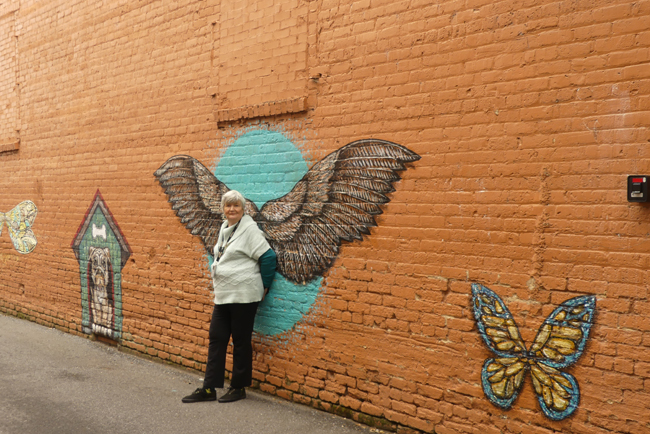 Shelby is filled with public art. Downtown you'll see a giant mural depicting life in Shelby. There is an Earl Scruggs Mural at Newgrass Brewing. Bobby Bell, a local African American football star, is painted by artist Scott Nurkin next to the chamber of commerce. Pose with wings at Dragonfly Wine Market. Don Gibson takes up a wall on the building that houses Miss Molly's Boutique which was once the home of Don's wife, Mrs. Bobbi Gibson. All around town, there are hand-painted disks of his music. Each one features one of his hits and has an audio track where visitors can hear a sample of the song.
Cleveland County Arts Council
You'll find more art at Cleveland County Arts Council. They have different exhibit throughout the year. . Most of the art is for sale and ranges from jewelry to large vases.
Uptown Shelby
Uptown Shelby is walkable place and filled with boutique shops, galleries, and dining. You can shop for your own piece of art at Buffalo Creek Gallery, a co-op gallery. The galleryhas an interesting history. It was Smith's Drug Store where African American high school students staged a sit-in in February 1960. There's a North Carolina Civil Rights Trail marker out front. Dragonfly Wine and Beer Market has it's own art with life-sized cutouts of stars of the silver screen like James Dean, Marilyn Monroe, the Three Stooges and others. Shop Miss Molly's for ladies' clothes. The antique market is four floors filled with antiques. You can download the Central Shelby Historic District walking map or just browse around looking for treasures.
Foothills Farmer's Market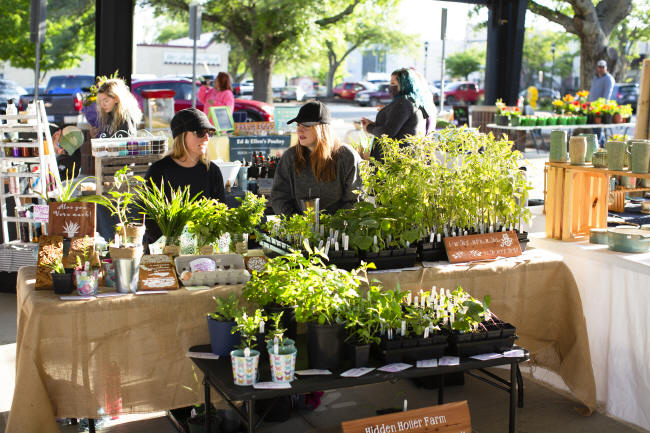 The Foothills Farmers' Market you'll find over 100 vendors, from a 50-mile radius of Cleveland County, selling a variety of local produce, cheeses, meat, baked goods, plants, arts and crafts, and more.

(photo credit Shelby CVB)
Newgrass Brewing Co
Shelby's first craft brewery is housed in a renovated Hudson's Department Store dating from 1946 to 1948. You can sample a craft beer or try one of their hard-seltzer cocktails and dine on tasty bar food.
Shelby Café

Shelby Café is the place to try livermush, a local favorite brought here by German settlers . in the 1700s. Don't let the name turn you off, if you like liver, it you will enjoy this.
Red Bridges Barbeque
Red and Lyttle Bridges began Red Bridges Barbeque in 1946. Their granddaughter, Natalie Ramsey, is carrying on the family tradition of slow cooking pork over hickory all night to produce the best barbeque ever. Their BBQ Plate with BBQ pork, BBQ slaw, baked beans, French fries, and hushpuppies is fantastic.
Baker Buffalo Creek Vineyard and Winery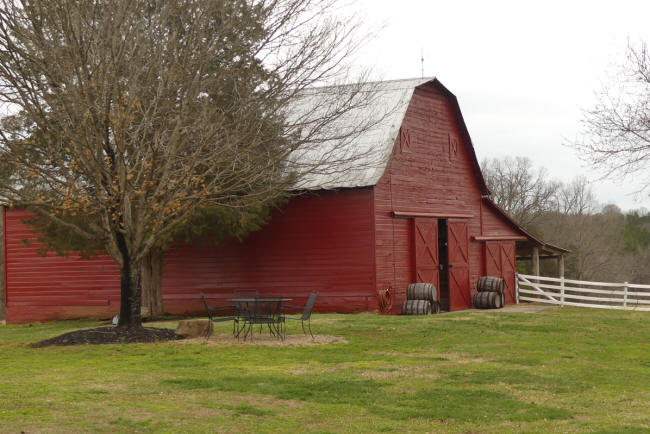 When it comes to wineries it's impossible to find a friendlier one than Baker Buffalo Creek Vineyard and Winery, just minutes outside Shelby in Lawndale. Ann and Charles Edwards began producing wine in 2003 after visiting California wine country. The century-old farmhouse, beautifully restored mule barn, and the original milk house where the Edwards make wine and the tasting facility, is adorable. You can bring your pet along. It's pet friendly and you may meet Bee, one of the family dogs.