Published 10-23-2019
a

More Civil War battles were staged in Virginia than any other state and many of those battles played out in and around the 34,000-sq. mile Blue Ridge Mountains' region. The mountains are more than 1 billion years old, wind through eight states and are stunning in their majesty. Humans are documented in the area approximately 12,000 years ago. Native Americans lived and hunted there as well as considered it a spiritual center. virginia.org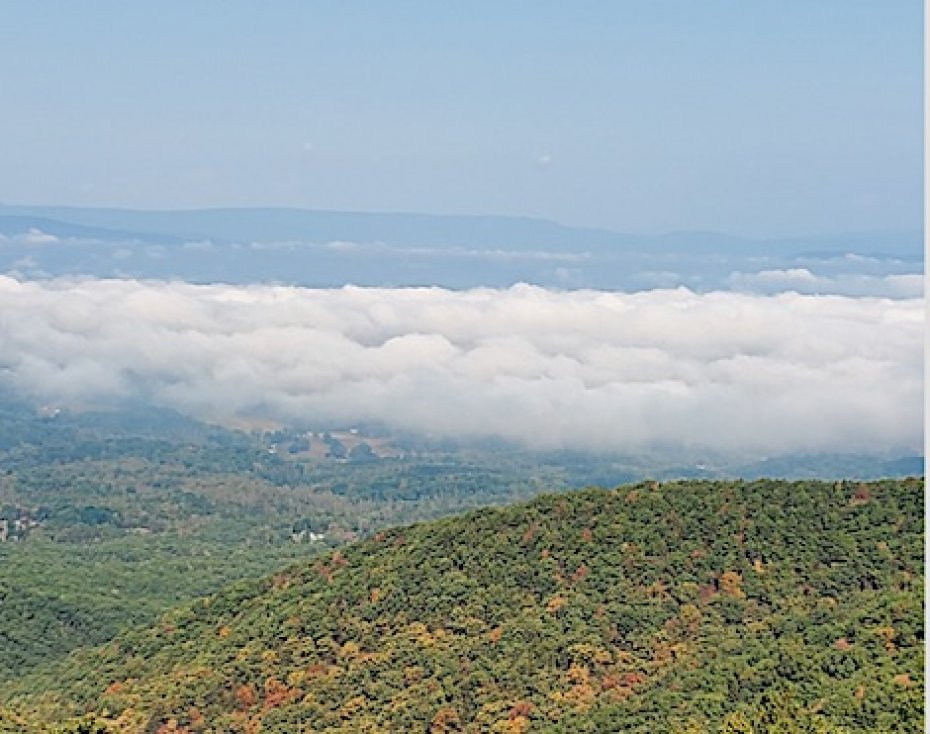 The modern, 469-mile, Blue Ridge Parkway offers stunning panoramic views that are much the same as those visible in the 1800s. The 2,150-mile Appalachian Trail follows the mountains, with 226-miles in Central VA, and more of the trail system in VA than the any of the other thirteen states. Along the parkway there are numerous overlooks and wayside markers with geologic and historical information and there are exit roads so you can elect to experience only a portion of the road. appalachiantrail.org


The surrender at Appomattox Courthouse, 75-miles east of the mountains and 18-miles east of Lynchburg, became the iconic experience representing the end of the Civil War. The terms agreed to at Appomattox would govern the remaining 175,000 men's surrenders, that of General Johnston in North Carolina on April 26, General Taylor in Alabama on May 4 and General Smith in Texas on June 2, 1865.


Appomattox County was established in 1845 from 4 existing counties to facilitate proximity to a seat of government. The county and the river took the name of an Indian village once located on the river's shore. Thirty-acres were selected for a county seat with 2-acres set aside for the courthouse. Prior to then this tiny enclave, on a stage route, was known as Clover Hill. In the 1850s the town grew and in 1848 a tavern was built that would become the McLean House. historicappomattox.com


By 1860 the blacks in the county numbered 4,771, 171 were freedmen and they were 53% of the population. One Thursday each month was Court Day and livestock, foods and slaves were sold adjacent to the courthouse. After the war the vast majority of the former enslaved did not leave the area and black schools were opened in 1866.


Wilmer McLean said of the Civil War that, "the conflict began in his front yard and ended in his front parlor", ironically that was true. In 1861 McLean resided on his plantation with his wife and 14 slaves. Bull Run, a stream, ran through his property in Manassas and the area would be the site and namesake of the Civil War's first major battle on July 18, 1861. Confederate General Beauregard requisitioned McLean's home as his headquarters and his barn became a field hospital. After the area was the scene in 1862 of the Second Battle of Bull Run he moved his family 120-miles to safer ground in Appomattox Court House. On April 9, 1865 McLean's home was selected for the meeting of Grant and Lee to negotiate a surrender.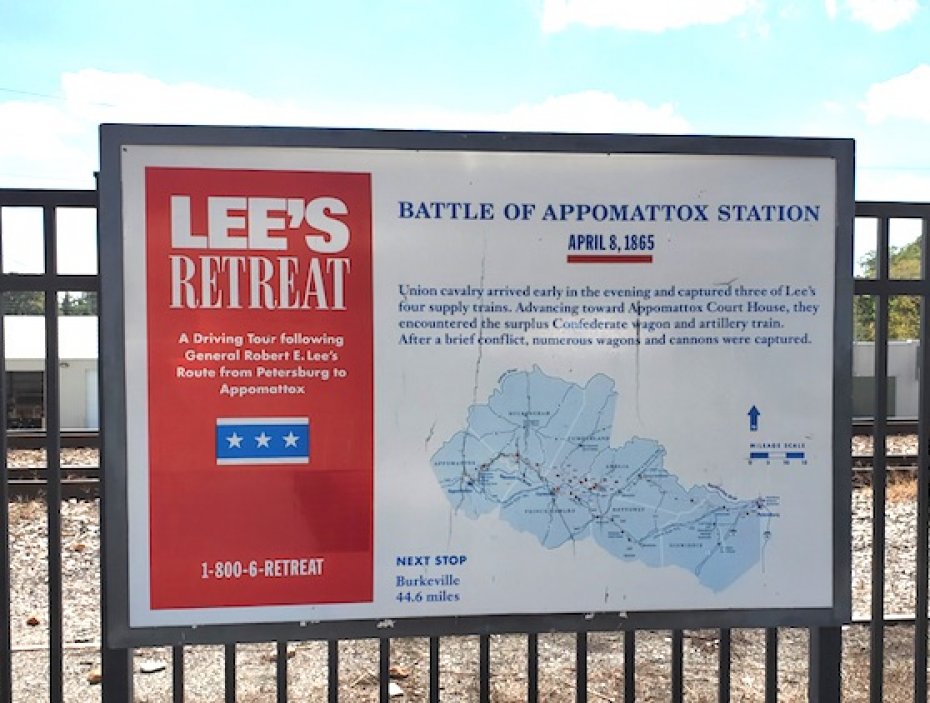 At 8 AM on April 9,1865 Lee found his escape route blocked by General Custer and that afternoon he surrendered to Grant. The path of Lee's retreat can be followed on a driving tour that interprets the action between April 2-9. There are more than 25 markers and audio kiosks with maps, photographs and information. The sites of Lee and Grant's Headquarters is marked as well as the site of the apple tree under which Lee waited for an initial response from Grant.


Hannah Reynolds, an enslaved woman, was the only civilian wounded in the Appomattox battle. She was hit in the arm through a wall on the 9th and died 3 days later. The site of this incident, a slave cemetery and a marker about Joel Sweeney who, taught to play the "banjar" by a slave, went on to international fame.


Appomattox Court House National Historic Park is a reconstruction of the village with eight tourable locations including the original 1852 Meeks Store, 1865 Woodson Law Office and reconstructed Slave Quarters. The Visitor Center is inside the restored courthouse and museum. Tours begin with the 15-minute orientation video. A display, "Enacting Freedom", relates the story of the 5,000 black soldiers at Appomattox. Of the 7 black units the 8th regiment was from Philadelphia and three units trained at Camp William Penn. Thirty-three percent were born free in the North, 10% freedmen from slave states and 50% escaped.


Lee asked Grant to write the terms, selected the surrender site and arrived around 4 PM. The McLean parlor is set up as it was in 1865. After the surrender a Pennsylvania band played "Auld Lang Syne" but Grant banned festivities. The Confederates were compelled to surrender their flags and it took 6-hours to stack their arms.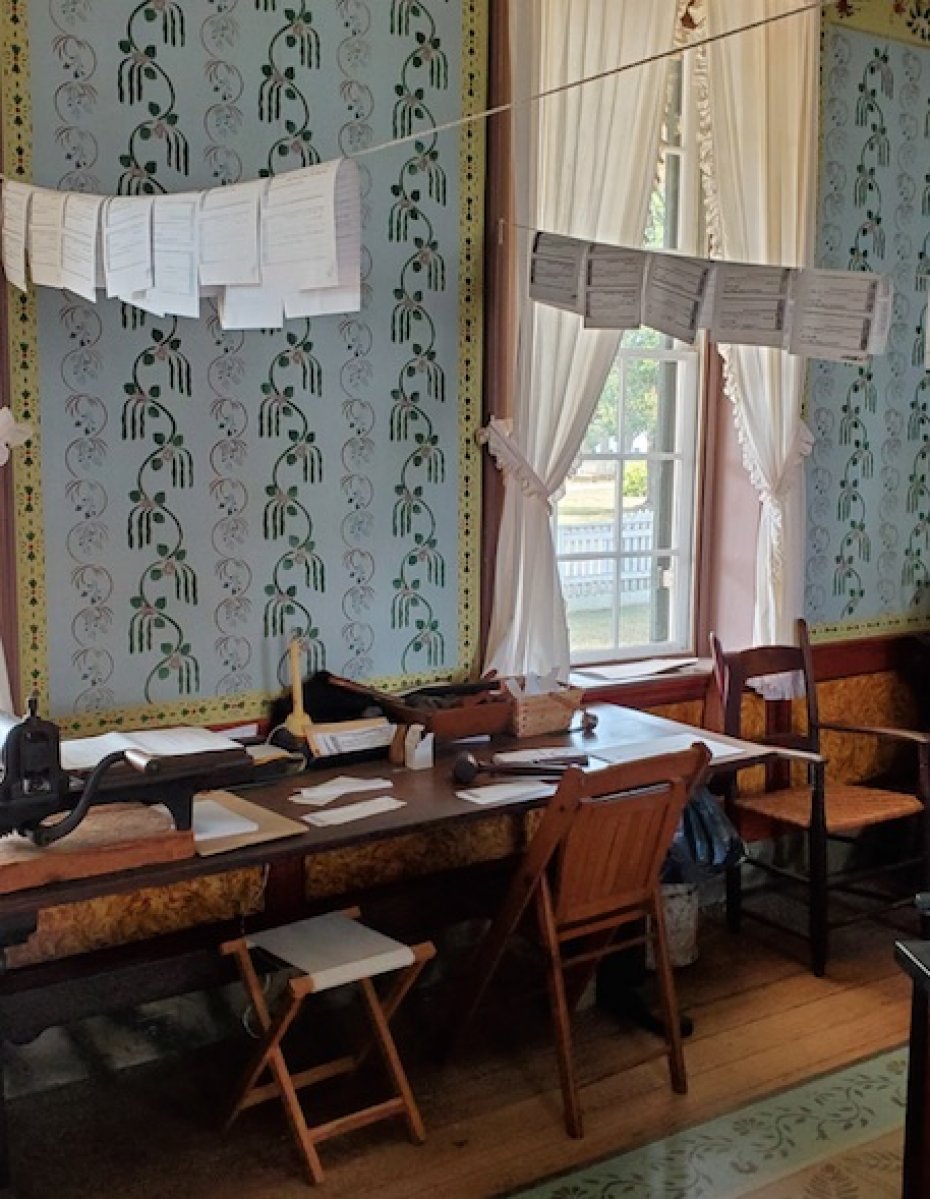 The exhibit in the original 1819 Clover Hill Tavern was used to print the parole papers needed by the Confederates to travel. Thirty-thousand passes were printed by April 11th. Lee recruited blacks on March 23, 1865 in general order #14, offering them freedom and undisturbed residence. Thirty-nine paroles were issued to African American Confederates.


American Civil War Museum tells the story of the war through a series of thematic galleries using audio, video, memorabilia, photographs, artifacts and interactives. They succeed at relating both the African American and Confederate stories holistically. Highlights are an unbiased narrative about black participation in the Civil War and the sword and uniform worn by Robert E. Lee at the surrender. In a case in the center of the final gallery is displayed a lone chair belonging to Hannah Reynolds, she died a free woman. acwm.org





Travel Tip:
The Civil Rights in Education Heritage Trail, more than 50 sites, is a self-guided South Central and Southern VA trail featuring African American, Native American and women. www.vacrossroads.com

.

Renee Gordon has written a weekly travel column for the Philadelphia Sun Newspaper for the past fifteen years and has published articles on local, national and international travel in numerous publications. Her columns focus on cultural, historic and heritage tourism and her areas of specialization are sites and attractions related to African American and African Diaspora history. Renee has been a guest radio commentator on various aspects of tourism and appeared in a documentary, "The Red Summer of 1919". As an educator for thirty years she was an English teacher, event and meeting planner, served as an educational consultant and intern-teacher mentor. She contributed to textbooks on women's history and classroom management and has facilitated workshops on both subjects. Renee considers herself a "missionary journalist" and as such she continues to promote heritage and sustainable tourism.
2013 Recipient of African Diaspora World Tourism Flame Keeper in Media Award for Travel Writing
Affiliations
IABTW- International Association of Black Travel Writers
PBJ - Progressive Black Journalists
We'd love your comments!
Connect with us on:
American Roads and
Global Highways has so many great articles you
may want to search it for your favorite places
or new exciting destinations.