Published 7-23-2019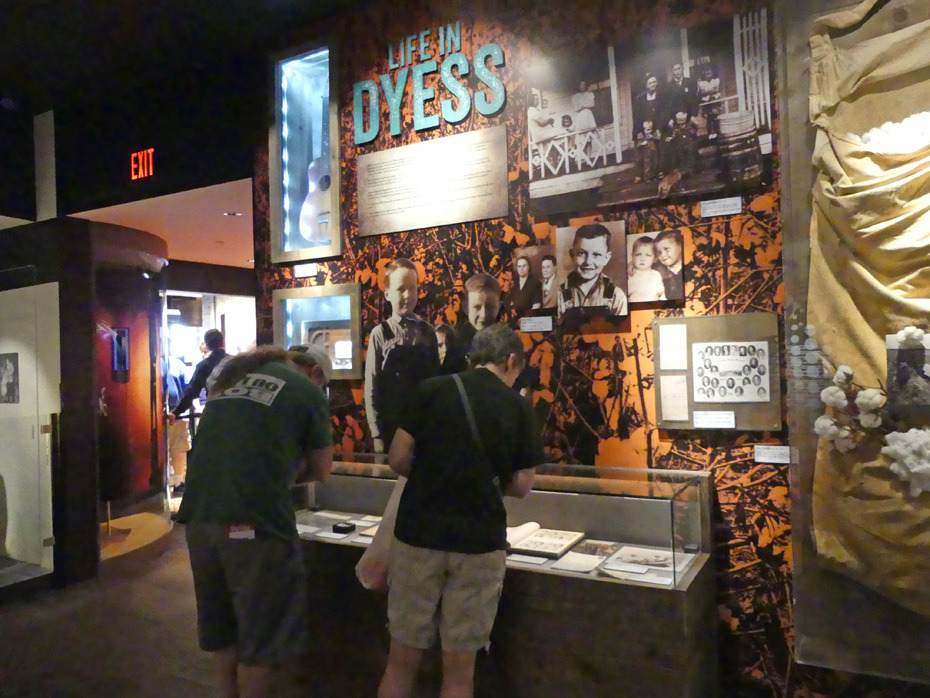 One of the greatest musicians of our time is memorialized in a museum in downtown Nashville. Only a handful of musicians have left as large a footprint on Country Music as Johnny Cash. The Johnny Cash Museum is rated number one music museum in the world and a must-see by Forbes, Conde' Naste, and National Geographical Traveler. There is a good reason why. This museum covers his amazing life from a kid in small town Dyess, Arkansas to his death in 2003. More than just his music it portrays the real man. He had his flaws but he never tried to pretend he was a saint; the museum doe s the same. By doing it they bring you a complete picture of the real Johnny Cash.

The Johnny Cash Museum was opened on Thursday, May 30, 2013 by Bill Miller, a long time personal friend of Johnny Cash. He had been collecting Cash memorabilia for four decades. I have always been a big fan and have read both his books but still was mesmerized by the items I saw. Cash's early life story is told with family photos from the 1940s in Dyess, Ark. In those days, every family had a radio like the one in the museum. It was similar to the one young J. R. as he was called then, used to listen to the Grand Ole Opry. His Future Farmers of America member card and his school yearbook page remind you of his humble beginnings.

There is his old Martin guitar with a folded dollar bill stuck through the strings. Beneath is a note labeling it "My first professional guitar, 1955- '56." In those early days he didn't have a drummer for the band, The Tennessee Two, so he used a dollar bill to give an illusion of a percussive instrument when he played the guitar. His early days at Sun Records are preserved here. One prized artifact is his platinum award for Ring of Fire.

His stint in the air force is detailed here. His uniform is preserved in a glass case. Many papers related to his military service show he was a true patriot. Another exhibit shows Johnny Cash receiving the National Medal of Arts from President George Bush in a ceremony at Constitution Hall in 2002. Should anyone doubt his love for his country they just need to read the words to the song he wrote honoring our flag, The Ragged Old Flag, which tells the history of the American Flag.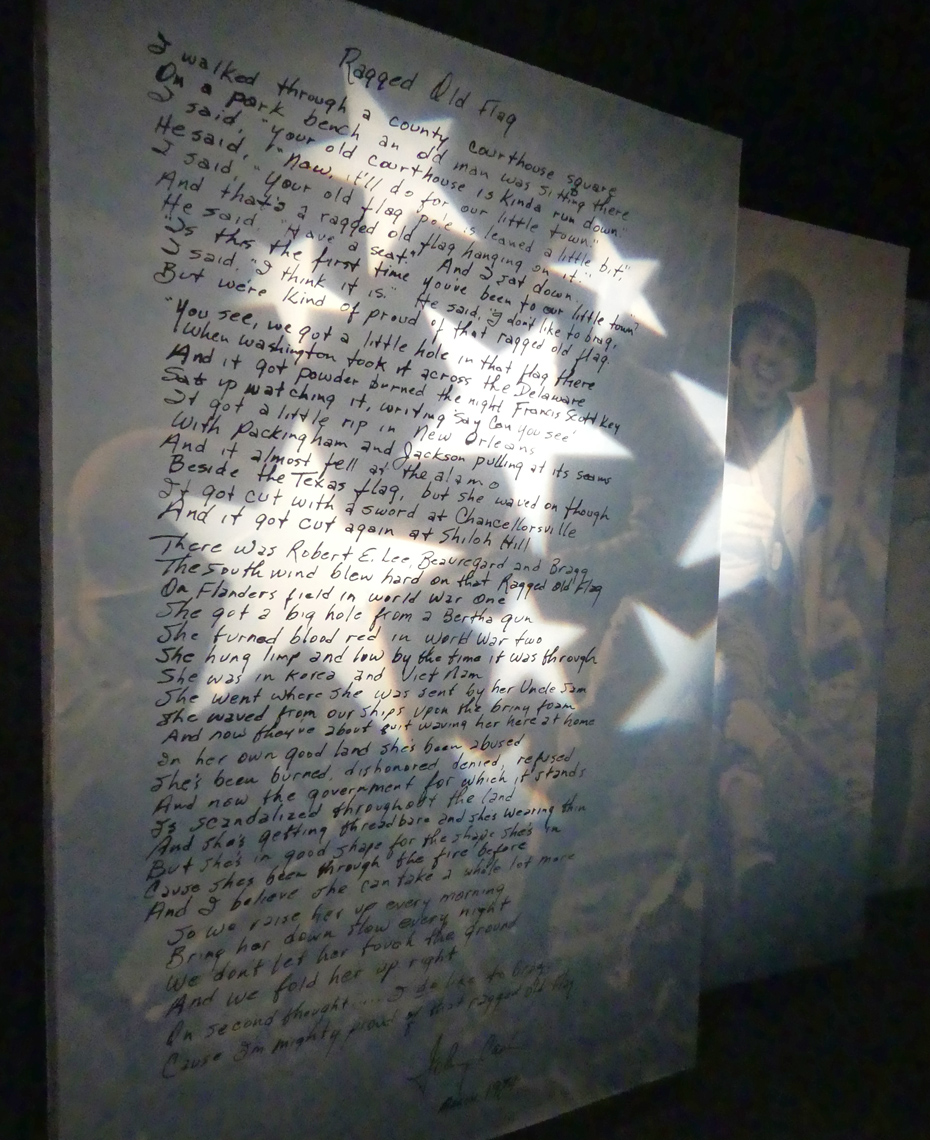 No question that Cash was a rebel as shown by the exhibits of his performances in San Quentin and Folsom prisons. There are tin cups and photos from Folsom Prison, where he recorded his iconic Johnny Cash at Folsom Prison album.


His part in the Highwaymen was a rebellion against Nashville's move towards more slick stylized music. The Highwaymen started the sub-genre known as Outlaw County Music. The museum displays art and caricatures as well as recordings of their music.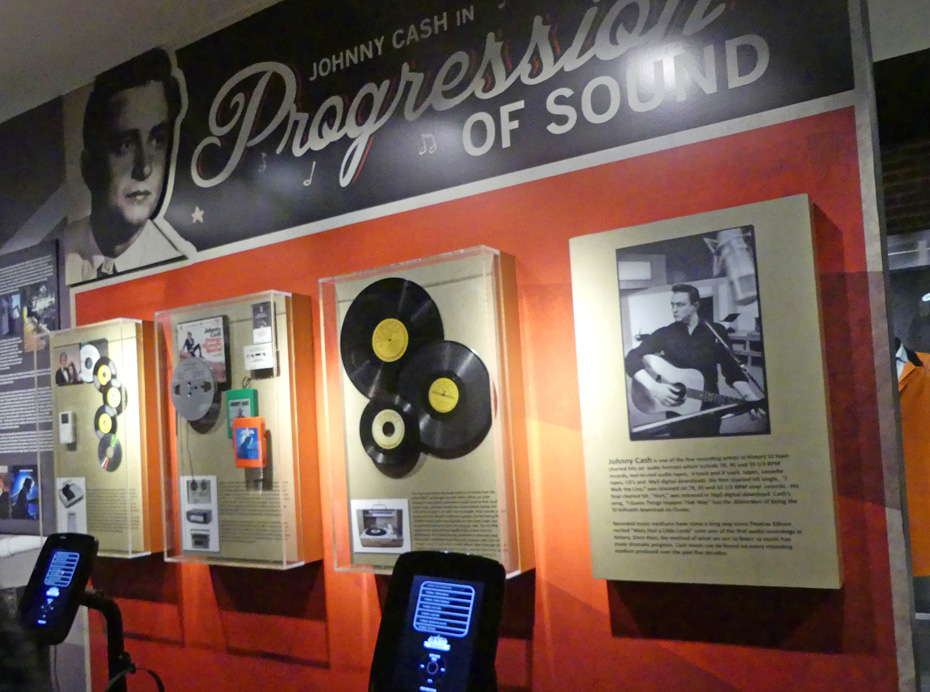 Cash hit the charts in pop, religious, blues, western, rockabilly, rock as well as country. His hits ranged across six decades and included a fan base from teens to seniors. His many awards and gold records are on display as is the range of formats. When he began singing vinyl records, first 78s then 45s for singles and LPs for albums were the norm. His musical career ranged from those records on through 8-tracks, tapes, and CD.
There are clips of Johnny Cash acting in films and TV dramas ranging from Gospel Road: A Story of Jesus, that he produced and financed himself in the early 70s, to roles he played such as Five Minutes to Live which stars Johnny Cash and Cay Forrester. Interestingly for a very low budget movie, the cast included two other well known names, Ron Howard and singer, Merle Travis.

Walk the Line was a movie about Cash's life, starring Joaquin Phoenix as Johnny Cash and Reese Witherspoon as June Carter Cash. The exhibit features plenty of memorabilia including costumes for the film.

An earlier movie, I Walk the Line, was a 1970 film starring Gregory Peck and Tuesday Weld where Johnny Cash did the soundtrack including his hit song, I Walk the Line.

My personal favorite Johnny Cash movie was Murder in Coweta County, a 1983 made-for-TV movie based on a true story. It starred Johnny Cash as Sheriff Lamar Potts of Coweta County, Georgia. Andy Griffith played wealthy landowner/murderer John Wallace. June Carter played a strange local psychic, Mayhayley Lancaster. Another unusual cast member was Watergate-era attorney James F. Neal who was typecast as one of the lawyers during Wallace's murder trial. If you haven't seen it, it's worth a download.


Johnny Cash, the author, is also represented there with Cash's three books. Papers in his own handwriting and other documents tell some of the writing motives and working behind Man in Black, Man in White and Cash: The Autobiography. It's also a little known fact that he also wrote poetry. A handwritten poem he wrote after June's funeral is displayed.

As most people know Cash was a devoted humanitarian. If you were the underdog he stood up for you. His music related to that is best symbolized by his record, The Ballard of Ira Hayes, about a Native American who enlisted in the marines and was one of the men who raised the flag at Iwo Jima. The song tells how Hayes was later denigrated and at his death, "two inches of water in a lonely ditch was a grave for Ira Hayes."

There is a place in the museum that shows items related to the Carter family, and his own family; most notably his brother Tommy Cash whose best known record is Six White Horses.


The last exhibit, and for me, the most moving one, is the video of him singing Hurt. The chair he sat in and several other artifacts from the video are there also. Hurt was recorded just seven months before his death and just a few months before June Carter Cash's death. It is so unbelievably sad that no words can do it justice.
Thanks to modern technology, you can even get you picture taken with Johnny Cash. I have already framed mine and will always treasure it.
The Johnny Cash Museum tells the story beautifully that Johnny Cash was so much more than a musician. He was a patriot, a rebel, a humanitarian and most of all one who stood for the downtrodden. He is the Man in Black for a reason as he says in his own words "I wear the black for the poor and the beaten down, livin' in the hopeless, hungry side of town, I wear it for the prisoner who has long paid for his crime, but is there because he's a victim of the times."
For more info: https://www.johnnycashmuseum.com/
We'd love your comments!