A

ll Gave Some, Some Gave All
Story and photos by Kathleen Walls
Just back from a press trip to Henry County, Georgia, where I had the privilege of meeting many of the veterans who gave some. For Memorial Day, we honor those who gave all. Henry County recognizes both. Here's a little about those who gave some and those who gave all.
Stockbridge Lakes Bed & Breakfast
Our home base for the trip was Stockbridge Lakes Bed & Breakfast. It is Henry County's first bed & breakfast. Stockbridge Lakes Bed & Breakfast sits next to a peaceful small lake. There are landscaped gardens and both front and back porch. The back porch overlooks the lake, gazebo, and pavilion.
There are three Southern themed rooms and a one-bedroom apartment downstairs. All have private baths. I loved my Jacuzzi, and my bed was so comfy I fell asleep as soon as I lay down. Husband-and-wife innkeepers Marvin and Anita Johnson are great people but not chefs, so they brought in Chef Marcus Todd to prepare our breakfast and one special dinner in the gazebo. Chef Todd is a former marine who went to culinary school after his service. Although he was an accomplished cook, he didn't have the paperwork to get a cooking job. Naturally, he breezed through culinary school. He was only the first veteran we met on this trip. Not our last.
South Atlanta Helicopters

One of our first day activities brought us to South Atlanta Helicopters owned by Freddie Briggs, a retired U.S. Army Veteran. He took us up for an exciting trip around Henry County in R44 Raven II.

We flew over the Atlanta Speedway, a huge quarry, Noah's Ark Animal Sanctuary which we had visited earlier, and the brand new Stockbridge Amphitheater. There was a movie set that had us wondering what was getting filmed. It was a bucket list trip. He gave us some lifesaving advice. Never walk towards the back; always go towards the front.
Army Aviation Heritage Foundation


We visited another place you can take a helicopter ride, Army Aviation Heritage Foundation. We met Nichole Pike, Operations Assistant, and a retired army veteran. She worked on helicopters for most of her army career and was very knowledgeable about the Cobra and Huey helicopters on display and available for flights. One of the foundation's volunteers, Fred, joined us with his adorable dog, Tara Bell. Someone had dumped her, and he found her right here in the hangar, so he named her for the former name of the airport and Bell Helicopter Company
.
They showed us the difference between the Cobra and the Huey, both of which saw combat. Nichole told us so often vets, especially Vietnam Vets, would come by and just looking at the helicopters brought out stories even their families had not heard.
Rico's Mexican Restaurant



Dinner that night at Rico's Mexican Restaurant had another interesting twist to the veterans' stories in Henry County. Ricardo Olivares, Sr. immigrated from Mexico in 1971 and opened his first restaurant in Underground Atlanta. He later moved the restaurant to Stockbridge in 1982. It closed in 2000 but in 2002 Ricardo's youngest daughter, Chela, and her husband Mike Davis, reopened and named the new restaurant, Rico's in memory of one of the Olivares sons who served in the United States Navy.
Ricky Olivares, one of Ricardo's grandsons, is head chef and he does a fantastic job with the authentic family recipes and new twists he introduced. My quesadilla was perfect.
Southern Fusion

Breakfast at Southern Fusion the next morning, introduced us to another veteran, Chef Paul Lewis, who served in the Infantry and trained at Fort Benning in Columbus, Georgia. Chef Paul spent 20 years in the US Army, then attended the Art Institute of Atlanta for his culinary degree. He told us he always loved to cook. "It was how I relaxed," he said.
His friends all told him he needed to go to cooking school, but he didn't know there even was such a place. Once he found there was indeed a cooking school, it was a perfect fit. His Locust Grove eatery serves two southern meals a day, breakfast, and lunch. His food mixes the best of southern cuisine with his own twists. I had his Bananas Foster Crepe which is a perfect example of that mix. Another special he does is his huge delicious cinnamon roll. It was fantastic and would give anyone a sugar high that would last all day.
Our server, Honey—yes, her name is really Honey—brought out the giant servings and we wondered how we could eat it all. We gave it a good try.
Southern Belle Farm
Carter Family, whose descendant owns Southern Belle Farm, has been in Henry County, GA for eight generations. Five of those generations lived on this land. The current owner, Jimmy's, grandfather, Mr. J.A. Carter, was a sharecropper until 1938, when he saved enough money to buy a part of the land and began farming what is now part of Southern Belle Farm.
Jimmy's grandfather and his father J.C. Carter, each had dairy farms next to each other in the late-1940s. In 1975 Jimmy who had graduated from the University of Georgia with a Master of Science degree, spent two years in the U.S. Army, and 2 years as Executive Director of Georgia Milk Producers, Inc., put the two separate dairies together into one operation. But corporate dairies put small family farms out of business, and they tried a beef cattle/hay farm for a time.
In 2006, Jimmie's son, Jake Carter, opened Southern Belle Farm for the fall season as an agritourism attraction featuring a corn maze. Today, it's a successful educational/agritourism farm. Adults love the U-Pick offerings of peaches, strawberries, and blackberries, Kids love the rides and domestic animals like the goats that climb up and down on several structures.
General Manager Daniel Welliver told us the farm's history and showed us around. We discovered they have the best strawberry Ice cream and shortcake in the South. I bought some peaches, tomatoes, and a delicious peach salad dressing.
Hamburger Mike's
We met an interesting vet at Hamburger Mike's, a family run restaurant owned by Marc and LeAnna Johnson. The entire family seems to work there. We met Marc's daughter who was busy serving.


Hamburger Mike's specializes in Black Angus burgers, that you order by size and cooking level, then dress from a fresh condiment bar to you specifications. They also offer breaded chicken breast, beef, Philly cheesesteak, fried bologna sandwiches, homemade chips, and an extensive vegan and vegetarian menu where a guest can find vegan chili, Impossible Burgers, and even a veggie version of a Philly cheesesteak.




Marc told us how he came to own the restaurant. He said, "From about sixth grade, all I ever wanted to do was join the army."





He did join right out of high school and served for 16 years. Then his world crashed. He contracted asthma and the army gave him a medical discharge. He enrolled in college working towards a business degree and he eventually came to work for Mr. Mike, who then owned the restaurant and had expanded to three, but when Mr. Mike became ill, the business next door bought the restaurant. Mike sold it under the condition they keep Marc on to run it. After about a year, the business next door wanted out of the restaurant business and offered it to Marc. Unfortunate, with seven kids, there was no money to buy a business. The company then made him an offer he couldn't refuse. All he had to do was double in profits what they had paid originally to Mike for the restaurant. Marc said, "it took us just a year and a half."
Heritage Park Veterans Museum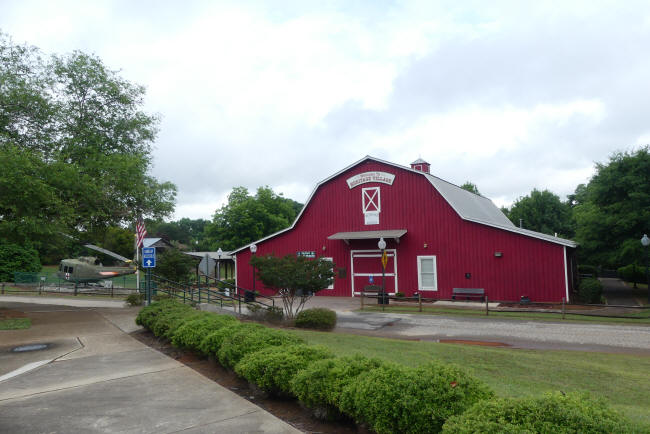 I've introduced you to many living veterans. This is Memorial Day so let's pay respects to those who gave all. Heritage Park Veterans Museum does just that. It's a small museum with a big story. Instead of telling about each battle and war, it tells about individuals who fought and, in many cases died, for our country.
We met Ron Weise, and another volunteer, Ray, who showed us through the museum. Heritage Park Veterans Museum opened on Veterans Day, November 11, 2010 with just five glass display cases, nine mannequins and 15 uniforms. It has grown to a 20,000-piece collection of uniforms, memorabilia and equipment and they all have a story.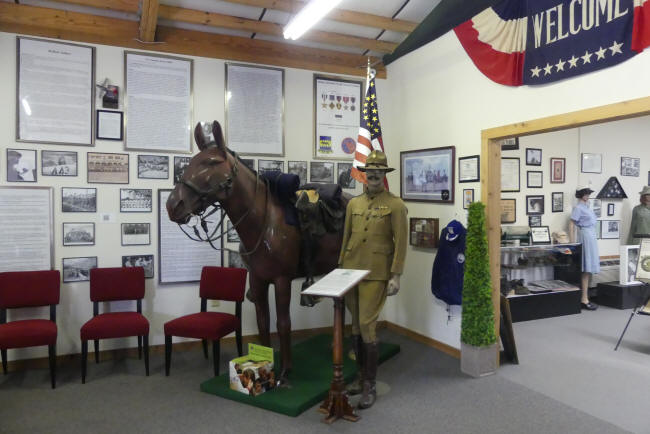 The first room you see is dedicated to the African American Soldiers. There is a tribute to the Buffalo Soldiers and one to the Tuskegee Airmen. The uniform is an original from a buffalo soldier.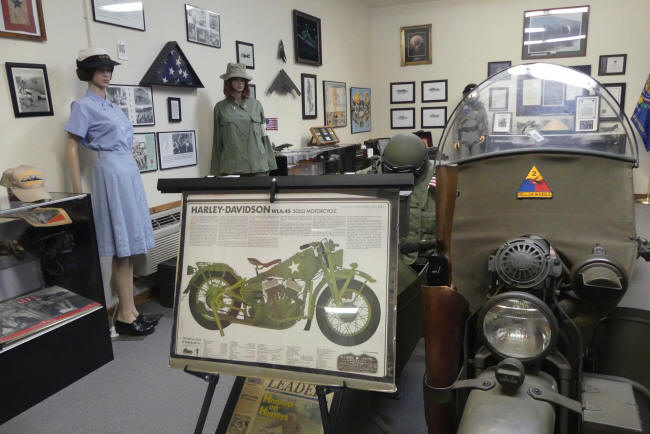 There are exhibits about many local veterans whose families donated uniforms or memorabilia. There is a motorcycle that was used in WWII. A local soldier serving in Czechoslovakia found being used as a water pump on a far, He bought it for $100 and donated it to the museum. There is the first maternity uniform for pregnant military nurses. The doner lives in the area and served when she was pregnant.
She visits with her grandchildren now.


One room is set as a memorial to those veterans who have passed on. It has the feel of a chapel. There is so much to see there and throughout Henry County, you need to go see it yourself.
Veterans Memorial Wall
Within Heritage Park, the 75 feet long Wall of Honor is located on a two-and-a half-acre hilltop. The flags of all 50 states fly in front. The wall features battle scenes and quotes by important figures including the Gettysburg Address and Patrick Henry's famous "Give me liberty or give me death" speech. Under the medals of honor, you see President Kennedy's statement, "Ask not what your country can do for you –ask what you can do for your country."
Walking back away from the wall towards the POW/MIA tribute is the Veterans Walk of Honor, which features the names of veterans inscribed in brick along the path. This smaller but still impressive monument honors the soldiers who were, or are still, missing in action or prisoners of war during a conflict.
This Memorial Day, I suggest you all go online and listen to the Billy Ray Cyrus song from 1992, Some Gave All. Considering the threats to Democracy, happening not only in our country, but around the world, it rings so true.