Experience Kitsap Peninsula, Washington
Story and Photos
by Kathleen Walls
Kitsap Peninsula is just minutes away from Seattle, but it's another world. A place of diversity, both physically and culturally. It's home to Native American Tribes, has one town with a Viking heritage, and is a diners and watersports lover's heaven, with a lot of history.
Bainbridge Island
I entered the peninsula by ferry from Seattle to Bainbridge Island. The island is walkable but the ferry takes cars over. You can bring bikes or scooters, these board downstairs through the car entrance. Tour Bainbridge is a great way to see the island. Our drivers, Paul and Mark, were wonderful and so knowledgeable.
Streamliner Diner
Streamliner Diner is a good breakfast stop. It's a short walk from the ferry next to the Chamber of Commerce and has brochures about places to see out front. Inside you get out-of-this-world biscuits, fresh fruit, or any variety of breakfast dishes.
Marketplace
Marketplace is a delicatessen, coffeehouse, and taproom. It's a favorite local spot on Pleasant Beach. The sandwiches are filling and delicious. I had the Tuna, and it was so hearty, I ended up sharing with a cute doggie at the next table. The island is very pet friendly.
Earth & Vine is attached to The Marketplace. It's a wine bar with live music in the evening.
Pegasus Coffee House
If you're a coffee connoisseur, Pegasus teaches all the things you didn't know about coffee from the locations they purchase the beans by Direct Trade, to roasting and grinding. We had a demonstration, including tasting of several different kinds from light to dark roast. I'm not a coffee drinker but enjoyed the presentation.
Blondel Reserve
Hey Day Farm is a 25-acre sustainable family farm. The main area is in the turn-of-the-century Pederson farmhouse. The home and grounds almost became another cookie cutter development but was saved as a dining and event place. They offer Community Dinners on most Thursday and Friday nights. They're small events accommodating less than 100 people, so make a reservation. Our chicken was fantastic. Naturally, they offer local wines.
The grounds are gorgeous, I saw flowers, from roses to wildlflowers, shrubs, and some blooming fig trees near the commercial bakery that is housed in the barn. Boy, the smell of fresh baked bread coming out of those windows was delightful.
Japanese American Exclusion Memorial
Bainbridge Island was the first place where the government removed Japanese Americans and put them in American-style concentration camps during WWII. The year 2022 marks the 80th anniversary the removal. Japanese American Exclusion Memorial was built to remind us that this should never happen again.
On March 30, 1942, armed American Soldiers marched 276 men, women, and children of Japanese descent aboard a ship to be sent to exclusion camps. Most of them were American citizens.
I recently visited the Memorial on a tour of the island and met with Lilly Kodoma, who was seven years old, when she along with her family was one of those Japanese Americans removed under President Franklin D. Roosevelt's Executive Order 9066 and Civilian Exclusion Order No. 1.
Lillie met us near the Memorial's entrance where a placard shows a photo of the people being marched over a wooden bridge to the ferry that would take them away. Most were leaving the only home they had ever known.
Lilly began telling of her memories in her quiet voice. "We were the very first community to be excluded under that executive order rather than larger cities like San Francisco and Seattle."
She said, "Because we were the first, we got a lot of press coverage." She pointed to a little girl near the middle of the photo. "That's me holding my little brother's hand. I was seven. My brother was two; you can see my mother holding my baby sister who was nine months old. My other sister, she's somewhere to the back; you can't see her in the picture."
Just before you reach the beginning of the Memorial's cedar wall, there's a granite semicircular wall that stands about eight feet high with protruding stone seats. Posted on the granite, there is an engraved black wood panel with the words "Nidoto Nai Yoni–Let It Not Happen Again."
The grounds surrounding the memorial are natural landscaping with native species. The wall curves and has an overhanging roof with a Japanese feel. There are hooks where visitors can hang commemorative items. Each family is mentioned in wood plaques. Lilly pointed out her family and her name.
When you reach the end of the wall at the historic Eagledale Ferry Dock, additional artwork continues to tell the story. There are several rusted steel sculptural pieces by Vaughan, Washington artists Anna Brones and Luc Revel, and a metal gate by artist John Buday.
Near the end of the boardwalk where the people would have boarded the ferry, there are rows of shoes. Shoes are so appropriate here. When you have walked this path from to the dock at Eagledale, you have literally walked a part of our not-so-pleasant history. Walking it with Lilly Kodoma who lived that history was a treat I won't forget.
You can take the self-guided tour, but groups can request a tour.
Blondel Reserve
Blondel Reserve was the residence of Virginia and Prentice Bloedel for over 30 years. You can tour the natural gardens they created and the downstairs of their home. In 1988, they opened the Reserve to the public as a 150-acre garden.
Bruciato
If you are looking for true Italian food, Bruciato, downtown on Winslow Way, is the place to dine. The pizza is cooked in a beautiful wood-fired oven and is delicious and so thin they are served with a scissors to cut it. You can watch them prepare and shove it into to flaming oven. The meatballs are the best I've ever tasted.
Dessert was spedial also. we had to choose between a Mezzaluna,a hazelnut-chocolate calzone or Tiramsu.
L'Atelier TR
At L'Atelier TR chocolate and waffles are the specialties. They do cakes and European pastries and even offer cooking classes, but the chocolate is a true delight.
Eagle Harbor Wine Company
You can witness the complete winemaking process from crushing in fall, to aging, to bottling at Eagle Harbor Wine Company. Enjoy a tasting or include a tour. On summer weekends, they offer music at the winery. I loved their 2017 Reserve Merlot. There's a downtown tasting room on Winslow Way for just a tasting.
Highside Distillery
Highside Distillery is a true family business, Helen and Jeff Glenn and their son, Matt, produce gin, sour mash whiskey, and amaro. Jeff is of Scottish decent and a trip to the Highlands and Speyside regions of Scotland inspired this dream to become a reality beginning in 2014. Matt led us through the distillery and explained the process. Then he and Helen gave us a generous tasting. Taking the tour is informative and fun. Tasting even more so.
Suquamish Tribal Reservation
We left the island for more adventures on the peninsula. Here we explored the history of Agate Passage, the winter home of Chief Seattle. Chief Seattle's grave shows his tribal name, Sealth. In front of the grave, people have left tributes ranging from rocks and shell to feathers and coins. Chief Seattle converted to Catholicism in his later years and there's a small mission church at the cemetery.
Denita Holmes, the Tribal Treasurer, led us through the tribe's museum. She told of the culture of her "people of the clear salt water." The museum's main exhibit, Ancient Shores-Changing Tides, gives visitors an in-depth history of the Suquamish People. They were skilled canoe builders, fisherman, and basket weavers. Chief Seattle saw the inevitable and signed the Port Elliott Treaty, which was supposed to protect their fishing and hunting rights, and offered health care, education, and land plots at Port Madison Indian Reservation. Many Suquamish families preferred to remain in villages. To destroy the native culture and force assimilation, the US government ordered the burning of the Old Man House in 1870. The museum has an entire room telling the history and culture of The Old Man House where many elders and families lived.
As do many native people, the Suquamish Tribe has Clearwater Casino. Besides the typical slots, tables, and betting at the casino, they offer a luxury resort with restaurants, bars, shops, a spa, and a basic RV park. Clearwater Casino is the only waterfront casino in Puget Sound.
Just outside, there's a recreation of a Suquamish summer house. They often constructed these with boards from the longhouse.
Point No Point Lighthouse
At Point No Point Lighthouse we took a tour with the Executive Director at U.S. Lighthouse Society, Jeff Gales, and his cute Boston Bulldog, Auggie. In 1855 Point No Point Treaty was signed here by territorial Governor Stevens and of local tribeal leaders. Point No Point Lighthouse is the oldest lighthouse on Puget Sound and has been in operation since 1879. It's open for tours Saturday from 1:00 to 4:00 PM.
The Keeper's Quarters has been converted to a duplex. One side is available as a vacation rental and the other is the headquarters of the US Lighthouse Society.
The beach is beautiful and popular with fishermen. There's a hiking trail behind the lighthouse. And several cute sculptures made from driftwood in the yard.
Port Gamble
Port Gamble is a historic 1853 town modeled on East Machias, a town in Maine. It's where lumber mill owners, William Talbot and Andrew Pope, who founded the sawmill the town grew around, grew up. It's still a company owned town.
Port Gamble Museum, in the general store's basement, tells the town's history. Pete Orbea, Port Gamble Town Manager, met us and led us on a tour of the town. Pete is also a medium and hosts Ghost Tours.
Port Gamble General Store looks much like it did when it opened in 1916. It has a small café in back and just about anything you need up front. There's a free shell and sea-life museum with a collection from all over the world upstairs.
The theater was built in 1906. It began offering live theater in 2011 after being closed since 1958. The old post office is housed in the building as well.
Butcher and Baker Provisions
Butcher and Baker Provisions is a good choice for lunch. It was built as the Auto Repair Shop when automobiles became a common mode of transportation. The Fried Chicken Sandwich is real chicken, crunchy and firm on the outside and tender inside. Desserts are fantastic.
Poulsbo
They call Poulsbo Little Norway. Jørgen Eliason led Norwegian fishermen to the area in the 1880s. Several annual events feature a local group of "Vikings" who reenact the town's historic salmon fishing and events. When you step on Front Street, you feel you are in a charming Scandinavian town.
Maritime Museum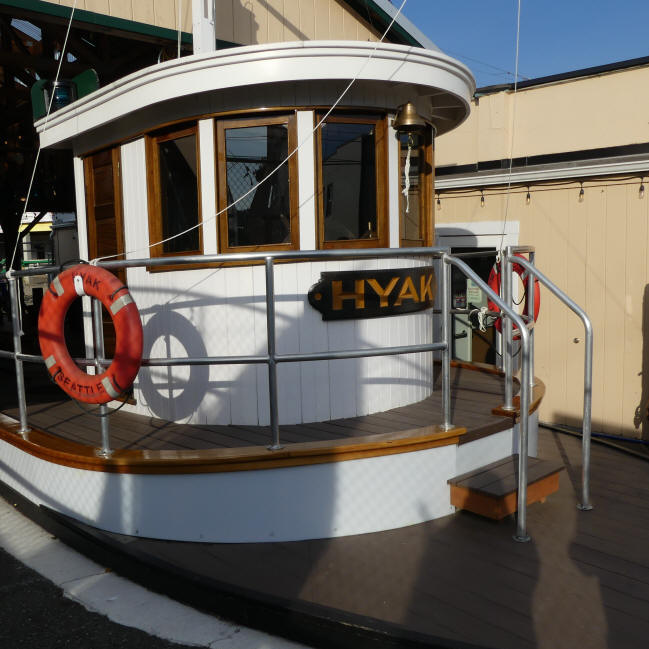 Maritime Museum is a good way to get a feel for the watery history of Poulsbo. Be sure to see the mural in front next to the replica of the pilothouse of the steamship Hyak.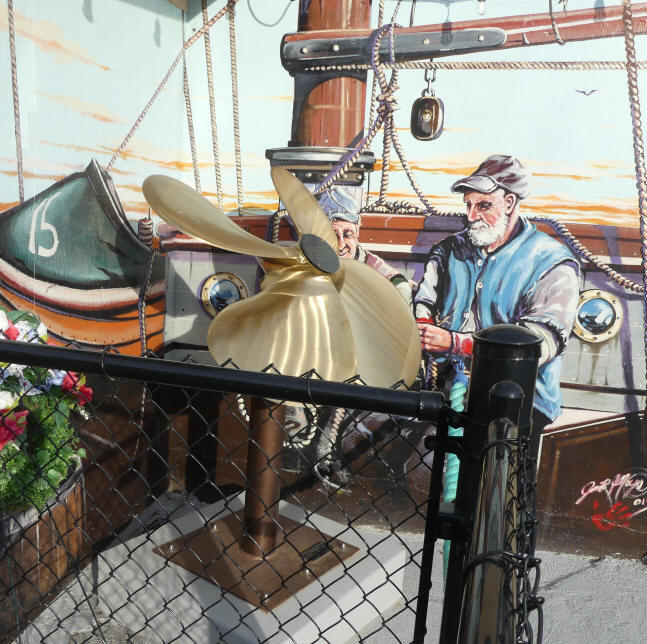 Liberty Bay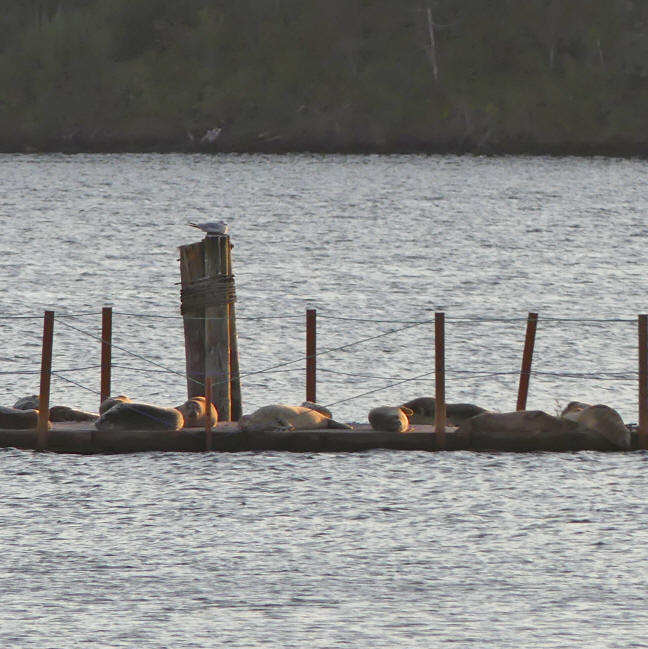 Liberty bay is steps away from Front Street. There's a large pavilion with a heron weathervane. Ships are docked at the marina and passing in the water. With luck, you may see a sea lion.
Sogno di Vino
Restaurants abound in Poulsbo. Sogno di Vino's Chef Willem Reinders offers fantastic Italian dishes. I had the Crab & Bay Scallop Linguine but the Wood-Fired Pizza looked delicious. You can dine on the patio next to a century-old magnolia tree or inside by a cozy fire depending on the weather.
Tizley's Europub
Another great choice is Tizley's Europub, a taste of Germany in Washington. I had the Pork Wienerschnitzel. Delicious, but way more than I could eat. Be prepared to get a takeout box.