Published 11-26-2019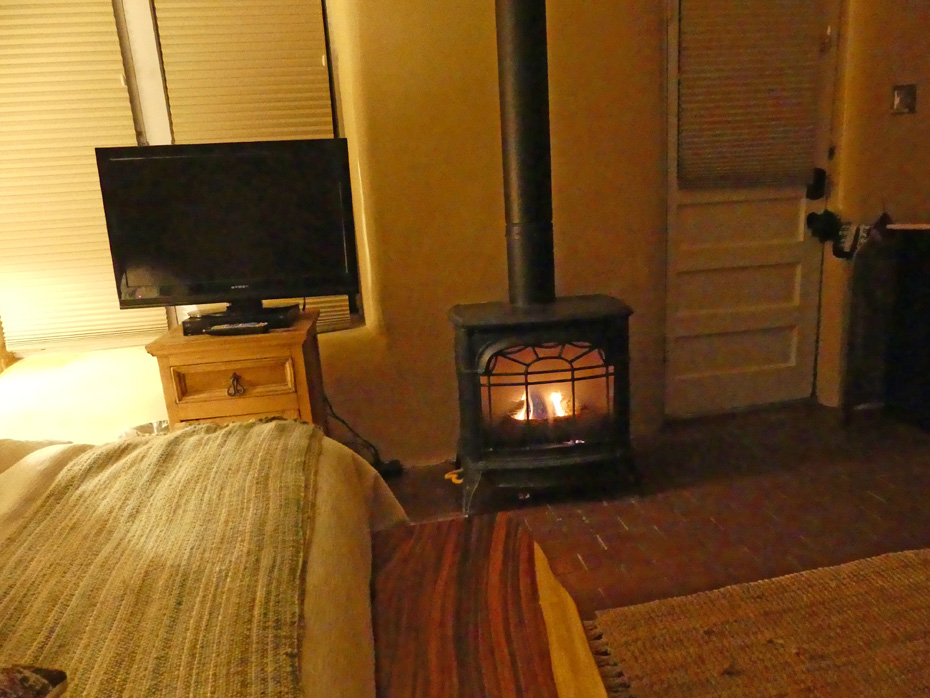 Nothing is more welcoming on a cold night than a warm fire flickering in an old fashioned cast iron stove. It's really a gas heater but it looks and feels like a real old fashioned wood one. Naturally, there is back up heat and air conditioning if you visit in summer. When I visited one of Two Casitas properties in November, Santa Fe's nighttime temperature dropped to 19%. It didn't bother me at all. I was so cozy inside their La Paloma cottage reading a book in a comfortable bed and watching the little blue flames flicker and dance.
When I turned off the bedside lamp, the soft glow of the flames lulled me to sleep. It helped to know that come morning I was only about three quarters of a mile from the Plaza where I would be heading and even less to Canyon Road where there were lots of art galleries, boutique shops, and restaurants.
When I awoke the next morning, the cottage was warm and felt so welcoming. There was a complete kitchen equipped with pots, pans, dishes and glasses where I could prepare a real breakfast rather than the impersonal mini fridge and microwave of a hotel. A tea pot stood on the stove for my morning tea.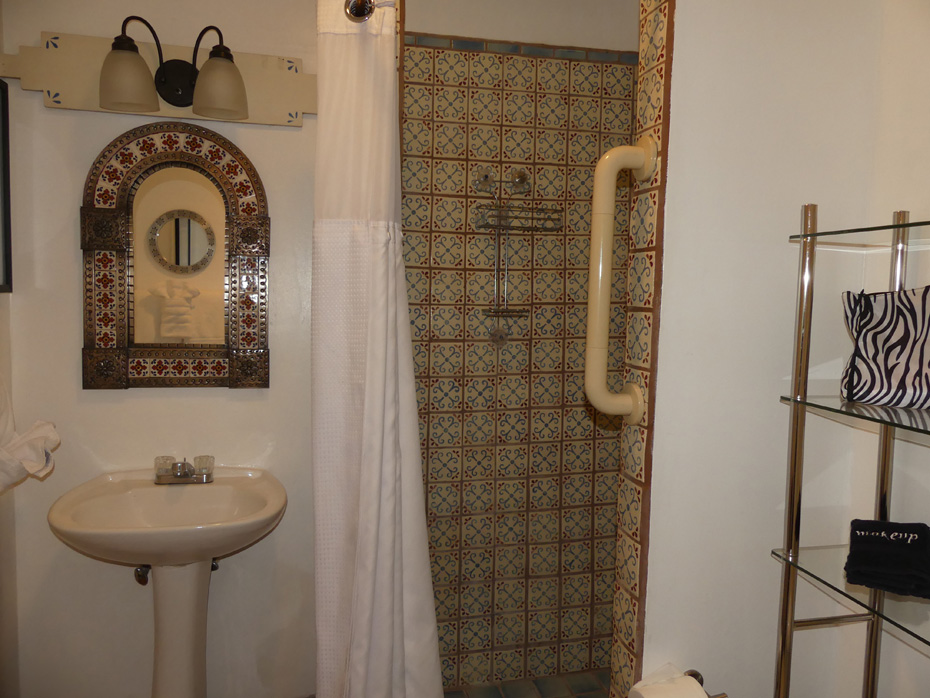 The bathroom shower has such interesting details, like the very New Mexico looking tiles in the shower and the mirror over the lavatory that looks like it might have come right out of old Mexico. There is lots of tile in the kitchen as well. Interesting pattern on the counters and backboards and a red tile floor that looked like it might have been handmade.
Click here for 360 video:
In the main room there is a lovely coffee table in front of the shiny leather sofa. The table seems to be a piece of petrified wood sanded and polished to fit the décor of a home that must have seen much of life in its 100 plus years. A delightful fountain and light combination offers soothing flowing water sounds and a soft light. The cottage is real adobe so there are no sharp corners. Everything about the cottage is soft and curved.
In the back yard there are cute paw prints and hand prints in the cement just outside the back door. My imagination found it easy to picture children of another era playing and romping there with their dog after they made the prints. Because of the weather I didn't get to enjoy the yard much but remnants of a garden hinted at a summer of fragrant beauty. Likewise had the weather been a bit warmer, the hot tub would have beckoned to me. Perhaps I would have barbequed in one of the two barbeque grills there.
To the front of the casita there is a sheltering porch. People in the time when this cottage was built knew how to shelter from the elements. They didn't have all the modern conveniences but they had a sense of place. This small dwelling feels welcoming as if all the people that went before you left a message for modern visitor that says, "Welcome. Mi Casa es su Casa."
I am so thankful Glamping Hub sponsered me for this stay.
Special New Years Eve promotion:
Best New Year's Eve vacations 2019: Where to spend NYE | Top New Year's vacation spots | Get $40 off with this promo code*: GHnewyears40. Just go here and use the code. https://glampinghub.com/special/new-year-getaways/
We'd love your comments!