Cape Henry Lighthouse's Unique Keeper

Cape Henry Lighthouse, the 4th oldest lighthouse in the United States, was authorized by President George Washington in 1792. In 1881, the government constructed a second lighthouse 350 feet from the first. You can visit but need to be cleared by MPs first as they are on an active military base. A passport or driver's license works.


You can climb to the top of the oldest lighthouse but it's a stiff climb. The lighthouse was built on a dune, so you first climb a long flight of stairs to the top of the dune. Then, it's 191 steps on the steep spiral staircase to the top of the lighthouse. Both lighthouses are on the National Register of Historic Places.



The lighthouses are a fun place to visit but there is something more in their story. Lighthouses are beacons of hope, and Cape Henry Lighthouse offers a story of one man's hopes. From May 10 to July 26, 1870. Willis Augustus Hodges served as the first African American lighthouse keeper at the Cape Henry Lighthouse.

Hodges has an interesting background that shows anyone determined enough can overcome barriers. He was born free in what is now Virginia Beach because his mother was the daughter of a white woman and a black man. Hodges' father had earned his freedom by working beyond his regular duties on a farm.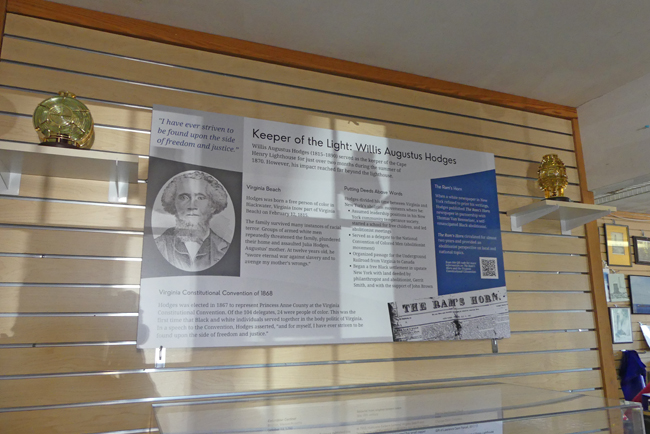 Being a prospering free family didn't make life easy for Black people then. They faced harsh persecution in the south, especially after the Nat Turner Rebellion in 1831. His family moved back and forth between Virginia and New York during his youth.

Despite strong anti-education laws preventing Black people from learning to read or write, Hodges received a few months of schooling and taught himself to read and write. As an adult, he was nicknamed "Specs," for his large, metal-framed glasses. He was a strong believer in education and set up a free school for black children. He advocated for abolition, voting rights, integration of schools and property rights. He even founded his own town, Blacksville, in New York and used his home there as a stop on the Underground Railroad. He became an ordained minister and ran for office. As part of his campaigning and educational push, he created his own newspaper, The Ram's Horn. During the Civil War, he spied for the Union.
In spite of the harsh treatment, he had received in Virginia, he loved his native state and after the war he returned there. During reconstruction, he represented Princess Anne County in Richmond at the Virginia Constitutional Convention.

An optimist to the end, he wrote this at end of his 1878 autobiography: "We may not live to view the promised land of freedom and justice; we may die in the wilderness of slavery and injustice, just like the older heads of our children of Israel, but our children or children's children will possess the land, if God is God and a just God."

He died at 75 years old on September 24, 1890 and is buried in New York.