Bilger's Rocks: A 300-Million-Year-Old Rock City
Kathleen Walls
Published 11-1-2023
Bilger's Rocks have been there since before the America continents split from Africa. It's about 300-million years old, give or take a few birthdays. Paleo-Indians used some of its caves for shelter. The first European settler was a German named Jacob Bilger in the 1800s. Today, it's a park with not only the rocks but a primitive camping area and playground and the ruins of an old mill on Bilger's Creek which runs through the park. There are hiking trails and beautiful woods.
We did a small group tour at this year's MATPRA's (Mid Atlantic Tourism Public Relations Alliance) Welcome Tour. Unlike the better-known Rock City atop Lookout Mountain, this one is not fancied up. It's natural. Although there are places where man has left a mark. Our guide pointed out some carved graffiti, including one from 1921 featuring a globe and the words, "The World is Looking to Us," referring to America's place in world politics just after WWI. It was done by John Lawson, a Swedish immigrant who had migrated to Clearfield County and worked as a miner. He was an amateur artist with no formal training. Another more elaborate carving, probably much older, was a life-sized stone carving of a crouching lion. The lion has lost some of its features, but you can still see enough to tell what it is.
The walking path is more of a suggestion. It leads down into the heart of the rock formations and from there, it is not so evident. We wandered off into several crevices where someone much skinner than I am might have fit through. As some points in these passages, I could look up and see the friends in the group who chose not to climb among the rocks.
There is one large area called "Devil's Dining Room." There's a long tight crevice from this room leads to the "Devil's Dungeon" and the "Devil's Kitchen." A tight passage near the end of the path leads to a room called "Ice Cave" since in winter this spot keeps water frozen longer than any other places around it. The formations are a labyrinth of fun passages.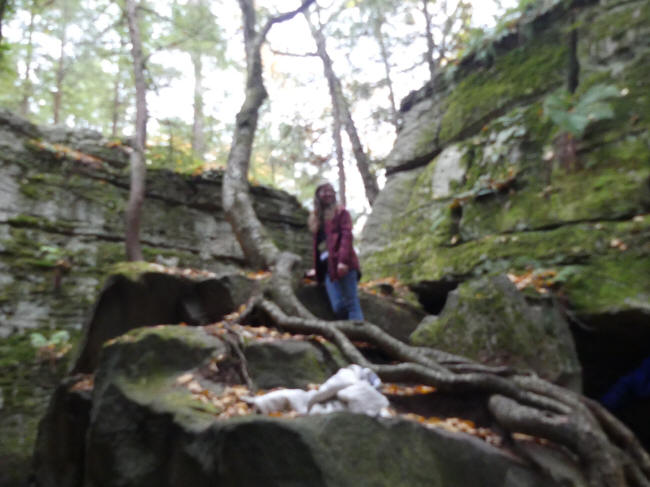 Legend suggests the frequent use of "Devil" in the formation names refers to the early farmer's name for barren rock land that could not be farmed. Although crops would not grow here, the trees have created some strange sights. Roots led down along the sides of the cliffs from some of the trees above. Human touches are seen on some of the trees. One is carved with a humanoid face and a smaller sun image on it.
Even for those who do not explore the rocks themselves, there are amazing ground views down into the crevices. Do use caution with small children or dogs, as they could easily fall into these crevices. It's a steep drop.
One of the newest features of the park is "Rock House." county-native Roland Welker won the History Channel's Season 7 television show, Alone by surviving 100 days in Canada's arctic wilderness. "Rock House" is a replica of the rock shelter he built to live in for those frigid 100 days.
Bilger's Rocks is in Clearfield County, Pennsylvania, five miles north of Grampian. Do wear sturdy walking shoes and be aware the path can get somewhat rugged. There were places where I had to almost crawl to get up a section of the path. This is a true natural treasure not to be missed.