Amelia Island:Like No Place Else on Earth
Story and photos by Kathleen Walls

It's no wonder Amelia Island is such an interesting place to visit. The blend of cultures that have created this special place differs from any other place on earth. It lived under eight flags. It was special to people from pre-Columbian Timucuans to pirates and con men, as well as hardworking settlers from many countries. Today, it's a wonderful vacation spot with fewer crowds than the better-known Florida beach towns. Here are just some of the best things to do on Amelia Island.
Welcome Center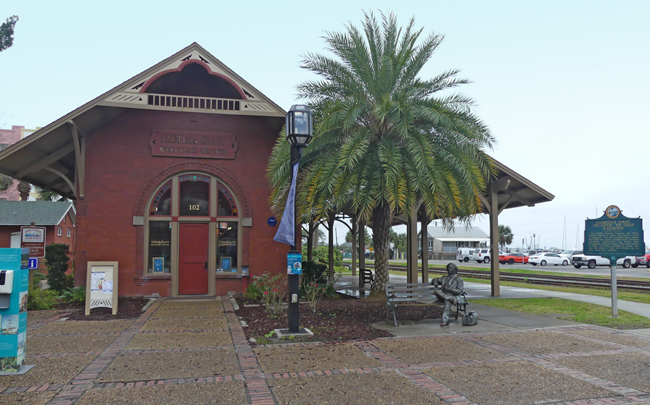 The Welcome Center in Fernandina, Amelia Island's main town, is the perfect starting point. Out front you meet David Levy Yulee who moved the island into the modern era. You can join him on his bench and take a selfie. Inside, friendly staff will give you brochures, maps, and information about Amelia Island. The center is housed on a former railway station. Appropriate, as David Yulee was the one who brought the railroad there.

Amelia Island Museum of History

The Amelia Island Museum of History is the perfect starting point to understand and enjoy Amelia Island. Its exhibits range from the Timucuans to life in the Nassau County Jail that now houses the museum. I recommend taking the Museum's Eight Flags Tour to learn more. Our guide, Barbara, told the island's history as we viewed exhibits for each era.

The French founded the first colony composed of Huguenots fleeing persecution in France. Pedro Menendez, who founded the nearby Spanish colony of Saint Augustine in 1565, massacred the French and raised the Spanish Flag over Northeast Florida. England realized they were missing out on all island had to offer, a deep harbor and freshwater, and they took over. With a lack of policing forces, the island was easy prey and for several days, a group calling themselves the patriots took over. Next flag was raised by Gregory McGregor, a soldier of fortune Scottish con-man. He represented a group called Free America. Pirates loved the island for its harbor and access to the Gulf Stream and its treasure laden shipping passing nearby. Spanish soldiers joined American irregulars, and French-born pirate Luis Aury, to run MacGregor out and claimed the island for the Republic of Mexico. When the Civil War began, Confederates seized unfinished Fort Clinch. Union forces regained control of the fort on March 3, 1862, and raised the American Flag.

Fernandina Plaza Historic State Park
Florida's smallest state park occupied less than an acre overlooking Amelia River. It is the historic site of Fort San Carlos, a Spanish fort dating back to the early 1800s protecting the original town of Fernandina. When David Yulee wanted to bring the railroad to Amelia, he moved the town to its present location. The park has a canon replica and several interesting informational signs about the area history.
Amelia Island Lighthouse

The 67-foot-tall lighthouse was built in 1838 making it the state's oldest lighthouse. The grounds are open to the public on Saturdays from 11:00 am to 2:00 pm. There are lighthouse tours on the 1st and 3rd Wednesdays of each month except city holidays. It was built from bricks salvaged for the old Cumberland Island Lighthouse.
Fort Clinch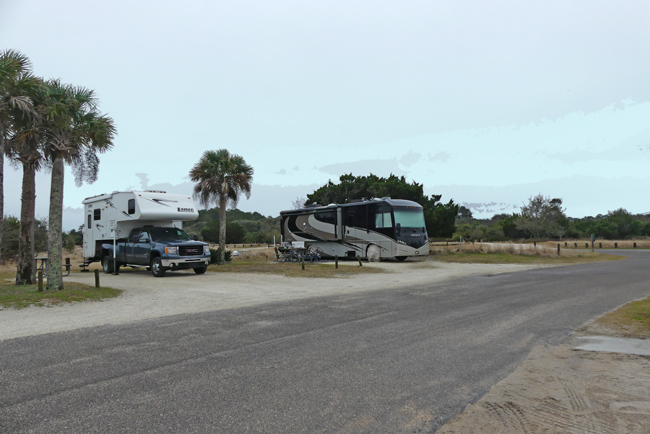 Fort Clinch is the place to go if you are an RVer or tent camper. They offer two campgrounds; Atlantic Beach campground has 21 RV and six tent-only sites. If you've never beenRVing et, here's a good option. Adventures made simple - Rent an RV from RVshare
Amelia River campground at the north end of the park on the banks of the St. Marys River has 42 sites. My pick is the river campground because it has Spanish moss-laden oak trees and scrubs give each site some privacy, whereas the beach is bare and open but has a beautiful beach. All campsites have a fire ring, picnic table, water, and electric hook-ups. There is a dump station on site. Your furry friends are welcome at both campgrounds. Swimming, hiking, canoeing, or kayaking are all popular here. Amelia Island is on the Great Florida Birding and Wildlife Trail, so you will see some wildlife and many birds.

The first fortifications on the island started in 1736, but construction of Fort Clinch began in 1847. By the start of the Civil War, it was about two-thirds completed. At the start of the war, it was under Confederate control. The Union gained control in 1862 and finished building the fort. It was the area headquarters during reconstruction.


The museum at the entrance to the fort has a video telling of early workers' stories, ranging from the baker to the rugmaker. You can tour the fort buildings, five bastions, guardrooms, the prison, enlisted men's barracks, blacksmith shop, storehouses, bakery, hospital, kitchens, lumber sheds and galleries. They furnished each area to re-create the site as garrisoned by the First New York Volunteer Engineers in 1864. There will always be re-enactors to explain how things worked.

Cumberland Island Cruise
Take a ride on Amelia Island Cruises to Cumberland Island. On the cruise I took, Captains Benny and Bob took turns telling us about the history of Amelia and Cumberland islands. Both are interesting and well informed. We had an interesting view of Fort Clinch from the water. We saw several dolphins and lots of wild birds. The pelicans were very active. Captain Bennie told us the manatees come in to play here in warmer weather. It was a real thrill to see several wild horses grazing as we cruised around Cumberland Island.
Shrimping Musuem
If all you learned about Amelia Island's shrimping industry on the cruise has you curious, there is a small museum about Amelia Island's shrimping history near the marina. For anyone interesting in shrimping it's free and very informative.

Maritime Museum of Amelia Island
A visit to the Maritime Museum of Amelia Island shows why pirates loved Amelia Island. The museum has models of galleons, some fantastic artifacts, and a map showing known wrecks along the coast. Many believe there is still lots of undiscovered treasure buried on Amelia Island. One display case has a jeweler's furnace shows treasure from sunken ships. On July 31, 1715, a Spanish treasure fleet composed of 12 ships ran into a storm on their way back to Spain. Eleven of the ships sank. Thousands of dollars' worth of gold, silver, and jewelry, including the Spanish queen's royal jewels and a small cast-iron Jeweler's Furnace, the only one like it in the world, were found near the south end of Amelia Island under three feet of sand.
American Beach

American Beach brings us into mid-20th century when old prejudices still ruled. In 1935, the president of Jacksonville's Afro-American Life Insurance Company, Abraham Lincoln Lewis, wanted to build a beach retreat. You would think "no problem" but there was one thing that made it almost impossible; Lewis was Black. Jim Crow Laws restricted African Americans' use of public beaches. Lewis hadn't gotten to and Florida's first Black millionaire without learning how to deal with problems.

He solved this problem by buying 33 acres of beachfront property on the south end of Amelia Island. He invited employees and friends to buy lots and build homes. He named his resort American Beach and adopted the motto, "A place for relaxation and recreation without humiliation." Later, he expanded the community to 216 acres. By 1940, many of his lots were still unsold. He offered them for sale to any member of the black community. In its heyday, Evans Rendezvous, the nightclub at American Beach, played host to celebrities like Ray Charles, Cab Calloway, and James Brown. American Beach boomed until 1964 when two things impacted it, Hurricane Dora and the passage of the Civil Rights Act. When Black people could go to any beach, American Beach declined.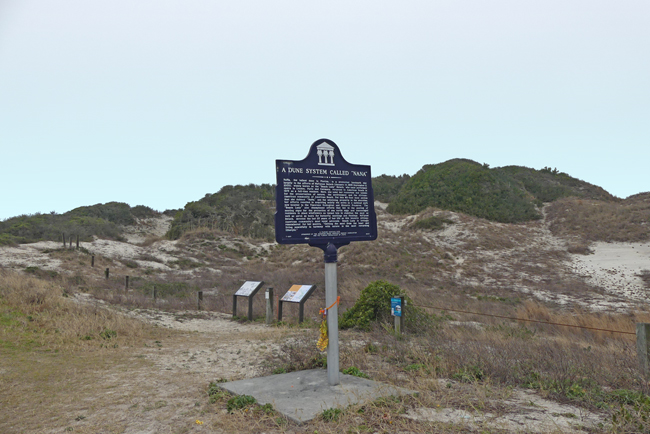 American Beach history saw a new champion, MaVynee Oshun Betsch, who came to be known as The Beach Lady. MaVynee was A. L. Lewis's great-granddaughter and a world-famous opera singer who performed in London, Paris, and Germany during the mid- 1950s and early '60s. As she saw American Beach decline in popularity and be overtaken by McMansions and developers didn't care about the environment, she gave up her career in 1975 and returned to American Beach. She gave tours of the area from her motorhome to educate visitors to the history of the beach. She became a tireless worker for environmental causes. She lived part of the time in an old cinderblock home where she could gaze out at her favorite sand dune from the window on the second floor. She named the dune NaNa which means ruler, monarch, and grandmother in the Ghana language. NaNa is 60 feet tall, making it the tallest dune in the Florida. When two McMansions were built, blocking the dune, she lost her view, but eventually she won the fight for NaNa's protection. In 2005, the year she passed away, the National Park Service acquired 8.5 acres containing the NaNa dune guaranteeing its preservation. MaVynee's ashes are buried atop NaNa.


American Beach Museum tells the history of American Beach with photos, artifacts, and clothing, and it tells MaVynee's story. When you visit, you can view NaNa. Dog friendly Burney Beachfront Park has a boardwalk leading to the white sand beach. There are picnic tables and restrooms here.

Downtown


In-between visiting all the fascinating places in Amelia Island, take time to stroll around downtown. It's filled with interesting shops, galleries, and restaurants. It's part of the National Main Street Program to preserve older and historic downtowns.

Dining
You have so many choices for food and drinks here. If you want waterfront dining, try Brett's Waterway Café. We visited during Amelia Island's 14th annual Restaurant Week and Brett's had a special I couldn't refuse, Turkey Divan, a casserole with turkey, broccoli, and cheese, served with a jellied fruit salad and for dessert Key Lime pie. My friend had a French Dip sandwich. Service was great, atmosphere beachy, and food delicious.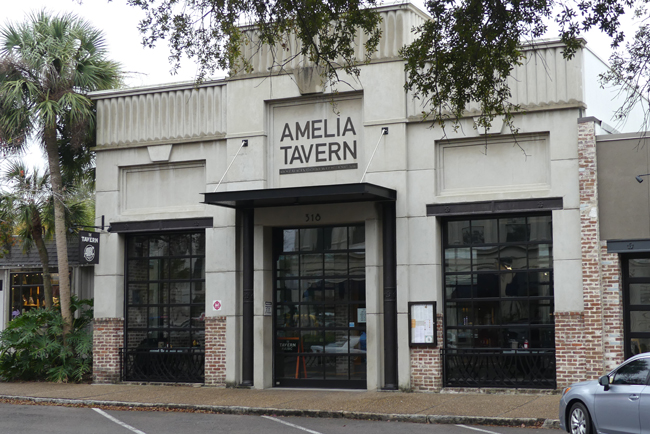 Another great dining experience is The Tavern. The food is American Southern, and it is also the first craft brewery in Fernandina Beach. It's just about three blocks from the waterfront. I had the Buffalo wings. They were delicious. The sauce was somewhat lighter and had a sweet touch while not being too hot. My server Maryam was quick and attentive. The décor celebrated the end of prohibition with cute art and photos from the 1920s.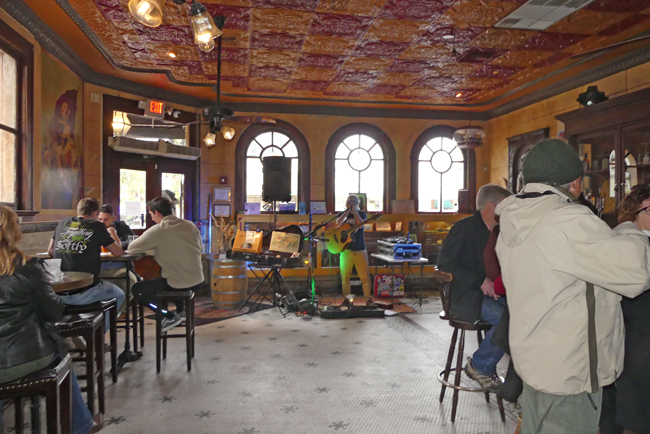 If you just want a drink, stop in at the Palace Saloon. Folks from sailors to robber barons have done just that since 1903. It's Florida's oldest bar. Louis G. Hirth bought the Prescott building, as it was called then, in 1903 and named it the Palace Saloon. He had his friend, Adolphus Bush, founder of Anheuser-Busch help the design the bar.

When you step in past the welcoming pirate at the front door and see the 40-foot mahogany bar, mosaic tiled, floors, embossed tin ceilings, and wall murals, you see why this place has appealed to so many for so long. When I visited last week, Thaxton Rowe was playing and keeping us all warm with his lively music despite record-breaking cold weather.

After enjoying a visit to Amelia Island, you will leave, knowing you visited a very special place.