Western North Carolina Nature Center
Story and photos
by Tom Straka
Ashville, North Carolina is a fun city to visit, with lots of hidden gems. Among them is the Western North Carolina Nature Center, one of North Carolina's accredited zoos, but much more than that. It is both plants and animals, intended to connect people with an appreciation of the of the Southern Appalachian native wildlife and habitats. The WNC Nature Center is a menagerie of over 60 species of wild and domestic animals, set in a landscape including hundreds of native plant species, all characteristic of the unique Southern Appalachian bioregion.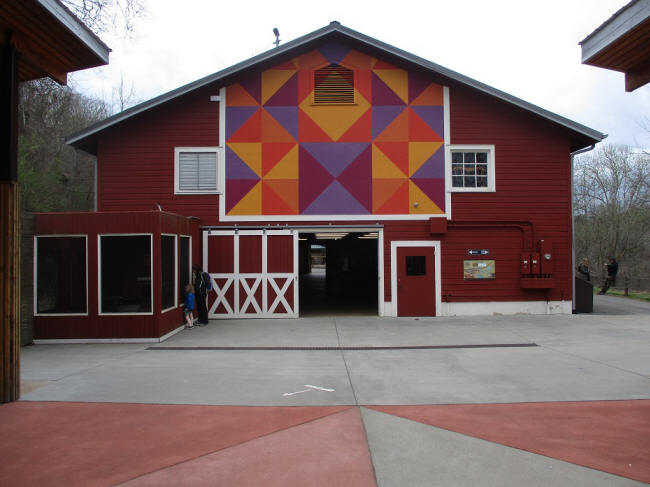 Entering the Center through the barn, a place for the domestic animals.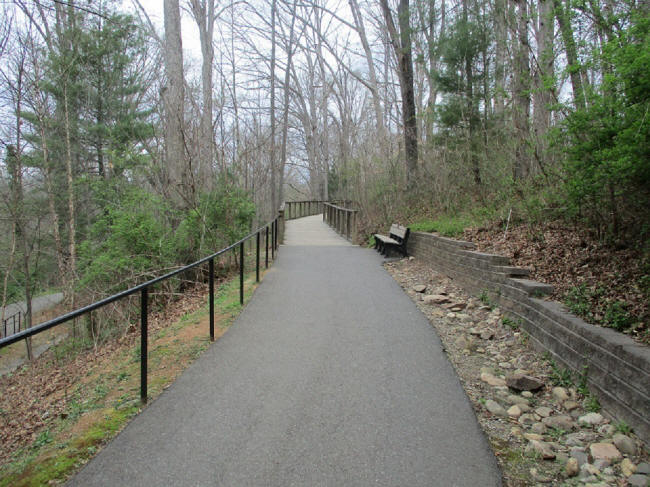 The Center is centered on a hillside, but trail slope is kept reasonable and the trail is paved or boardwalk.
Appalachian Station is the home of the reptiles, amphibians, and small mammals.
Those 60 wildlife species are or were native to the Southern Appalachians, and the "were native" allows for unexpected animals in the mix. The focus is education and the natural history and unique biographies of each species is presented via interpretative signage. Most of the animals were permanently injured or have been imprinted (lost fear of humans and could not survive in the wild). Some have never lived in the wild or are part of a Special Survival Plan for endangered species (a breeding and management plan to sustain populations of endangered species).
The animals are enclosed with fencing on a hillside along the Swannanoa River. A trail with many loops allows visitors to roam between species. But the trail is more than animal species, native Southern Appalachian plants are part of the experience. So, this is a mix of plants and animals. One short loop (two-thirds of a mile) is the Trillium Glen Nature Trail near the river at the bottom of the hillside. There are daily programs that include animals being fed, meeting birds or reptiles close-up, and natural history presentations. The trails are a combination of wooden boardwalks and paved paths to be stroller friendly.
As you enter the center, there is the North Carolina farm. There are lots of common domestic animals, but also some unusual sheep and goats. There are indoor exhibits at Appalachian Station, with reptiles, amphibians, and small mammals. This is where the kids can get close to snakes safely, as there is glass (since the exhibits include rattlesnakes and copperheads, the glass is comforting). Scattered on the trail are a few nature play stations for the kids (including puppet theaters, a climbing web, and musical instruments made of wood and rocks).
A Dozen Selected Favorite Critters
American black bear.
There is a pair, male and female, unfriendly to each other in summer, but they love to share a den in winter.
Cougar, also called mountain lion.
It is thought that the eastern cougar, the breed native to the Southern Appalachian region, is now extinct.
This cougar, Mitchell, was orphaned in Oregon. Mitchell was snoozing the day I was there.
American Red Wolf.
Only remaining natural population is at the Alligator River National Wildlife Refuge in eastern North Carolina.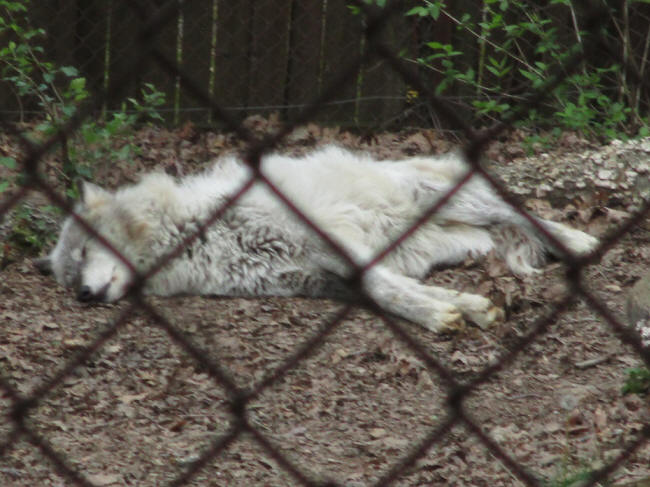 Gray Wolf. This wolf is snoozing. In the early 1900s, gray wolfs inhabited 35 of the current 50 states.
Today, they can be found wild in only nine states.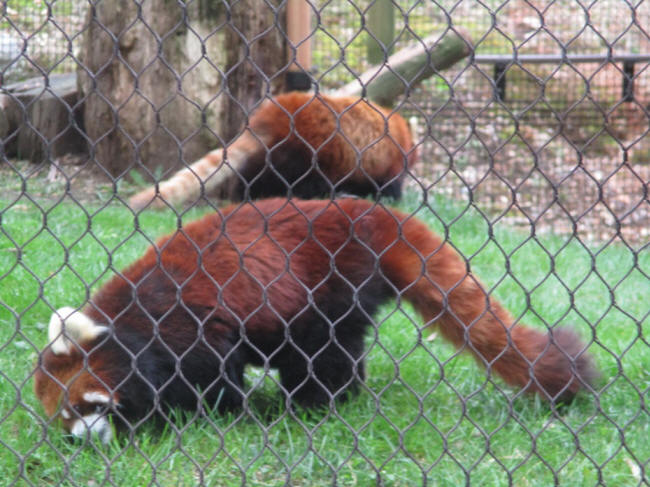 Red Panda. How did a Panda end up in this mix?
They are native to Asia's forest eastern Himalayas and southwestern China, endangered by logging
and the spread of agriculture. They qualify for the collection due to a ancient "cousin" that once
lived in the Western North Carolina region, Bristol's Panda
A colorful corn snake. Ginger was donated to the WNC Nature Center by a family who kept her as a pet.
She grew up in the pet trade and has not known life in the wild. Her pattern has beautiful red undertones.
Another snoozing native, a red fox. Or, maybe it is just shy. There are two red foxes, both were born in the wild, and both lost legs in a trap. So, sometimes they are not friendly and hide around their habitat.
I have several photographs of Meatloaf, the hellbender, but he blends into the stream bottom so well he is nearly impossible to distinguish. Still, he is one of the most interesting creatures at the Center,
at least to me, as I have not seen a hellbender before.
It is better to illustrate the type of information boards used in the displays to show a hellbender.
American River Otter. From their webbed feet to their rudder-like tails and extra eyelids
that act as goggles, river otters are well-adapted for a life in the water.
The habitat for the otters is well-developed, with plenty of opportunities to watch them at play.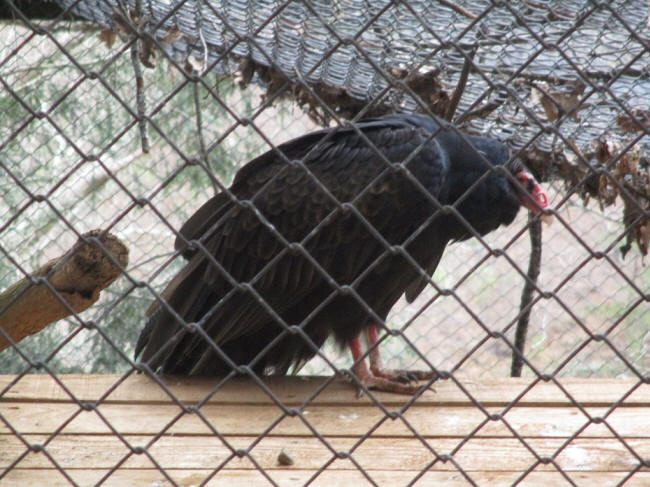 Turkey Vulture. Vultures, also known as buzzards, are scavenging birds which feed on the remains of dead animals. Two species of vultures are found in North Carolina, the Turkey Vulture and the Black Vulture The black vulture is more common in eastern North Carolina while the turkey vulture is more common in the mountains and the Piedmont.
Barn owls are very commonly found in the South and live all across the United States. Their species has learned to adapt to a decreasing number of habitats by building nests in human populated areas.
Barn owls can be found nesting in barns and abandoned city buildings.
While walking the trails, the visitor is exposed to all kinds of Southern Appalachian wildlife and plants. Since this is group of favorites, I enjoyed much of nonofficial wildlife, like the squirrels that watched from the trees.
A Glance at the Farm
The North Carolina farm should be especially attractive to the younger visitors. While there are many common farm animals, some are more exotic. All are fairly friendly and approachable. The farm includes a petting zoo where visitors can pet an array of farm animals.
View of the North Carolina Farm from behind the barn.
The farm includes several exotic goats and more common ones, including a Nigerian dwarf goat,
Oberhasli goat, and Angora goat (shown here). The Angora goat is an ancient breed, dating back as early as the fourteenth century. They originated in Turkey and are named after the country's capital,
Ankara, historically known as Angora.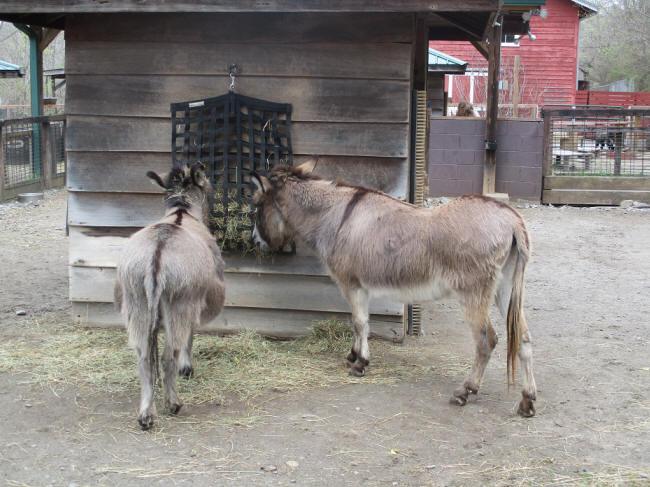 Sicilian Donkey
. They are s
lightly stockier than a horse, have large ears, and are usually light brown to gray in color, with some white on their muzzle. Donkeys are very social and need the company of other donkeys or animals. Contrary to popular belief, they are very clever.
The WNC Nature Center is more than a zoo; it is a nature experience, with trails that lead through a Southern Appalachian woodland and an emphasis that includes native plants. There are daily animal programs, like animal feeding time, and formal events throughout the year, like arts and crafts festivals and even a Brews & Bears Day. The Center's focus on endangered species and special needs wildlife is evident throughout the park, creating something better than a normal zoo experience. There are lots of neat things to do in Ashville, and this is definitely one of them.
Author. Tom Straka is an emeritus professor of forestry at Clemson University. He has an interest in history, forestry and natural resources, natural history, and the American West.