Horne Creek Farm is a living history farm, a North Carolina Historic Site, and the actual Hauser family farm (as opposed to many living history farms that are relocated farm buildings or rebuilt farm buildings). This is the real thing, allowing visitors to experience farm life in North Carolina's northwestern Piedmont circa 1900. The site features the family's original farmhouse (with original furnishings), a tobacco curing barn, a corn crib, adjacent fields under cultivation, and even a heritage apple orchard. The Site also offers programs ranging from old fashioned ice cream socials to an annual corn shucking frolic. There is a visitors' center with exhibits and a gift shop. This living history is a chance to learn about the rural past, a chance to see, smell, touch, and hear things once common in rural North Carolina.
A little bit of luck or planning is necessary to participate in the special activities like white oak basket making workshops, the annual corn shucking, or savoring old-fashioned apple varieties. But no planning is necessary to encounter farm animals of all but vanished breeds kept on the Hauser Farm, drawing water from a well with a bucket, sheep shearing, or listening to a talk on how to cook on wood stove. The staff is anxious to share experiences and insights into what life on a North Carolina farm was like at the beginning of the twentieth century.
One of the first things you'll see on your walk from the visitors center to the farm is the saddle-notched log tobacco barn, used for curing tobacco. It is a gable-roofed building, about 20-foot square, with a cantilevered shed roof protecting the entrance to the barn. It has a field stone foundation. Inside are three tiers of poles for hanging tobacco sticks run lengthwise in the barn's interior.
The Tobacco Barn.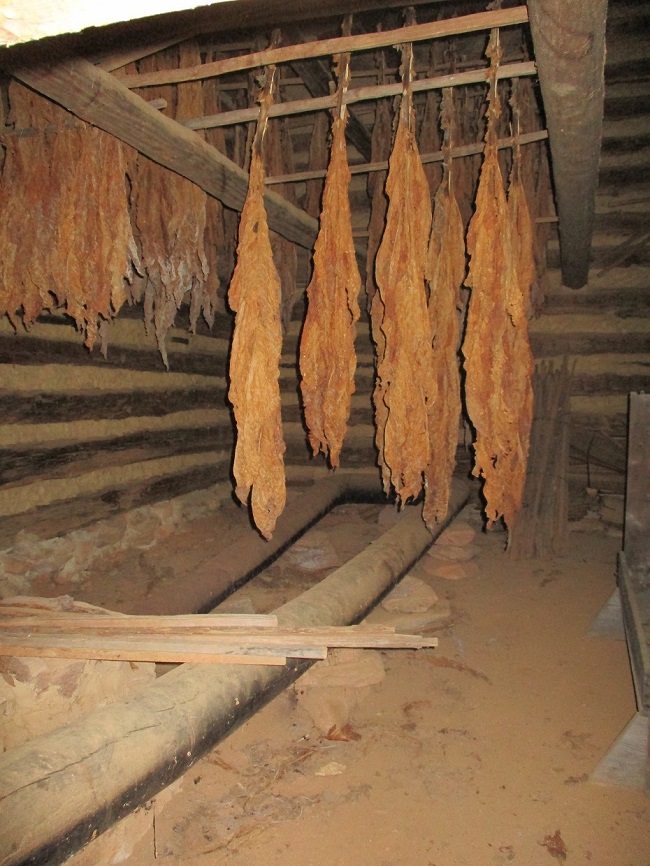 Inside the tobacco barn.
Near the tobacco barn is the apple orchard, with a molasses press and vat used to make sorghum molasses. During demonstrations the press would be powered by mules or horses. The 850-tree Southern Heritage Apple Orchard features more than 425 varieties of old southern apples, many of which are on the brink of extinction. These old varieties have been sought and collected throughout the south by dedicated "apple hunters" to stem the loss of this unique part of North Carolina agricultural heritage.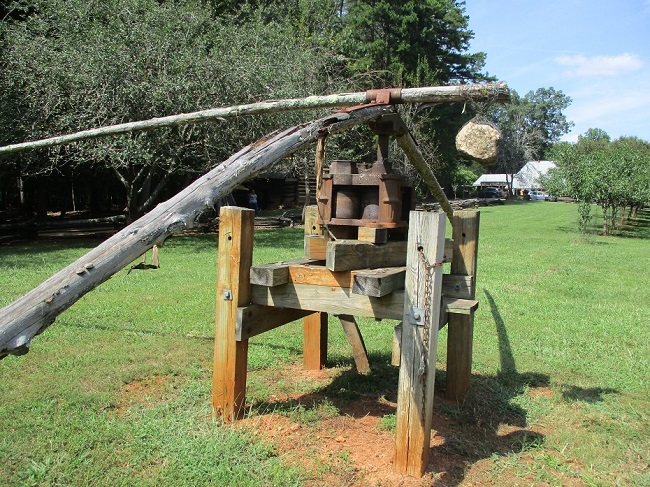 The molasses press.
The vat used to boil sorghum juice into molasses.
The Hauser House is certainly a main highlight. It is a two-story, three-bay log building with weatherboard sheathing and a wood-shingled gable roof. Construction took place around 1880 and the house was remodeled in 1900. A two-story, hip-roofed front porch is an original feature, with turned post and balusters. At the rear is a gable-roofed, one- and-one half story log rear ell which includes a kitchen, dining room, and storage room, accessible via a covered porch. Notice that the house and kitchen/dining room were constructed with hewn logs and half-dovetail notching. The foundation is field stone with clay mortar. There is a full stone basement under the front section. Most impressive are the furnishings inside. Most are original or close replicas of what would have been in the house. Rooms are fully furnished and visitors are allowed full access to rooms. There is plenty to see in the house.
View of front of Hauser House.
From the back, the additions to the Hauser House can be seen.
House furnishing are very authentic
An old-fashioned kitchen.
The double-crib barn, built about 1846, is a second highlight. It is a half-dovetailed structure with large hand-hewn, loosely-fitted timbers without chinking. The four animal pens on the ground level have dirt floors, while the loft is floored with planks. A narrow shed roof protects the north (front) elevation of the bam, while a shed addition shelters livestock at the rear elevation.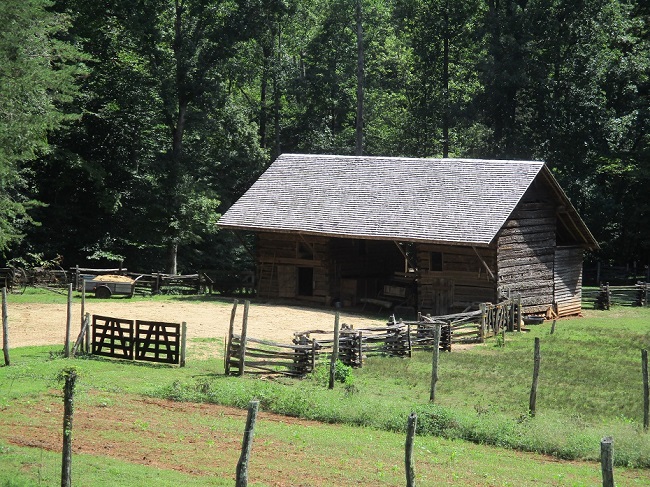 The double crib barn.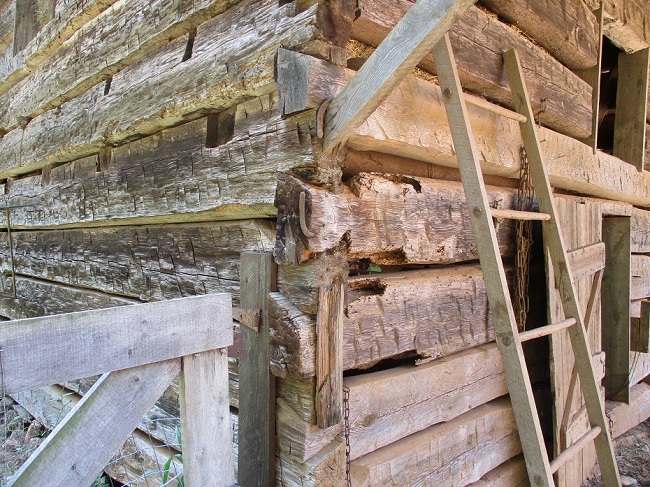 Notice the double-crib barn is a half-dovetailed structure, with large hand-hewn,
loosely-fitted timbers, without caulking
Near the barn are some of the more interesting animals, like goats and sheep that would have been on the Hauser farm. If you can coax them, they might come up to the fence.
You'll see tiny little goats...
… And lots of sheep.
A fruit and vegetable dry house was constructed to demonstrate a historic method of drying fruit and vegetables. The smokehouse is a half-dovetailed log structure with weatherboard gables and a standing-seam tin roof. Notches cut in the logs at ceiling height may have received poles for hanging meat.
The fruit and vegetable dry house.
The smokehouse.
Other structures include a wellhouse/washhouse, corn crib, and fruithouse. There is a family cemetery. The visitors center has plenty of displays and equipment is displayed throughout the farm.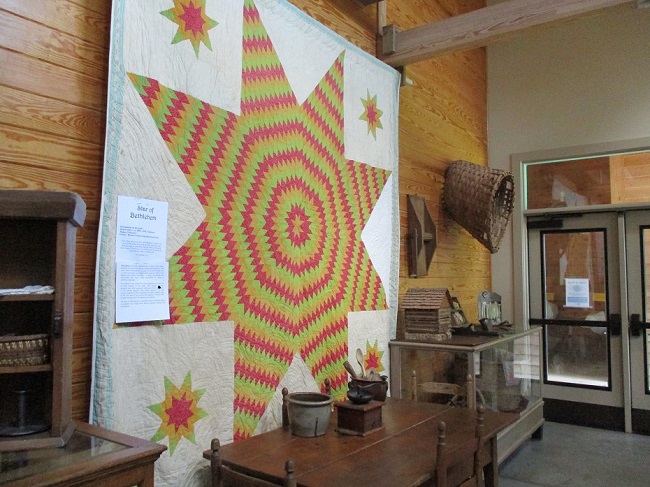 Tools, equipment, and even quilts are in in visitors center.
If you want a taste of how farms operated at the turn of the twentieth century, this is the place to go. It is relatively hands-on with a super staff that explains everything. Plus, if you plan well, there are lots of opportunities for demonstrations and field days. Not to mention the animals for the kids. It's a great place to spend a day.
Author/Photographer. Tom Straka is an emeritus professor of forestry at Clemson University. He has an interest in history, forestry and natural resources, natural history, and the American West. Pat Straka is a consulting forester and the photographer on most of their travel articles. They reside in South Carolina, but have also lived in Mississippi and Virginia.
Public Disclosure-- Please Read
As an Amazon Associate, I earn from qualifying purchases.
The FTC has a law requiring web sites to let their readers know if any of the stories are "sponsored" or compensated. We also are to let readers know if any of our links are ads. Most are not. They are just a way to direct you  to more information about the article where the link is placed. We have several ads on our pages.  They are clearly marked as ads. I think readers are smart enough to know an ad when they see one but to obey the letter of the law, I am putting this statement here to make sure everyone understands. American Roads and Global Highways may contain affiliate links or ads. Further, as their bios show, most of the feature writers are professional travel writers. As such we are frequently invited on press trips, also called fam trips. On these trips most of our lodging, dining, admissions fees and often plane fare are covered by the city or firm hosting the trip. It is an opportunity to visit places we might not otherwise be able to visit. However, no one tells us what to write about those places. All opinions are 100% those of the author of that feature column.