Manifest Distilling
Story and photos
by Kathleen Walls
If you're visiting Jacksonville and want an adult beverage at a fun location, visit the taproom at Manifest Distilling. They're located in the heart of the sports district and since Jacksonville worships the Jaguars that is a good place to be. It began in 2016 as a dream of David Cohen, a graduate of the brew school at the Siebel Institute. He brought in Scott Kennelly, Trey Mills, and Tom Johnson at first. Today it has grown to 11 staff people and one territorial cat.
Corey Gros, bar manager, took me for a tour. We met in the Cocktail Room. It's a modern styled bar with soft lighting that uses a lot of fresh herbs in the cocktails. There are racks of their products displayed. He showed me each of their products, rye whiskey, vodka, gin and explained what was in it and the proof. They currently have two vodkas, Florida Citrus Vodka and potato vodka. There are three gins, a traditional gin, barreled gin that has been aged in a barrel similar to aged whiskey, Florida botanical gin that has different citrus varieties: orange, lemon, and grapefruit and flavors of sumac, elderberries, orris root, rosehip, and blackberry leaves, all Florida products. For their rye, there's straight rye whiskey and 100% rye whiskey. Both aged in American-grown White Oak barrels. They also produce Single Origin Coffee liqueur and Fernet Manifesto. They have recently begun a new product, canned cocktails. And a bourbon is currently aging in barrels.

Manifest's rye whiskey was the product I found interesting. Few other distilleries I visited in the south do rye whiskey. Corey explained the rye as well as the experimental whiskeys, malt whiskeys, brandies and liqueurs, begin in the distillery as grains and fruit, they ferment and distill them. Rye was the whiskey of choice back in the 1700 in the colonies and then the new United States. It sparked the Whiskey Rebellion when the new government taxed distillers to pay for the recently fought Revolution. Wars cost lots of money. The rebellion, which distillers claimed was against taxation without local representation, began in 1791 and ending in 1794. Washington himself rode at the head of an army to suppress the rebellion. They repealed the whiskey tax in the early 1800s under the presidency of Thomas Jefferson. Ironically in 1797, George Washington opened one of the nation's most successful distilleries at Mount Vernon.





Manifest Distillery is certified organic. The Potato Vodka and Citrus Vodka are the only two products that aren't certified organic. The potatoes used to make the vodka are non-GMO, and the citrus is grown organically, although it isn't certified.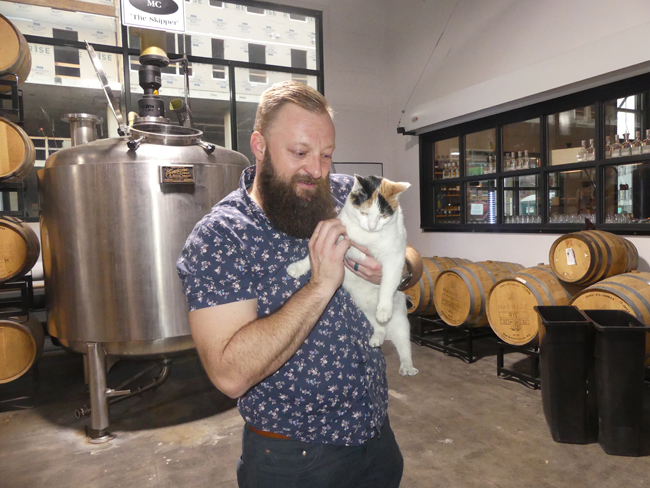 Corey led me back into the distillery and introduced me to the distillery cat, Ginnie. She's a beautiful calico. Corey told me they adopted her about five years ago when they found her wandering around outside. She was just a kitten.
I love that the still and other machines are named for Gilligan's Island characters. The cooker where they break down the initial grains is "The Skipper." The fermenters are "The Professor," "Ginger," and "Lovey." Of course, the still is "Gilligan." They are rightly proud of their rye whiskey. They have won numerous awards for their spirits.
The Cocktail Room is a comfortable spot to enjoy mixed drinks and taking a Distiller's Tour is a great way to learn about craft distilling. If you have a group of 10 or more, you can take a private guided tastings tour.