Huntsville: Relive the Past and Foresee the Future
Story and photos
by Kathleen Walls
In Huntsville, you can foresee the future at the Space and Rocket Center. You can tour the museum's artifacts from Apollo and Challenger to present day and experience a simulated space voyage aboard the Discovery Shuttle where you "launch" from Kennedy Space Center, go into orbit, and landing back at Kennedy.
There are many of the bigger rockets outside on the grounds. What is so amazing at this Smithsonian Museum is it's authentic. In Davidson Center for Space Exploration: Saturn V Hall you'll see an authentic Saturn V rocket. There are only three in the world. Another authentic artifact is Casper, the Apollo 16 Command Module that, powered by that Saturn V rocket, took John Young, Thomas Mattingly and Charles Duke to the moon in 1972, and brought the happy astronauts back with a load of 208 moon rocks.
You can sip a cocktail as you watch the universe unfold above you in the planetarium or discover more about the future of space travel here. If you want to dive deeper, you can attend Space Camp for a week and learn to be an astronaut. Aviation Challenge can teach you to be a fighter pilot and Space Camp Robotics, digs into the use of robots in space exploration.
You could spend days exploring the Space Center and Planetarium, but you would miss the history of one of Alabama's oldest cities. The ratification of the original Constitutional Convention in 1819 was held in a simple two-story cabinet shop because it was the only building in town large enough to seat the 44 delegates. The state rebuilt the building on the same location and just as it would have been when it was Alabama's Constitution Hall. A massive stone fireplace heats the main part of the hall, although in August when the delegates met, there would have been no use for a fireplace. The woodworking tools are amazing. One of the saws is powered by a rope tied to a tree branch suspended overhead and powered by the worker pressing a foot pedal up and down.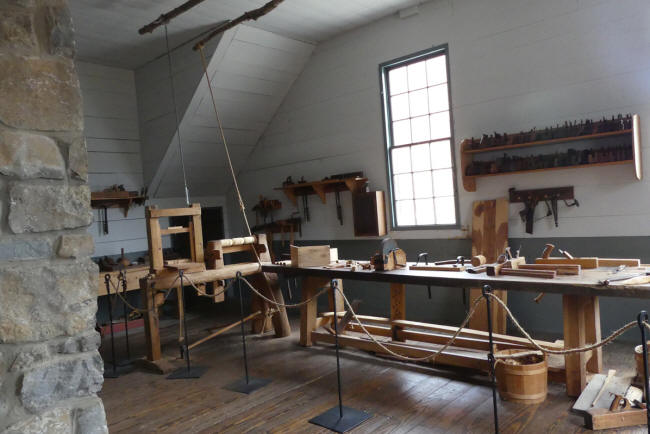 There are three other main buildings in the park. The Clay Building, a red-brick two-story building, was the law office of Clement Comer Clay, who served in Alabama's Territorial Legislature, had a seat in the Constitutional Convention and chaired the committee that wrote the first draft of the Constitution. He was the first chief justice of the Alabama Supreme Court and later Alabama's governor and U.S. senator. The Clay Building was also the Huntsville Post Office and the office of the Federal Land Surveyor's team. The post office window and mail slots are still there as is furnishing from the law office. Upstairs you can see the surveying equipment used by John Coffee, surveyor general for Northern Mississippi and Alabama territories, and his men.
The other main buildings are Boardman Complex, where the Alabama Republican, one of the earliest newspapers in the Alabama Territory, was printed, and a two-story frame house that was the residence of Madison County's first sheriff, Stephen Neal. You can step back to 1819 and take a 90-minute tour through the historic buildings that display Huntsville as it moved from territory to statehood.
If you're traveling with youngsters, EarlyWorks Children's Museum, designed mainly for ages of 2 and 9, is right next door. They can hear stories from the talking tree or sail down the river on an authentic keelboat.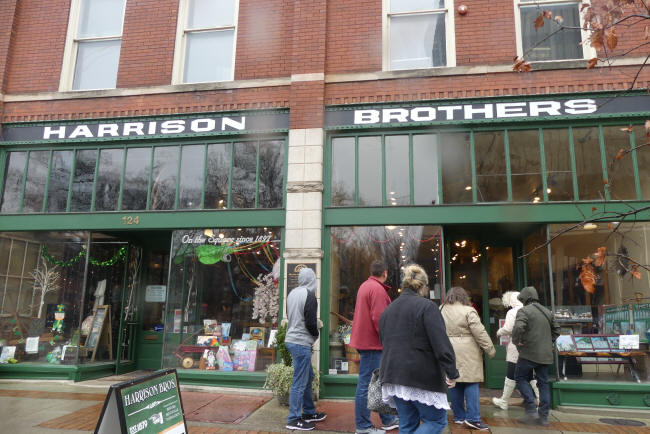 Next, head out into the historic section and visit Harrison Brothers Hardware Store. Harrison Brothers Hardware started as a family-owned business and remained in the Harrison family until the death of John Harrison in 1983. The Historic Huntsville Foundation bought it and preserved the tradition right down to the 1907 National Cash Register that will ring up your purchase. They stock items like pottery, housewares, toys, and arts and craft items. It's a great place to find that unique souvenir. There are many of the original features in the store, including family pictures and history.
The Weeden House is another trip into the past you don't want to miss. It's in Twickenham Historic Preservation District and was built in 1819. During the occupation of Huntsville during the Civil War, Federal officers used it as headquarters. Gina, the house museum director, told the story of the former inhabitants of the home as she showed us the magnificent turn-of-the-century furnishings. The most interesting was a woman named Marie Howard Weeden. She was born in 1846, shortly after her father's death, so her mother gave her his name. She became a renowned painter and poet and wrote and signed her paintings "Howard Weeden." She is best known for the intimate portraits she did of African American former slaves in Huntsville, many of which are displayed in the home. It's even more fascinating to learn she was legally blind and painted with a tiny three haired brush to get greater detail.
If you don't visit for the history, the architecture is enough to draw anyone in. It's a two-story brick Federal style with a cantilevered staircase. The woodwork detail is amazing.
Burritt on the Mountain was the home of Dr. William Burritt, who believed in being green before it became popular. He was a homeopathic physician. When his first wife, Pearl, died, he remarried a wealthy tobacco heiress, Josephine Drummond. After her death, he moved back to Huntsville and built his retirement home on Round Top Mountain. Construction workers must have thought the good doctor was a few straws short of a bale when he ordered straw stuffed inside the walls and ceiling for insulation. He built the house in the shape of a Maltese Cross to get cross ventilation and great mountaintop views. To top off that, rich as he was, he used recycled material whenever possible. He had only a cold shower in the basement, believing hot showers were unhealthy. It proves that sometimes old ways just get recycled and become new again. Unfortunately, it wasn't a wife-magnet as his third wife, a much younger woman, left him saying he was trying to kill her. Maybe that cold shower down steep steps?
Burritt Mansion was Huntsville's first museum and still one of its most popular attractions. The Historic Park also on the grounds features restored farm buildings showcasing 19th century rural life in Alabama. One of the most interesting buildings on the grounds is the Joel Eddins House. This two-story log home, built between 1808 and 1810, is believed to be the oldest in the state. It was built in Ardmore, Limestone County and moved to Burritt on the Mountain to protect it. In addition, there are five other houses, including a "dogtrot" and a "saddleback" house, a barn, a church, and an old school. Historical interpreters show normal activities of a nineteenth-century farm. The farm has animals that would have been kept by the farmers in the 19th century.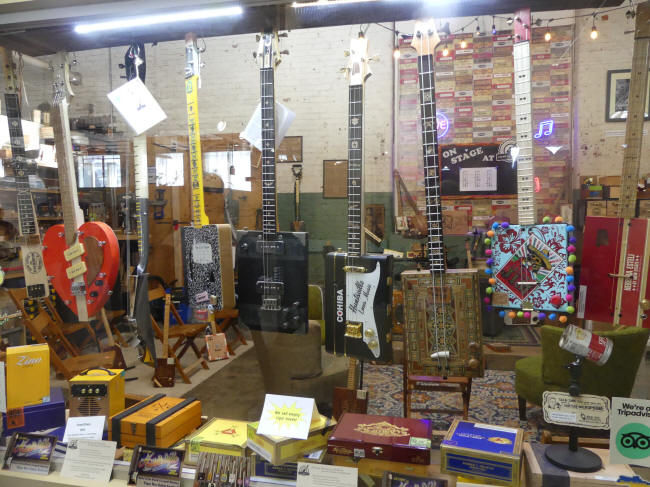 Huntsville was once filled with cotton mills. One of these, Lowes Mill is now Lowe Mill ARTS & Entertainment and is the largest privately owned arts facility in the United States. The historic factory building has been redeveloped into 152 working studios for over 200 artists and makers, 7 galleries, a theatre, community garden, and performance venues. I visited recently and was enthralled. My favorite there is the cigar box guitar makers. You will love it.
You can step back earlier to Huntsville Historic Depot, where you experience life in the 1860s on the railroad. There is a model train exhibit showing how it would have looked during the Civil War. There is some graffiti left by soldiers during the Civil War. Ride the mini-train and view the beautifully restored trains, automobiles, and a fire engine. (They were closed temporarily due to staffing shortages but hopefully will open again soon.)
If you're feeling artistic, visit Huntsville Museum of Art. The galleries feature traveling exhibitions and their permanent collection.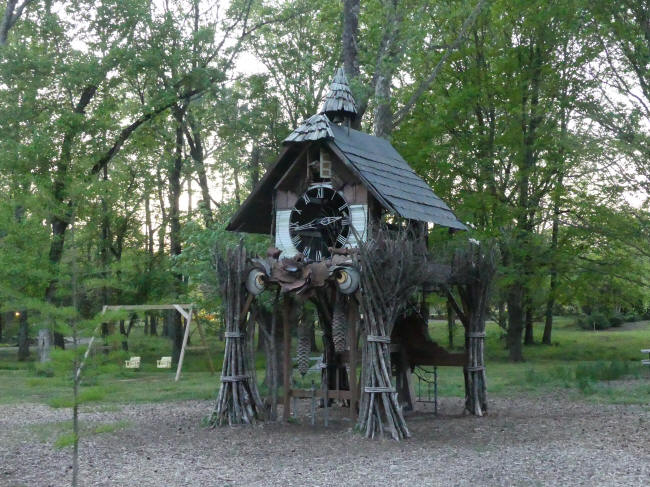 Huntsville has a berautiful botanical garden.You can wander along peaceful paths or visit their buttterfly garden. You'll discover some cute treasures as well as beautigul flowers.
Huntsville, Alabama is a place most RVers don't think about when considering a visit. They should. It has unique Monte Sano State Park that can accommodate large RVs. How many parks have a planetarium, museum, and Japanese Garden on site? This one has. Wernher von Braun Planetarium presents shows ranging from the composition of black holes and the structure of stars to Harry Potter themed shows. The museum honors the Civilian Conservation Corps, a group of young men who built many cabins and public works at state parks throughout the country during the Depression. During the year, the Japanese Garden hosts two festivals, the Japanese Spring Festival and the Autumn Celebration. The park sits atop Monte Sano Mountain with a great view of Huntsville, just a 15-minute drive away. There are 14 cabins, and 89 improved campsites. Senior citizens, disabled, veterans, or active military get a discount.
If you're in the mood for live entertainment check out what's happening at Orion Amphitheater. It's a new An 8,000 capacity venue brought to Huntsville by Ben Lovett's company, tvg [the venue group] with the idea of having live music events regularly, not just once or twice a month.
When you get hungry, Sam & Greg's Pizzeria next door to the Harrison Brothers Hardware store is a local pizzeria with many unique kinds of pizza plus homemade gelato and sorbet for dessert housed in a restored 19th Century building that is on the National Register of Historic Places. Note the tables upstairs are all decorated with TV or comics characters.
If you want to stay in a historic mood for dinner, try The Stovehouse. It's the recycled Martin Stove Factory dating back to 1928 that is a multi-venue dining, shopping, and entertainment spot. Gas Light Alley is where you find the musicians playing and singing. Bark & Barrel is one of the many restaurants there and their BBQ will satisfy the big appetite you worked up seeing Huntsville's most fun places.
Straight to Ale, an authentic speakeasy, will keep you in the historic mood. You can't tell the entrance is really a door unless you know where to look to slide back the panel.
Jim 'n Nick's Bar-B-Q is not historic but has some fantastic barbeque and the best cheese biscuits ever.
Huntsville is where you can visit the past and future in one city.