26 Unique Experiences You'll Find Only In Onslow County, N

C
Story and photos
by Kathleen Walls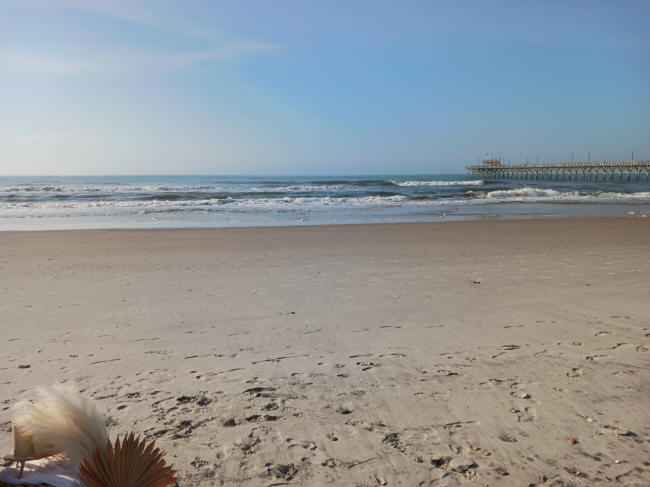 Until 1941, Onslow County was a quiet fishing village that depended on naval stores, lumber, and tobacco crops as its main source of income. Then in 1941, Onslow County and the world changed. Marine Barracks Camp Lejeune located in Jacksonville, Onslow's main city. Today, tourism plays a major role in the area. It has many unique attractions you won't find anywhere else.
Onslow County Museum
When we visited this museum, we got a glimpse of Onslow County from prehistoric time to modern times. It's filled with treasures like an ancient wooden canoe. Director Lisa Whitman-Grice told us how it had been found by the Army Corps of Engineers in 1968 when they were dredging a branch of the New River. They thought it was just a big log. The farmer, Mr. Cottie, who owned the adjacent land, offered to help drag it out of their way if he could keep it. Later the Trexler School Tarheels Junior Historians Club bought it and in 1986, it was donated to the museum. The cypress dugout dates to about 1300AD and would have held about 20 people. It was made without the use of any metal tools.
There is a recreation of an early settler's cabin and Civil War information, and on to modern times with WWII.
LeJeune Memorial Gardens
LeJeune Memorial Gardens is home to the Beirut Memorial, the Onslow Vietnam Veterans Memorial, the Montford Point Marine Memorial, and 9/11 Memorial Beam from the World Trade Center. Each of the monuments in the gardens showcase a story of bravery and courage, from the beginnings of the war on terrorism to recognition of African Americans in the marines. And they are still building more. Glenn Hargett, a local volunteer, told us stories of heroism at each of the monuments.
The space is cleared and there are two memorials where the Carolina Museum of the Marine will be built. Plans are underway for this museum that will highlight the accomplishments and bravery of Carolina Marines and Sailors.
Freedom Fountain
Freedom Fountain is in historic downtown Jacksonville. It was built after the first Gulf War. Its curved wall has medallions representing five armed services. Its red, white, and blue water jets represent each of the 50 states.
Swansboro Historic Walking Tour
We walked the downtown Swansboro streets with Ann Scholar and he husband Bob, both very knowledgeable guides and visited historic buildings. The Ringware House was built in the 1778 and the Hawkins House in 1840. The Old Brick Store, an imposing red brick building n the corner of Main and Front streets, was built in 1839 as a naval stores for William Pugh Ferrand. This building has been altered and used continuously since construction as a store, school, drugstore, church, post office, and is now residences and shops. You can relive this small town's history in its old buildings. One interesting fact Ann pointed out is that almost all the old homes have a stone foundation. That is because ships sailing into port here in those days were empty and used loads of stones as ballast then threw out the stones when they loaded on local lumber and naval supplies.
Pro tip: Be careful not to step on any of the hundreds of baby ducks and their proud mamas who walk the streets here.
Marsh Cruises
The waterways are still a big part of life in Onslow County. We went shelling on Bear Island with Captain Darryl and his first mate, a silver Labrador named Buxton. It was so cute. When we beached at Bear Island, Buxton was at the bow and was the first one off. He splashed in the water while we all searched the thousands of shells along the beach for our favorite treasures.
Ghost Fleet Oyster Company
We visited a working oyster farm with oyster farmer, Cody Faison. He explained how oysters and the farmers who place them in the waters are helping save the environment. Did you know that one oyster can purify about 50 gallons of water a day? Oysters feed by filtering algae that can pollute the water.
Reel Livin' Fishing Charters
Another way to see the Onslow County waterways is to go shrimping or fishing with Captain Tommie Jarman. Due to crazy weather and time constraints, we just got to tour his boat, but that was interesting.
Paddle NC
For even more water fun, we took a sunset kayak trip on Topsail Beach Permuda Island Reserve. It was so peaceful on the water. I was amazed at the number of cormorants, pelicans, and other birds perched on an oyster farm's cages we passed.
Hammocks Beach State Park
Hammocks Beach State Park is very focused on the waterways. It has a mainland area and three barrier islands, including the 4-mile-long Bear Island. It offers ferry service to the islands and allows primitive camping. The visitors center has a nice museum telling about the parks history.
Karen Beasley Sea Turtle Rescue and Rehabilitation Center
On our visit to the Sea Turtle Center, we got to meet Snookie, Lenie, Kaia, and other sea turtles rehabilitating at the hospital. Our guide, Kathy Zagzebski, took us on a detailed tour and told us the stories of many of the turtles waiting to be well enough to return to the ocean and one beautiful turtle named Snookie who is too badly injured to return. Kathy told us they are searching for a suitable home for Snookie.
Mike's Farm
At Mike's Farm we met Teresa Lowe, co-owner of the farm. Her husband, Mike's parents met when his father was stationed at the military base and met his mother. They bought this farm, which used to be a tobacco farm. The farm was 120 acres and his dad divided it amongst the four children. And so Mike got 30 acres. Mike and Theresa ended up buying his sister's part and one of the brothers parts pus an adjacent farm, so now the farm consists of about 200 acres. They started out growing Christmas trees.
Today they do you-pick crops like strawberries and pumpkins. They do hayrides and have farm animals: chickens, ducks, turkeys, sheep, goats, cows, donkeys, and more. They have corn machines and feeding stations set up so you can feed the animals. I particularly loved the donkeys and the goats.
Mike's Farm takes you back to a more peaceful time. If you are an RVer. They are members of Harvest Host where you camp one free night here. There's a fantastic gift shop, a bakery, and a restaurant that looks like it would suit The Beverly Hillbillies. Food is served all you can eat family style; fried chicken, pork loin and gravy, country ham biscuits, mashed potatoes, macaroni and cheese, green beans, corn. It's way more than you can eat, but do save room for dessert. I loved the strawberry shortcake.
Mike's Farm is fun for all ages.
Walton's Distillery
If you're looking for more adult style fun, visit Walton's Distillery. Donald G. Walton, Jr. began the distillery in 2013. He lived a few years in Kentucky and learned about creating bourbon. His cousin, who had once been an illegal moonshiner, taught Donald the skill of making moonshine and gave him some recipes.
Walton's first product was E.M. Walton's Corn Whiskey, named after his great-grandfather. All of his products are named for one of his ancestors. Today, Walton's makes not only moonshine, but bourbon corn, whiskey, vodka and rum.
Huffman Vineyards
Huffman Vineyards is a family run winery. Many of their wines are made with Scuppernong, the first grape cultivated in the United States and the official fruit of North Carolina.
On our first night there, we dined at Ocean's Edge Restaurant. It's on the 7th floor of the St. Regis Condominium. Every table offers a panoramic ocean view that makes it worth a visit, even if the food wasn't as delicious as it was. My only complaint was they served so much. None of us could eat all of it and it was so good we hated to let it go. Luckily, one of our local friends took it home.
Kettle Diner
Kettle Diner is Jacksonville's go-to for local's breakfast. They serve breakfast at any time. The most popular breakfast choices are the French Toast and the Chicken and Waffles. I had Strawberry French Toast that was so good I almost licked the plate.
THIG'S BBQ House
THIG'S BBQ recently reopened after a devastating kitchen fire. This restaurant is a Jacksonville tradition for over 20 years. The name is an acronym for That Hog Is Good Son. We shared a few of the appetizers; Hot Wheels, fried jalapenos with nacho cheese sauce; Fried Pickles; Bang Bang Shrimp; and a plate of pulled pork with the traditional vinegar sauce, known locally as "Swine Wine." The BBQ was tender and delicious, but the sauce takes some getting used to unless you are born into the North Carolina sauce tradition. They always serve fresh hot hush puppies as soon as you are seated.
Riverview Café
Riverview Café is the spot to go in Sneads Ferry on the banks of the New River for the freshest seafood. I had the Crab Legs, and they were the best. It's been family owned and operated since 1946, making it the oldest restaurant in Onslow County. In 2020, they were the Daily News winner of the Best Seafood Restaurant.
Marrakesh
Marrakesh is unusual for the North Carolina seaside area. It serves authentic Mediterranean Cuisine. The food and décor feel like you are in Morocco. It's currently owned by Sami Rahman and his brother Nabil. Their father Ahmad opened Marrakesh in July 2010 and it became very popular. Ahmad retired in 2016. The food is still based on his father's authentic recipes. Almost all their spices come from Turkey. We shared two of the Appetizer Platters with feta cheese, grape leaves, hummus, baba ghanouj, falafel, tabouleh salad, cucumber salad, fouel and a platter heaped with Chicken Tawook, yellow rice, and a Greek salad. All accompanied by a huge helping of pita bread. We also shared dessert; we had to have baklava.
Blend Café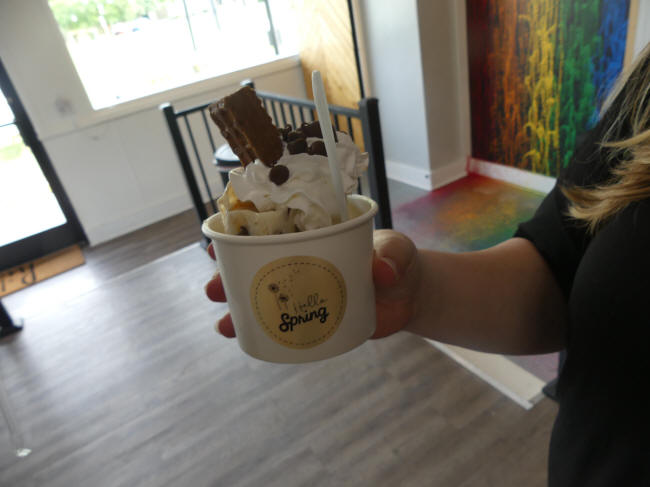 Blend Café is a two-in-one spot. One side is a coffee shop with special coffee, nitro cold brew, artisan toasts, breakfast burritos, acai bowls, crepes, waffles, salads, sandwiches, protein blends, smoothies, fresh pressed juice, and more. On the other side, you get a unique rolled ice cream. The way it works is you pick an ice cream flavor and assorted mixes and toppings. Your server then pours out the ice cream liquid on a round freezer plate and scrapes it back and forth until it's frozen into a flat sheet. She sprinkles the mixes and rolls it out in several rolls. She tops it with the topping choices.
Yana's Ye Olde Drug Store Restaurant
Yana's is one of the most unique restaurants you will ever find. It's a trip back in time to the '50s with Elvis, Marilyn, and James Dean all around you There's a lifelike stature of Elvis at the front door, where he sits with his guitar. Ladies, he'll even join you in the ladies' restroom where there's a life-sized cutout of Elvis that speaks to you. The food is from old family recipes. Their biggest claim to fame is the homemade fruit fritters, made using an old family secret recipe. Depending on the season, you have a choice of four types of fruit: apples, strawberries, bananas, and peach. I had strawberry fritters. They are drenched in powdered sugar with a huge helping of whipped cream. The traditional breakfast was equally delicious.
il Cigno Italiano
il Cigno Italiano's name fits its location, Swansboro. It translating as "The Italian Swan" The restaurant is on the banks of the White Oak River. It's menu combines the favorites foods of Italy with the seafood of Swansboro. We shared several appetizers. The il Cigno Mozzarella, with artichoke hearts, baby heirloom tomatoes, roasted red peppers, crostini, extra virgin olive oil and a large chunk of mozzarella, amply serve four people. Meatballs here are made with a blend of beef and pork, with grated Grana Padano cheese and were delicious. Our other very Italian choice was Gnocchi Pomodoro, a house-made gnocchi, crushed San Marzano tomatoes, basil, garlic, and served with extra-virgin olive oil. Do save room for the cannoli. It's an Italian tradition.
Swansboro Food and Beverage Company
Swansboro Food and Beverage Company has a long history to match its delicious food and. It's on the site of what was once the two story, 24 room hotel Tarrymore Hotel circa 1910. Back then, a charter boat captain named Charlie Buckmaster ran a restaurant there called Capt. Charlie's Restaurant. Our server told us his ghost is still hanging around. The restaurant has a cute little adjourning bar called Back Bar.
Dini's Martinis and Desserts
Stop in Dini's in downtown Swansboro for some great martinis. The bar was originally built for the Lexington Hotel in Chicago, where Al Capone often stayed. They serve food and some spectacular desserts like Cream Brulée Cheesecake and Pecan Bourbon Pie. I had the Pineapple Key Lime Pie Martini, with vanilla vodka, Frangelico, lime juice, pineapple juice, and whipped cream. It was as tasty as it was pretty.
Bake, Bottle & Brew
Bake, Bottle, and Brew serves ice cream, coffee, or alcohol, plus lots of unusual gifts and cards. They have more flavors of coffee than you can imagine, ranging from White Chocolate to Blueberry and Bananas Foster. They offer milkshakes, tea, or hot chocolate for non-coffee drinkers.
Candy Edventure
This is the most colorful candy store I ever saw. Besides delicious candies, both old-fashioned and newer ones, it has a Lego-built Ferris wheel, some rides and games, ice cream cones, gifts, and an old-fashioned soda fountain.
Aloha Beaches
We stayed in a beautiful four-story vacation home called Aloha Beaches with six separate bedrooms, a fully equipped kitchen with a dishwasher and a microwave, and 5 bathrooms. We were just steps away from the beach and I had a beautiful view of it from my balcony.