La Costanera, perches above Montara Beach with a spectacular view of the Pacific Ocean. It's a modern Peruvian fusion restaurant and since its opening on October 2, 2009. La Costanera has rapidly made a name for itself. We met with Eric Canupp, Director of Marketing and events. He told us how La Costanera was born.
La Costanera Restaurant, just 21 miles south of San Francisco, showcases the diversity of Peruvian Fusion cuisine and snagged a Michelin star several years ago and the Bib Gourmand award in 2016. It has changed mightily since the days it was a Chart House. Between then and now it sat empty for over five years. Then caught the eye of native Peruvian Chef Carlos Altamirano, head chef and owner of two Peruvian restaurants in San Francisco, Piqueo's Tapas Bar and Restaurant and Mochica Peruvian Restaurant, both specializing in ceviches and sangria.
Eric Canupp poses in front of a recipe board for one of La Costenera's specialty cocktails
The location, facing west towards delightful sunsets on the bluffs above Montara State Beach, reminded Altamirano of his childhood home on a windswept Peruvian beach. He started the project by bringing on Designer Michael Brennan whose motto is "Clever things with cheap materials." When you have a beautiful beach scene, why clutter things up with hi-tech or ultra modern chic. Instead La Costanero is filled with seashells, driftwood and beach glass, all native to coastal beaches, firepits on the outside deck extending the relaxed beach feel inside and out. It's a 10,000-square-foot almost totally glass enclosed space that seats more than 180 on the main floor alone with every table having an ocean view. The bar and patio downstairs are wonderful for lounging around.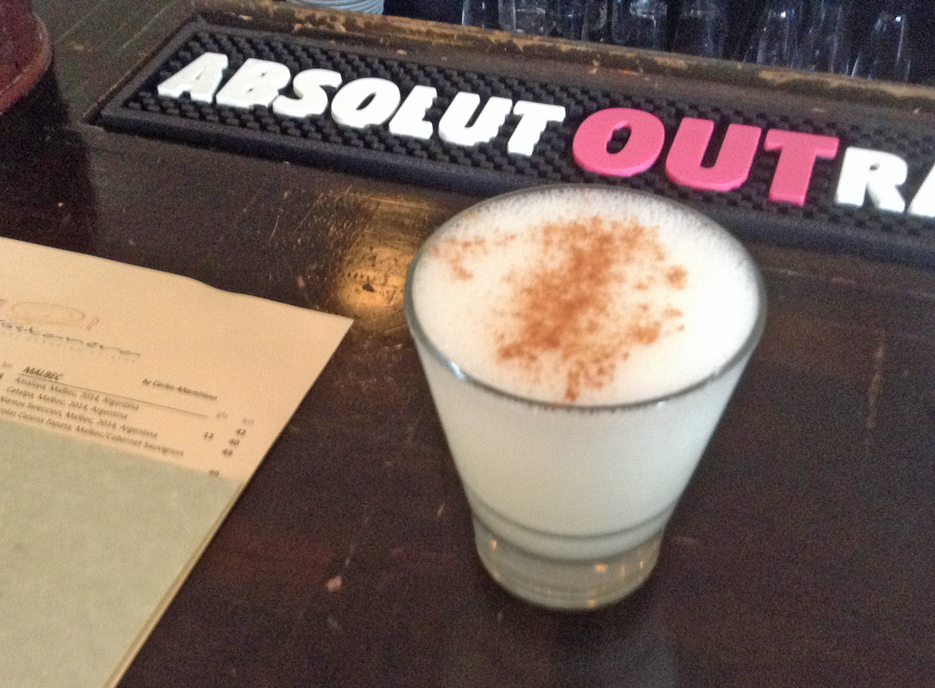 One of those specalty cocktails
La Costanera is a delight on other fronts. The view alone is worth a visit but the food is superb. Chef Carlos sets high standards for his food. He considers every dish a signature one. La Costanera features ceviches and other Peruvian specialties complemented by a bar filled with spirits from South America, Spain and Portugal.
Some of our appetizer samples
We visited just before sunset recently. After enjoying some house special cocktails at the bar we went upstairs and settled in at a table with a great view. Menu decisions were hard. The choices all looked innovative and delicious. The chef sent us a sampling of appetizers to get us started.
With the help of our knowledgeable waiter, I choose Langostino Crocantes. It was a delicious blend of Mexican Wild Shrimp in a house made barbeque sauce. Inca Kola, with sweet potato puree. Spicy, but not too.
I went downstairs to the patio to enjoy the blazing firepits and take a photo of the sunset. I returned to find my dessert awaiting, a chocolate lava cake. It was the highlight of the night, Served witht a scoop of mango sorbet and garneshed with a strawberry, a rasberry and blueberries, it was so chocolate and so delicious.
My dessert
The open kitchen lets you get a glimpse of where you food is being prepared.
Peeping into the kitchen
For more info:
http://www.lacostanerarestaurant.com/