Catty Shack Offers Help for Homeless Animals
Story and photos
by Kathleen Walls
There has been a lot in the news lately about the homeless. Yes, that's a sad situation, but at least people can try to get help. What about animals who cannot ask for help or go apply for a job? Catty Shack Ranch Wildlife Sanctuary in Jacksonville, Florida helps those homeless. Animals that have been abandoned, confiscated by law enforcement due to abuse, or just cats that are unwanted at bigger zoos can find a "forever home" here.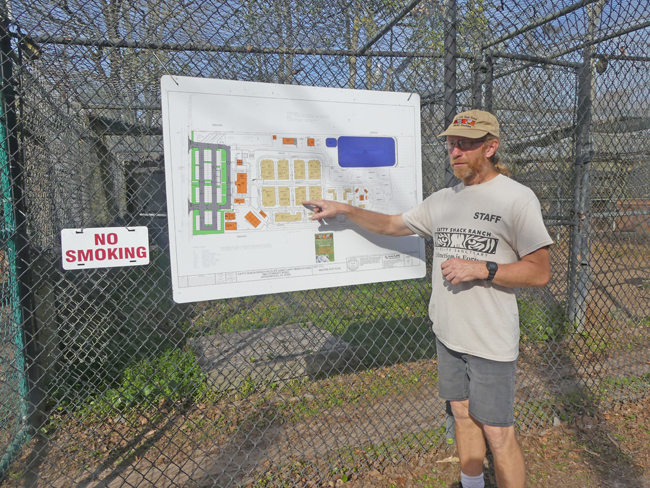 I visited recently and Kurt Lessenthien, Adoption Coordinator, took me on a tour. There are so many beautiful animals that might have been put down had it not been for this wonderful shelter. Kurt explained the expansion program that will give these precious animals an even better habitat.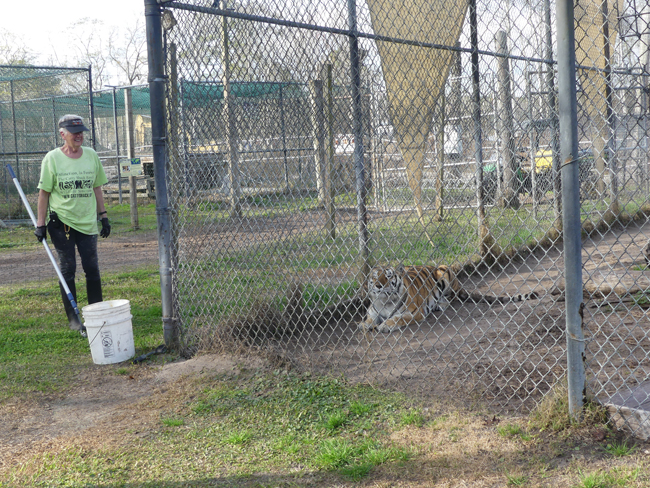 It's volunteers that keep the facility in great shape. I saw several working around enclosures. Kurt explained they take every safety precaution. Obviously, it works. The animals there are healthy and happy looking. They have enrichment objects to keep them from being bored. There were old Christmas trees, large balls, and other play objects in all the cages.
Dolly, the resident cougar, is about six years old. She has several playthings but seemed to be enjoying her "tunnel" aka large black pipe. She came from a private facility.
The cute bobcat looked like he wanted to play.
Three of the gorgeous tigers in one area caught my eye. Kurt explained they had come from Wisconsin at just a few weeks old and had not been named. They named them after cheeses, Monterey, Colby, and Brie.
The resident lion, Abu, seems to know he is king of the jungle. He was sleeping peacefully atop his shelter but did open his eyes long enough to greet us then went right back to sleep.
No mere humans can interfere with his beauty rest.
There are so many beautiful creatures here you'll want to stay all day and watch their antics. There're even some coatimundi and foxes that have been named "honorary cats."
To assure that these refugee animals get the best possible care, Catty Shack Ranch has it's own medical facility on the property. They have a group of very dedicated veterinarians and dentists. Along with caring, Catty Shack teaches. They offer school tours where children learn about the animals and how environmental factors effect their habitats and push some to become endangered.
You can see for yourself by taking one of their tour choices: Daytime Tours from 1:00 to 3:00 PM, Night Feedings on Friday and Saturday, and Enrichment Tours Sundays 1:00 to 3:00 PM.