If you enjoy watching talented crafters create useful, artistic or edible products, Tennessee fills the bill. Most of the places I visited on a re

cent trip to Southeast Tennessee produced crafted items that the artisan took great pride in showing off. The best thing about all of these places is that they offer tours or allow visitors so you can follow in my footsteps and visit them to see for yourself.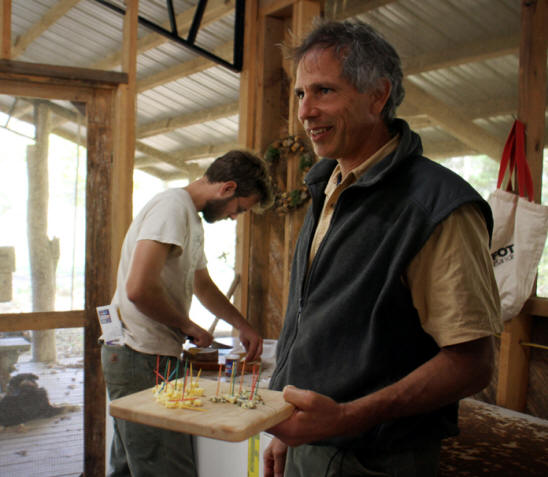 Bill Keener presents some of his award winning cheese
Don't limit your thinking of "creative" to artists and crafters. It has a much broader definition. Farmers create every day. At Sequatchie Cove Farm, owner, Bill Keener, explained his unique view of creativity. "We look at our whole farm as creating solar energy. Each blade of grass, like right now the sun is shining and photosynthesis so what is going on is that photosynthesis is taking carbon out of the air and creating energy and the cows come along and eat the grass and we make cheese or create beef. To me each blade of grass is a solar panel."
No wonder the cheese he and his wife, Miriam, produce is the stuff of a gourmet's dreams. It is produced from raw milk form the farm's contented cows that are fed no antibiotics or growth promoting hormones and graze on farmland and pasture that never sees pesticides, herbicides or chemical fertilizers. One of their newer cheeses, Dancing Fern, has won third place from American Cheese Society in the soft cheese category two years in a row. Bill offered us a sampling of some of the farm's cheeses and I was surprised many of the others had not won as well. They were yummy.
You can get grass fed beef or pork and free range pork from the farm. Another great way to enjoy Sequatchie Cove Farm is to visit during berry season and enjoy their You-Pick Berries. They raise blueberry and blackberry.
Some of Sweetwater Valley Farm's cows
Another proud cheese crafter is Sweetwater Valley Farm, owned and by the Harrison Family. It's a dairy farm producing Farmstead cheese, meaning the farm controls everything from cow to consumer. The farm, located near

Philadelphia, Tennessee gave us one of the most complete dairy tours I have ever been on. From seeing the various pastures and buildings where the cows live to the milking barn where we watched the process form cow to truck. We visited the special barn for the new mothers about to calf and met Belle, one of the herding dogs. We even saw two hours-old baby calves.
When you visit be sure to taste the variety of cheeses they have available. Also take a walk through dairy farming past and present in their UdderStory exhibit.
If you are lucky enough to visit when they are making the cheese, you can watch through the glass wall. Mary Harrison, marketing director and one of the family daughters, told us a little about the farm history. It was begun by her parents in late 1980s as just a fluid dairy. Her father, John Harrison, wanted to have more of a people relationship. He went to Wisconsin to learn cheese making. In 1998 Sweetwater Valley Farm started making cheese and opened the present location in 1999. They are obviously doing something right because in 2012 They were named IDFA's (Innovative Dairy Farmer) Farm of the Year. They use about ten percent of their milk to make the cheese.
Mayfield's iconic cow
The remainder goes to Mayfield Milk which is another "Made in Tennessee" site open to visitors. It's located in Athens. Scottie Mayfield, the fourth generation involved with the plant, told us a little of the plant's history, from its founding by his grandfather, T.B. Mayfield, in 1910 Through the family's decision to sell to Dean Foods. The family is still very much involved in the business.
The very reasonable tour price includes an ice cream and takes you through all aspects of the production including making the yellow jug that is such a recognizable Mayfield feature.
Thomas explains why Benton Hams are so special
A visit to Benton's Smokey Mountain Country Hams makes you conscious of the skill and labor that goes into creating an artisan food product.
Allan Benton started the company almost by accident. He bought the business in Madisonville in 1973 from Albert H. Hicks, a dairy farmer who cured country hams. Allan, who had just realized his degree in counseling was not what he wanted to do the rest of his life. He thought of the ham curing business as a stop gap until he decided what he really wanted to do. As he progressed, he decided that creating hams and bacon cured or smoked as it was done when he was growing up was what he wanted to do.
Our tour guide, Thomas Williams, explained that the process mimics the changing seasons as the ham progresses from a piece of pork to a finished ham or slab of bacon just as the mountain people cured hams for generations before refrigeration. Simple or not, Benton's ham has become one of the celebrity chefs and high end restaurants favorites. According to Chef John Malik, "Benton's is perhaps the most famous, most sought after bacon and country ham producer in the United States."
With the arrival of sudden fame after years of struggling Benton's Smokey Mountain Country Hams suddenly found themselves in the position where they could not fill all the orders that poured in. Suddenly the food chains wanted to stock Benton's hams and bacon. According to our guide, "That's not who we are. Allan said, 'We want to dance with the one that brung us.' meaning high end chefs and small mom and pop stores. We're not going to triple our size and crank out millions of pounds. We're going to keep it small so we can keep an eye on things."
Thomas gave us each a pound of their bacon to take home. I fixed some of mine the very first day home and now my future grocery budget is shot. I confess, I used to buy cheap bacon but after one taste of the Benton's Bacon, I will never be satisfied with lesser products again.
Hard to find a more scenic location than Tsali Notch
Tsali Notch Estate
is named for the Cherokee farmer, Tsali, AKA Charlie, who was executed in 1838 for trying to keep his people from being marched West on the Trail of Tears. Tsali was the inspiration for the play "Unto these Hills." Tsali Notch Estate is what is known as a farm winery near Madisonville. As a farm winery they grow the grapes, in this case, Muscadine grapes, and sell their product but do not make the wine themselves. That part is contracted out.
The scenery alone makes a visit worthwhile. Acres of grapevines flourish against a backdrop of the Smokey Mountains. A stately log building is the tasting room and an beautifully restores farm house was moved from an adjourning farm and reconstructed as a event center and general lodge where guests can sit and relax with a bottle of Muscadine wine.
The manager, J. D. Dalton, gave us some background."We started up in 2009and now are the largest Muscadine vineyard in Tennessee with 202 acres all together and we are growing 35 acres of six varieties of Muscadine." He is sold on Muscadine. "They have the highest amounts of antioxidants of any fruit."
After the tasting, I can vouch for the fact they taste as good or better than any other sweet wine you will taste.
You will find lots of unique Muscadine products besides wine. Things like Muscadine chow chow, Muscadine sweet onion, Muscadine salsa and even a Muscadine pear apple jalapeno pepper butter. Events at Tsali Notch run the gauntlet from concerts to Civil War Reenactments to Muscadine Festival. You can also go and pick your own Muscadines during season.
Savannah Oaks' Cat Cat Wine
Savannah Oaks Winery,
located on the beautiful Hiwassee River n the foothills of the Cherokee National Forest, Is a family winery owned by Betty and Bruce Davis. They also has some great Muscadine wine. It's their specialty but they make a lot of other unique flavors. I fell in love with the blackberry wine. Casey Davis, the owner's son was handling the tasting when we arrived. He and his mom made us feel right at home. It's that kind of place where everyone is family. Casey explained why Savannah Oaks has some very unique names for their wine like Ocoee Gold Sunset, Hiwassee Red Hussy and perhaps the most interesting name, Cat Cat Party Crasher. "When I was growing up and someone said 'wine' we thought of either church or old people so we decided to make our names fun and exciting."
He told me the story behind the Cat Cat Wine name with a tear in his voice. "Being raised on a farm cats and dogs just wander in. You don't have to go pick them out. We don't give them names usually so we don't get too attached. But that don't work. Several years ago, a calico cat started hanging around. We took her in and just called her Cat Cat. Cat Cat was the sweetest cat you ever met. She was a great favorite. Visitors who came to the winery would remember her name and not ours. She would pop up in every wedding picture and event. She passed away the beginning of the year and we all miss her so we named this wine in her honor."
The annual Wine Stomp is a great time to visit but there is no wrong time. This is a winery with not only great wine but lots of heart.
Nothing prettier than an Apple Valley Orchard apple
Apple Valley Orchard
in Cleveland started as just an apple orchard. Chuck McSpadden told us the story of his family orchard's beginnings as he droves us on a trailer tour of the orchard. " My dad worked in a local Sears in what was then called the 'garden department.' About 1964, my dad bought two apple trees that were left over at the end of the season. Eventually he got up to about 40 apple trees. He loved fussing with them so my mom suggested he buy a few more. She expected about 40. He bought 400. That was 1968"
Today Apple Valley has 45 acres with 27 varieties on around 1700 trees and Chuck is planning on at least three or more varieties in the next few years. Along with the orchard, they now expanded to producing their own cider and other apple related products and their new bakery will offer you some of their "almost famous" Fried Apple Pie. Wow. It is tasty. It is just waiting for a few of you to try it before it is considered "famous."
One of their most popular products is moonshine jelly. They make it as a basic apple jelly but add a few drops of moonshine whisky. Naturally, cooking takes out the alcohol.
The cider mill presses out golden-taste-bud-tempters from mid-August through January. The cider will be slightly different each week as they use a blend and it varies depending what variety of green or golden is ripe in the orchard that week. The blend starts with twenty five percent Golden Delicious as red apples make it too sweet. Be sure to try the apple cider slushy. I loved mine.
You can feel safe eating the apples or drinking the cider as they try and avoid pesticides. One story Chuck told relates to the worst pest they need to control. "We've got some little white tags hanging in the trees, our worst pest is the Codling Moth. Those tags put out the we put those tags out in spring and early summer before the trees bloom. They are filled with the scent of the female Codling Moth. When the males hatch out the scent is so strong it overloads their sensory system. They are so confused they can't find a female to mate with and we don't have to chemically treat for them."
Anybody who thinks like that is my kind of guy.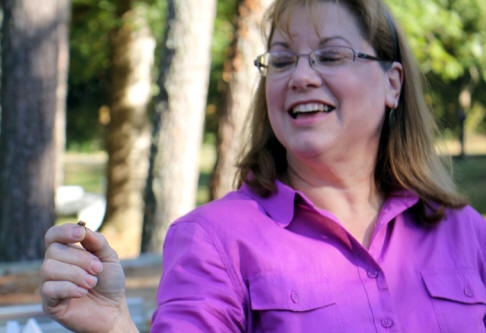 Diane holding one of her bees
One insect everyone involved with growing things loves is the tiny honey bee. At Appalachian Bee in Ocoee, beekeeper, Diane Ravens, introduced us to her little winged friends. Diane keeps an observation hive where we could see what the bees are doing by opening a small trapdoor on the hive.
She explained that the queen is the key to the operation. The queen has to keep laying a steady stream of new bees as bees only live about 35 days. She said, "They literally work themselves to death."
She runs 50 to 100 colonies. local She provides hives to Chuck at Apple Valley to pollinate his apple trees and to other local farmers to pollinate their crop. Each type of plant the bees pollinate create a different type of honey. Some of the crops such as the apples do not produce any nectar to create the honey so she may have to feed them some sugar water while they were there. Besides honey Diane makes a lot of other products; honey butter, flavored cream honey, sourwood comb honey, bees wax candles, soap and so much more. She told us about propolis. Propolis is a natural antibiotic that was commonly used before penicillin was discovered.
Her extraction kitchen is a model of efficiency. This is where she removes the honey and creates her products. A visit to Appalachian Bee will reward your sweet tooth in a healthy way.
Two examples of creative artistry:foreground the
sculpture The Grandfather and in background is
Chocolatier Jerome Savin
Slightly less healthy than honey but equally delicious sweet tooth treats can be found at Bluff View Art District,

Chocolatier Jerome Savin creates handmade chocolates blended with the unusual. For instance, he uses some of Benton's bacon to create a crunchy treat to die for. Michele Kephart, director of marketing at Bluff View Art District, confided "Jerome loves alcohol. He infuses it into as many of his truffles he can. There is Jack Daniels, Creame de Mint, rum and every variety he can think of in all sorts of dark and milk chocolates."
Not only are these creations delicious they are a work of art. You can view him at work through a large picture window near The Grandfather sculpture and sample his creations at Rembrandt's Coffee Shop.
Rembrandt's Roasting Company is another place to catch creative artisans as work in Bluff View. Usually later in the day is the best time but the burning smwll will tell you if they are hard at work when you are there. They are located behind the Bocce Ball Terrace across the street form the Sculpture Garden. which is also filled with beautifully crafted works of art. If your nose leads you there, step inside and if one of the roasters is free, he will explain the entire coffee roasting process. They sell their unique blends to restaurants, grocery stores, hotels and of course Rembrandt's Coffee House.
While there, you might also peek in at the pastry chef, Eva Whitaker as she creates some delicious treats for the local restaurants
By now you might think I have been eating and drinking my way across Southeast Tennessee and you would lonely be half right. I also visited lots of other great places. One of which was Lodge Cast Iron Store in South Pittsburg. Lodge Cast Iron factory, located just behind the store has been in the business of making cast iron cooking equipment for well over a century. Once a year during the National Cornbread Festival in April, Lodge Factory opens its doors to allow tours to the public. Of course you can visit the store year round to get you favorite cast iron skillet, Dutch oven or other utensil.
So many unique products that are "Made in Tennessee" offer tours and inside looks at their unique products. You just have to go visit southeast Tennessee to enjoy them all.
For more info:
http://sequatchiecovefarm.com/
http://www.sweetwatervalley.com/index.html
http://bentonscountryhams2.com/index.shtml
https://www.facebook.com/pages/Savannah-Oaks-Winery/138273117401
http://www.applevalleyorchard.com