Alachua County's Magnificent Museums
Story and photos
by Kathleen Walls
Alachua County, Florida has a museum for every interest. As a college town, you expect this in Gainesville, but there are other towns around the county worth a visit. Here are some I have visited and enjoyed. I'll start with Gainesville. The first three museums are free.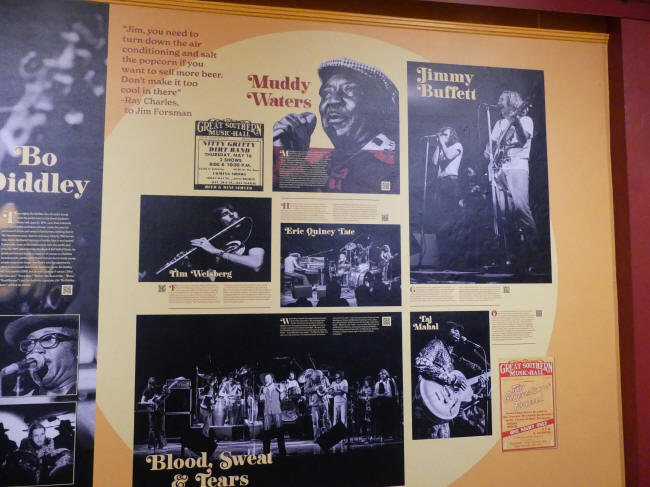 Matherson History Museum was a pleasant surprise for a small museum. Since I am currently writing a book on the history of American music, the main hall exhibit, Return to Forever: Gainesville's Great Southern Music Hall, really got my interest. I learned that between 1974 and 1978, Gainesville's top concert venue was the Great Southern Music Hall, located inside the historic Florida Theatre. It hosted greats from many genres including Jimmy Buffett, Ray Charles, Muddy Waters, Bob Seger, Steve Martin, Ike and Tina Turner, the Count Basie Orchestra, Cheech & Chong and rock and roll great, Bo Diddley who lived in Alachua county many years and died here.
Pro tip:
After visiting the museum, I was inspired to visit
Bo Diddley Community Plaza
downtown and the famous Florida theater across the street from it.
Dining tip:
There are lots of great restaurants around the plaza, including
Harry's Seafood Bar & Grille
, housed in Gainesville's historic 1987 Opera House.
The Harn Museum of Art is a cultural treasure. The exhibits I liked best were Florida Impressions and Posing Beauty in African American Culture. Florida Impressions offers a look at old Florida. There were about fifty paintings from coastlines and waterways, to historic landmarks; many painted by famous artists who visited Florida in the early to mid-20th century. Some of my favorites here are painting of Cross Creek, home of Marjorie Killins Rawlings, and scenes from the Mandarin section of Jacksonville where Harriett Beecher Stowe had a summer home.
Posing Beauty examines the intersections of art and beauty through many mediums; photography, video, fashion, and advertising. It includes 120 works of art from more than 45 artists and photographers.
Florida Museum of Natural History is one of the nation's top five natural history museums. It's divided into several sections.
In Florida Fossils: Evolution of Life and Land, you glimpse life in the last 65 million years of Earth's history. The South Florida People & Environments exhibit walks you through Florida when it was the land of the Calusa and later the Seminole and Miccosukee people. I loved being able to play audio recordings by Native Americans. My favorite was a song by Seminole James Billie about telling a dead soul to move on.
Underwater Walk-Through lets you "be" a small fish walking through an underwater estuary where the creatures are twelve times life-sized. Discovery Zone is where kids explore. There's so much to see here, allow plenty of time.
There is a temporary Spiders Alive exhibit ending September 4, 2023. It's a paid one but a deep dive into the life cycle of these hairy eight-legged insects.
Butterfly Rainforest, a paid exhibit, is attached to the museum. It's a living exhibit featuring around 1,000 free-flying butterflies from around the world in a screened, outdoor enclosure of tropical trees and plants, waterfalls, and a walking trail. There are many other animals including birds, turtles and fish. When I entered, the beautifully colored butterflies were fluttering around; some landed on my arm. One small bird stepped around amid the bushes. His soft gray and rust-colored feathers blended into the shadows of the leaves. My favorite butterflies had vivid blue wings fringed with black and dots of red on their upper body, but when folded, the underside of the wings was brown, gray, and black pattern with an eye-like marking.
Dudley Farm Historic State Park is a living history museum as well as a state park. It is an authentic 325-acre working "Cracker" farm on the western outskirts of Gainesville in the community of Newberry, showing the evolution of North Florida farming through the eyes of three generations of the Dudley family. There is more about it here.
The first thing that drew my eye at Micanopy Historical Society Museum in the old Thrasher warehouse was the 1930 Coca Cola Mural on its north wall. The historic warehouse-turned-museum is filled with artifacts telling Micanopy's past history. It was built in 1890 and used by J.E. Thrasher, Sr. as a warehouse of storage for his general merchandise business. When his original store burned in 1911, he used it as his store while he rebuilt his store.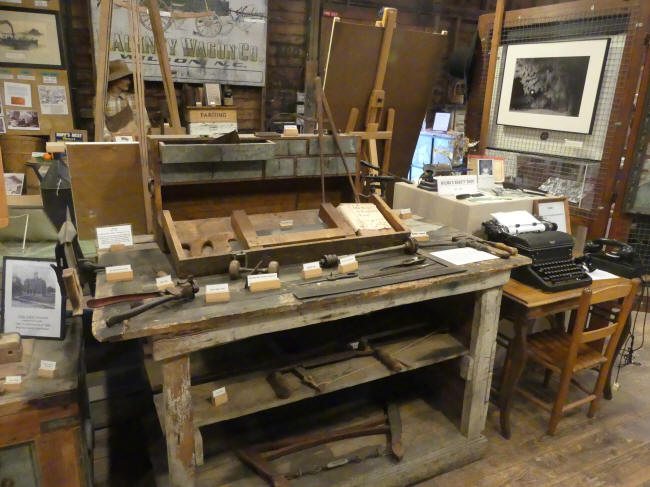 Erik Murray, a board member of Micanopy Historic Preservation Trust, showed us around. The Thrasher Store exhibit feels like I was buying supplies in the 1800s. Other exhibits like the old round icebox, and washtubs with a washboard reminded me that a woman's chores were much harder then.
It got into the politics of the day with the Seminole Wars exhibits. There's a six-pounder cannon used in the Second Seminole war at Fort Micanopy. So many exhibits fit into a building that's a part of history itself.
There are exhibits about the movies filmed around here. Doc Hollywood was filmed in Micanopy, and Cross Creek was filmed nearby at Marjorie Kinnan Rawlings Historic State Park.
Dining tip:
Best dining spot here is at
Coffee n' Cream
where the music is as good as the food.
Lodging Tip:

Herlong Mansion
is a one-of-a-kind bed-and-breakfast.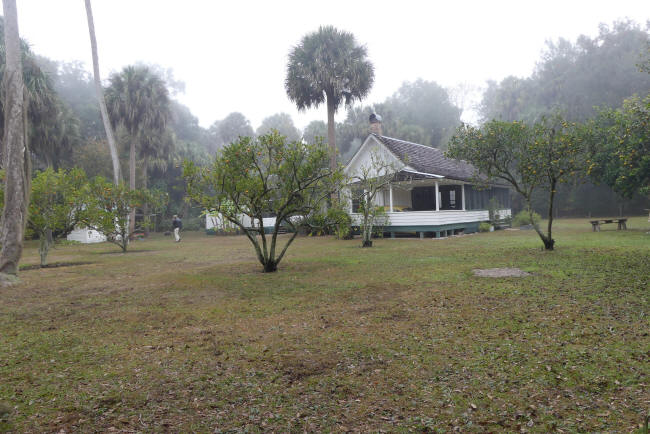 Cross Creek flows between the two lakes it gives its name to the tiny town. There is only one theng there visitors flock to see. A frame farmhouse with chickens pecking in the yard. Inside, there's a Remington typewriter on a desk with a glass of bourbon as a writer struggles to find the words to write about her new place in life. Marjorie Kinnan Rawlings Historic State Park is a living history that preserves her home and farm as it was when she wrote The Yearling and Cross Creek.
She and her first husband, Charles Rawling, moved to Cross Creek from Rochester, New York, in 1928. Both abandoned careers in newspaper journalism to write novels. They bought this 72-acre orange grove with a rundown Cracker house and barn. Marjorie felt a mystical bond to Cross Creek from the beginning, but Charles did not. The Great Depression drove the price of orange crops to almost nothing. Here Marjorie's career bloomed, her marriage ended. Her 1939 Pulitzer Prize-winning novel, The Yearling, was made into a blockbuster movie starring Gregory Peck and Jane Wyman in 1946 and remade as TV movie in 1994. In 1941 Marjorie married second husband, Norton Baskin, who later owned Castle Warden Hotel in St. Augustine, today's Ripley's Believe it or Not Museum.
You can get a guided tour of the house Thursday through Saturday. The board-and-batten barn is a recreation of the one that was here when Marjorie arrived. There's a stable with a carriage attached.
One of the most interesting parts of the house is a small bathroom connecting the original house to an annex added before Marjorie's arrival. As her fortunes improves, she used $120 of her book profits to have an indoor bathroom built. Before this, the only facility was an outhouse. We viewed this early 20th century bathroom and saw a bouquet of local flowers in the toilet.
The guest room has photos of famous people who visited, Ernest Hemingway, Zora Neale Hurston, Margaret Mitchell, Robert Frost, and others. Incidentally, when Zora Neale Hurston visited, she used this room, not the tenant house, flaunting Jim Crow Laws.
Marjorie's bedroom feels like she just stepped out. The pineapple post bed is carefully made with her dress is laid across, a string of pearls is partially out of her jewelry box, her suitcase sits at the bed's foot.
Her kitchen shows Marjorie's love of cooking. It's filled with her white porcelain wood stove and her cast iron cookware. The pantry is stocked with jam and jelly jars; the table is set with her own china.
The back porch invites you to step out and visit the garden, abloom with produce, herbs, and yellow marigolds or hike the trail.
As you walk around the garden and past the pump-house, ducks and chickens scamper out of your way. Oranges ripened on the trees when I visited.
The tenant house isn't original, but is an authentic tenant house moved from across the highway. Inside it's furnished as it would have been when Marjorie's workers occupied it, simple beds, chairs, and tables in two bedrooms joined by a small pantry style room. There's a picture of Martha and Will Mickens, whom Marjorie left life estate of the tenant house in her will. Idella Parker, whom Marjorie called her "perfect maid," occupied it for 10 years. Idella later wrote her own book, Idella - Marjorie Rawlings' Perfect Maid.
Dining tip:
Drive just down the road from the park to
The Yearning
. It's a step back to another time besides serving authentic local food.