The vast views in this part of America's west should be absorbed with long gazes, the deep breathing kind, staring at startling beauty. Plenty of modern homesteaders in the know can tell you how ancient civilizations and wagon train pioneers found their way.
Illusions of bison at the Hudson-Meng Educational Center on Pine Ridge
in Chadron, Nebraska where the bones are very real.
<![if !supportLineBreakNewLine]>
<![endif]>

"You are in some of the most scenic land in North America," says Dennis Kuhnel, walking in grasslands just beyond the remains of 600 bison killed by Paleo Indians maybe 10,000 years ago.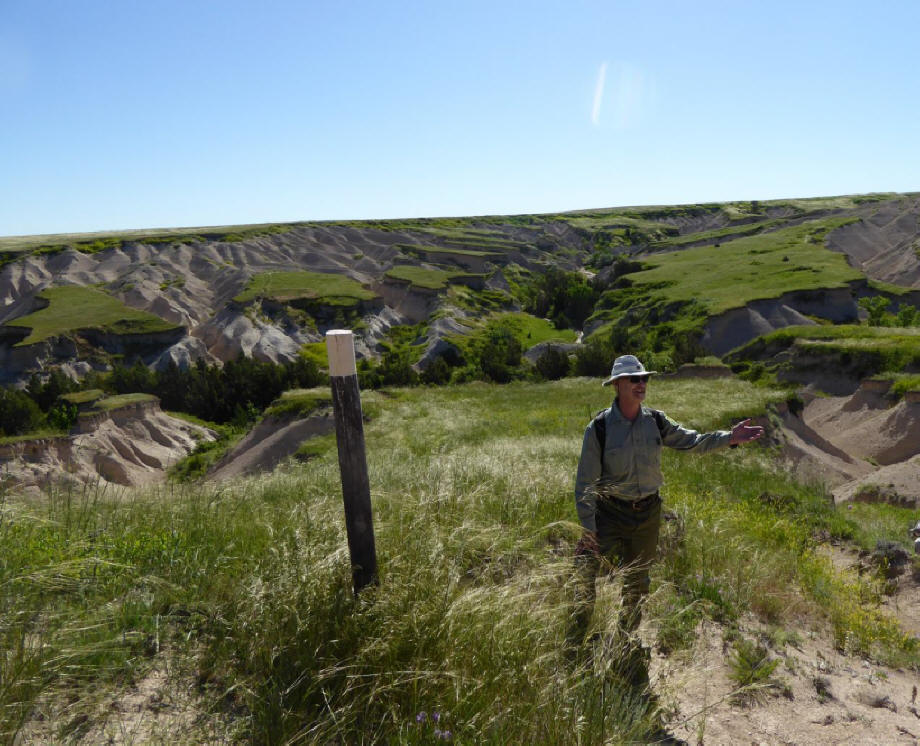 Walk through time from 13,000 years to 24 million on a three-mile trek from
Hudson-Meng Educational Center.with archeologist Dennis Frye
"They found their way with landscape memories, remembering landmarks," Kuhnel says of "the first people some 13,000 years ago in these grasslands created during the last glacial millennia."
Here's how you can walk where they trod: visit the Hudson-Meng Educational Center on Pine Ridge in Chadron. Kuhnel's the director of this archeological site and knows the way through three different ecological eras.
This is a walk through time, starting 13,000 years ago and ending three miles later in an ancient riverbed 38 to 24 million years old. Toadstool Geologic Park is the name and if a hike doesn't suit you, drive from the education center about eight miles to the edge of this park to experience whimsical but enormous clay pillars with sandstone slabs on top.
Routine views walking in Toadstool Geological Park.
Fossils of animals walking this ancient streambed are visible, as are ancient tracks of giant pigs, two species of rhino, miniature horses and ancestors of modern camels, dogs and cats.
Eons of time
Walking through eons of time is but one of western Nebraska's wonders. Tracking national monuments, trails, wilderness areas and scenic rivers is another.
Maybe some other road-trip friendly place in America has as many national designations within reach on a family vacation, but I'm doubtful.
Plenty of people intend to visit every National Park. After exploring Scottsbluff and Ogallala, Sidney and the Sandhills, Alliance and wide-open roadways I'm recognizing a different plan---steep my soul in natural wonders considered national treasures.
Says who? One resource would be the families in wagon trains heading west to seek a new life. Their diaries can guide many western Nebraska discoveries.
Pioneer diaries
Like Chimney Rock which historian Loren Pospisil says is mentioned more times in the diaries of Oregon Trail travelers than any other landmark.
Big Nebraska views from the top of Scotts Bluff National Monument, walking down.
Yes it is startling in its spiral formation reaching high out of the open plains but those pioneers moving only three miles an hour would have looked toward it much longer than you approaching in a car.
Pony Express riders liked this landmark too because of the clear water stream nearby. You can see a handsome monument honoring these deliverers of the mail in 1860 and 1861 in Sidney, where the outdoors outfitter Cabela's maintains its world headquarters.
Hear wild west stories too; in fact, Sidney is the subject of "Lynchings, Legends, Lawlessness," 680 pages of history to make you wonder why you didn't know about this Nebraska town sooner.
Sidney has a Boot Hill (and so does Ogallala) where cowboys were buried with their boots on, and says City Manager Gary Person, sometimes with barbed wire around their necks.
It was also a gateway to the gold rush in the Black Hills of Dakota, and today the rest of us can drive on U.S. 385, also designated the Gold Rush Byway.
Views never end
Driving is important in western Nebraska, and so is keeping the tank on the full side of half. The views never end, but towns with facilities can be far from one another.
Before you go, order this map: "Journey to Western Nebraska: Weekends Out West." It's clear, straightforward and sensible. Here's how: 800-684-4066 or www.westnebraska.com
See if the National Park Service will send you their stellar maps of the trails you can experience: Oregon, California, Mormon Pioneer and Pony Express. Boundless ideas to consider mapping your course.
Choose Alliance, due north of Sidney on the Gold Rush Byway, for a professional, well-funded, museum break because the Knight Museum and Sandhills Center features exquisite exhibits.
Could be tough to leave the vast views for some inside time but you'll be glad to meet the descendent of homesteaders—Becci Thomas who directs this modern, detailed museum.
She knows the history in an up close and personal family way so ask to meet her for a chat. Her great-grandmother came here as a widow with four children and Thomas shares stories behind the stories of museum displays.
Meant more to me seeing a Conestoga wagon from Illinois when I learned the family name, finding the fourth generation living in Alliance.
Connecting history
Connections enriching history happen all around this region. Moments like looking at the Platte River and hearing from a cowboy on his horse that the Oregon Trail pioneers traipsed on one side and the Mormons on the other.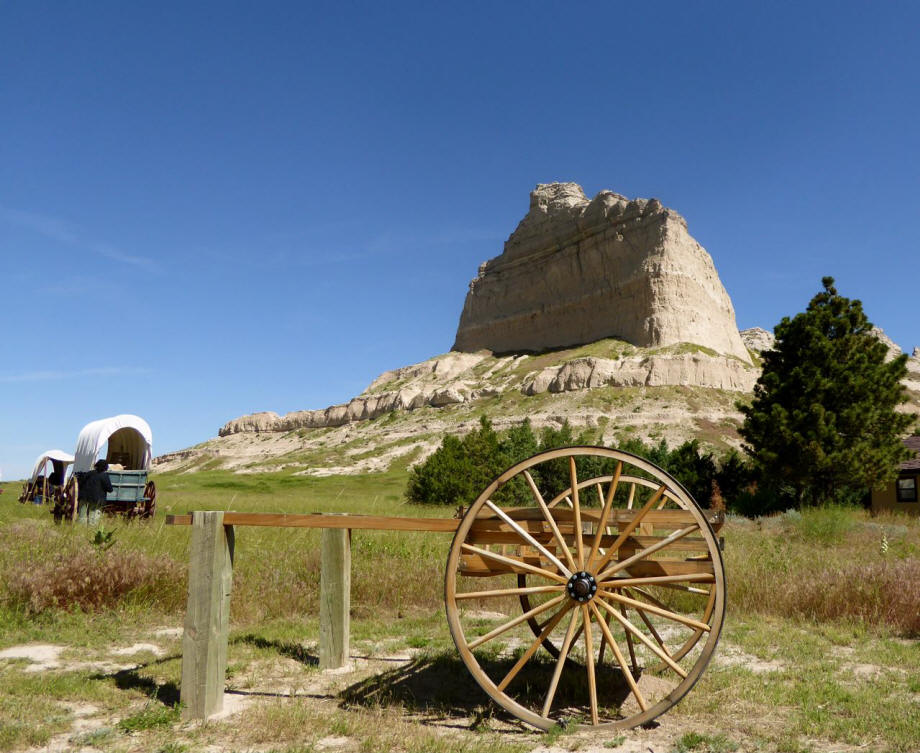 Many pioneers on the Mormon Trail moved their possessions in handcarts
like this one in front of the Scotts Bluff National Memorial.
Then learn on another day of grand views at Scotts Bluff National Monument that those Oregon Trail families generally had their goods in a wagon, walking beside it, and the Mormons had handcarts for their goods.
See one of each side-by-side in front of this landmark pinpointing nearby Mitchell Pass, a gap allowing passage through the towering bluffs.
Mitchell Pass was a welcome site to Oregon Trail travelers, seeing a way through the giant bluffs.
For more on western Nebraska click here
Keep these national designations in mind designing a trip
No simple task narrowing down the choices!
National Monuments
Scotts Bluff
Agate Fossil Beds
National Wilderness
Soldier's Creek near Fort Robinson State Park,
itself a fine place to book many nights
National Scenic River
The Niobrara with six ecological systems
National Natural Landmark
Sandhills (Mongolia is the only other place to find these)
8,000 years old with 85% of the natural habitat never plowed
National Historic Trails
Oregon
California
Pony Express
Mormon Pioneer
Lincoln Highway (first auto road across the entire USA)
Transatlantic Railroad
National Historic Site
Chimney Rock with visitor center, film and museum
Reading before you travel to bring new richness to discovery, then rereading later adding to the literature a traveler's personal experiences.

Allan Maybee of Barn Anew suggested these two last night when I interviewed him on Blog Talk Radio (Travel Itch Radio show)


Centennial James Michener

Oregon Trail Revisited Greg Franzwa


Of course, we know Lonesome Dove James McMurtry


Our guide at Fort Robinson said --

Killing of Crazy Horse by Tom Powers
and
Crazy Horse: A Lakota Life by Kingsley Bray