Movie travel offers way more than peering at some places where a favorite film launched, or so I discovered in Louisiana.
Check out this notion in the state's northwest corner where Shreveport and Minden embrace imagination and storytelling in multitudes of creative ways.
They call themselves and their neighboring parishes Louisiana North.
Follow the Film Trail map to immerse in 30 movie locations, perhaps getting a copy ahead of your trip and watching –or re-watching--each one. Easy download from www.shreveport-bossierfilm.com or call to ask if they'll mail you a copy.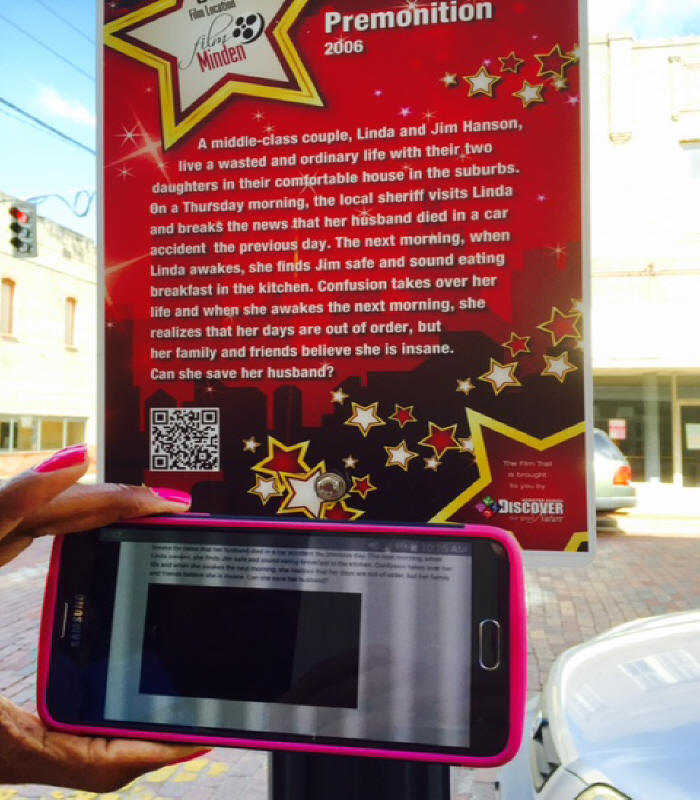 One of the Film Trail signs Photo by Christine Tibbetts
Louisiana Film Prize
You can also plan your trip for the annual Louisiana Film Prize when the world's largest cash award is given to the makers of a short film: $50,000.
It's easy in Shreveport to mingle with directors and producers vying for the prize throughout the three-day weekend when their films are shown in groups of 10 at one sitting.
Even richer as a travel experience for me during the October, 2015 event was sensing their genuine support of one another. Some are experienced filmmakers and many are newcomers to the art and craft, but they watch each other's films, chat at receptions and meals which travelers can arrange to attend, and share moviemaking information in Q & A sessions under a tent in a welcoming Shreveport downtown street.
This is a walkable city and I started recognizing film people as I strolled about.
Sept. 30 – Oct. 2 are the 2016 dates.
Storytelling Studios
Do you like wondering who's who when you travel? Celebrities are quite likely to appear in the midst of Louisiana North filmmaking but the people I didn't recognize intrigued me the most in Shreveport and across-the-Red-River Bossier.
Here's why.
Movies need stories and Louisiana North appears to have invited the storytellers too. And their art directors and creative designers and technical wizards creating new ways to bring those stories to the screen.
Occulus Rift is the blue head Photo by Christine Tibbetts
Creative spaces won't throw open their doors because surprises and secrets seem to matter, but I found one that will offer a tour if you ask. Get in touch with Digital Media Institute at InterTech.
DMII they like to call themselves and this is where engineers and artists go to school to hone their skills in animation, visual effects and interactive content.
Digital Animation Photography Photo by Christine Tibbetts
What they're learning, you and I will see on the screen soon. Am I any smarter about cognitive content and interactive content platforms after my tour? Probably not, but I do have a better grasp of virtual reality and when the Occulus Rift goes on sale to the public this year, I'll know I saw one at Digital Media in Shreveport.
Morris Lessmore at the Library Photo credit Moonbot Studio
Moonbot Studios opens all sorts of new doors for storytelling and once I learned about them, I started searching for ways to touch their creativity. Tours most unlikely.
First, believe that Imagination is a place, not a concept. They believe.
Moonbot creates whimsical worlds and characters for films, games, books and goodness knows what new entertainment media that's emerging. They're sure the ways to tell stories have not all been invented yet.
Second, download short films and buy some books because the trio of Moonbot owners and their artistic teams win Oscars, Emmys, Webbys, Clios and Cannes Lions. Lots of them.
Know Moonbot Studios' "The Numberlys," a film about a time when there was no alphabet, only numbers? If you watch the 2010 restored version of the 1927 science-fiction drama "Metropolis," you'll see the connection.
Met Mr. Morris Lessmore and his fantastic flying books? The app cost me $4.99 and expanded my horizons about how to listen and participate in a story all at the same time.
Morris Lessmore inside the Library Photo credit Moonbot
The print versions in many languages ought to be on my gift-giving lists, and next trip I intend to visit the Shreveport downtown library which inspired the artistry within this story.
By experiencing Moonbot creativity ahead of a trip -- in print, on the screen and on our tablets, it's easier to recognize their touches on visits to Shreveport-Bossier.
Municipal Auditorium
In Shreveport I figured out what's across the street and what is the street can enhance the significance of the place I planned to visit. That's definitely true of the home of the Louisiana Hayride, the Municipal Auditorium.
Find this handsome Art Deco building on Elvis Presley Avenue. He was 19 when he performed his first show here---Oct. 16, 1954.
The Elvis statue in front of Municipal Auditorium Photo by Christine Tibbetts
Today visitors can experience concerts, and, if you call ahead, arrange a tour. That's a good plan because the architecture is stunning: a million red bricks, designs influenced by the 1920s discoveries of King Tut and the Maya ruins.
Shreveport's Municipal Auditorium opened Nov. 11, 1929 and tour guides share remarkable stories, like these:
<![if !supportLists]> · <![endif]>The very first performer was African-American singer Roland Hayes—on stage when Jim Crow laws in American forced him to enter from a side door.
<![if !supportLists]> · <![endif]>Every kind of music ever made in America was performed on this stage, according to the National Register of Historic Places
<![if !supportLists]> · <![endif]>Eleanor Roosevelt gave two speeches here
<![if !supportLists]> · <![endif]>The Sam Cooke song "A Change is Gonna Come" was written after he had been arrested in Shreveport
<![if !supportLists]> · <![endif]>50 women sworn to secrecy during World War II worked here seven days a week, housed at nearby Barksdale Air Force Base and charged with duplicating the maps for the Normandy invasion. Art and math skills determined their selection.
The James Burton Foundation is across the street from the Municipal Auditorium so make a day of it when you go to Elvis Presley Avenue. The cemetery at the end of the block holds interesting stories too.
The music banner in James Burton Foundation building Photo by Christine Tibbetts
You may know Burton as Elvis Presley's lead guitarist, or Ricky Nelson's friend when they were 17, guitarist on the 1961 "I'm a Traveling Man." Hear Burton's superb style with Johnny Cash, Merle Haggard, Joni Mitchell, John Denver, Roy Orbison, Judy Collins, Jerry Lee Lewis and many more stars through the decades and on stages in America and Europe today.
The locker in James Burton Foundation building Photo by Christine Tibbetts
His Foundation is "all about helping kids and getting music back in the schools," Burton says. That involves putting guitars directly in the hands of kids since 2005, through their schools and through Wounded Warrior organizations to add music to veterans and their families.
Performances and Films
Catch a performance at the 1925 Strand Theatre, evoking memories of its era as a Baroque movie palace, complete with murals of muses, elaborate chandeliers and ceilings demanding upturned heads to gaze at the extensive artistic patterns.
Ceiling of Strand Theatre Photo by Christine Tibbetts
Choose movie nights at the non-profit Robinson Film Center with a mission focusing on independent, international and classic movies in two theaters. Dine here too at the Abby Singers Bistro where Executive Chef Tootie Morrison won the 2015 culinary honors from the Louisiana Film Prize.
In Louisiana North, dinner and a movie means more than it might in other destinations.
I ordered Morrison's shrimp scampi which she describes as "a symphony of flavors," expanding on foodie references to notes of tastes.
Road trip to Webster Parish
Minden is the town where you'll be glad you have a QR Code app in your phone because Film Trail signs offer entertaining information about movies filmed here.
Shop where the prop masters do, especially Second Hand Rose Antiques, a three-story building jam-packed with any conceivable item. Kind of fun once you get past feeling overwhelmed with abundance to muse about the sets in movies you see, wondering what came from this store.
Film Trail road sign Photo by Christine Tibbetts
Start by watching "I Saw the Light" when it's released in March, 2016. This is the Hank Williams story filmed in Webster Parish, starring Tom Hiddleston who masks his British accent singing beloved Williams' songs.
Sleep over at the Fitzgerald House bed and breakfast inn because movies were filmed here and also because it is gorgeous.
Fitzgerald House table set Photo by Christine Tibbetts
This 5,260-square foot Victorian home was built in 1902 and the live-in proprietors serve breakfast on the original ten-piece dining room furniture.
Never mind the movie "Harold and Kumar" filmed here focused on a brothel scene; your room will be quite respectable.
To dig deeper:
www.shreveportmunicipalauditorium.com