Welcome to the 2017 Winter issue of American Roads and Global Highways. It's a fully packed issue as usual with lots of fun places brought to you by some of the best travel writers around.
Our favorite guest columnist, Kathy Barnett, is back with a trip along the famed Bridges of Madison County and more in her Iowa by Trail.
You might notice we have a brand new look. Hope you like it and find it easier to navigate. Another change I am sorry to announce is that, due to uncompatable computor systems, MAC vs PC, Renee has resigned as co-publisher. We gave it a good try but the two systems just will not cooperate when it comes to web publishing software. Naturally her articles will continue.

You will always find interesting lodging here at American Roads and Global Highways . Remember when planning a vacation or business trip, it's always a good idea to research the available lodging. The last thing you want is an unpleasant surprise when you arrive at your destination. My favorite way to check with a reliable service that gives me ratings, reviews, lots of photos and the ability to book through whichever booking agency is currently offering the lowest price. All through the same website. You can do the same.
Click here
for the best way to find a hotel worldwide.
Adirondack Trail Mix
March Maple Days


By Persis Granger
When folks in the southern Adirondacks awake these winter mornings, it can be rough to peel back the blankets and plant bare feet on the night-chilled floor. But you plod to the wood stove anyway. Embers in the bottom flush bright red as you swing open the firebox door, letting in a gust of air as you insert logs to warm up the house. Your flannel-clad elbow scrapes away a little circle of frost from the kitchen window so you read the 6 a.m. temperature--five degrees. You're grateful that's above zero instead of below.
Read Adirondack Trail Mix- Click Here
Agri Lanes
Don't Let Them Get Your Goat: Visit Harley Farms
by Kathleen Walls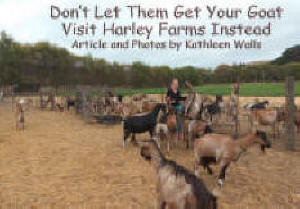 Back in the day, it was believed that a goat had a calming effect on high-strung racehorses so owners would put a goat in the stall with their horse before a race. Unscrupulous opponents would sometimes steal the completion's goat in the hopes of making that horse lose the race. Harley Farms in Pescadero, California is one place you can test the calming effect of goats for yourself. The goats at Harley Farm are not only calming, they are downright fun as well as producing a lot of delicious cheeses. Their story is a testament to American's growing interest in understanding where their food comes from.
Art Trails
The State of Sculpture
by Anne Jenkins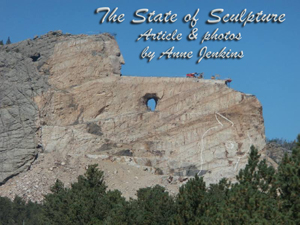 Mount Rushmore and the Crazy Horse work in progress inevitably springs to mind at the mention of sculpture and South Dakota in a sentence. Both of these monumental works are certainly famous, everyone knows 'the faces on the mountain.' It is definitely worth a trip to see them. And while at Mount Rushmore National Memorial, don't miss the opportunity to spend time in the artist, Gutzon Borglum's, studio to see his study for the sculpture. It is quite different from the sculpture seen today and one wonders at the change of direction.
Chuckwagon Roundup -- Food
One Idea Two Ways
by Kathleen Walls
What a coincidence to discover two fascinating places that are similar but different in the course of two weeks. Kitchentown in San Mateo, California and Smallman Galley in Pittsburgh, Pennsylvania are both culinary incubators. They offer chefs the opportunity to launch a successful business but each takes a unique direction in doing so.
read Chuckwagon Roundup Food Click Here
Chuckwagon Roundup -- Drink
Bourbon, It's Not Just From Kentucky
by Kathleen Walls
Kentucky makes some mighty fine bourbon. I've visited the Bardstown Kentucky Bourbon Trail and loved what I saw and tasted. But distilleries in other states have discovered the appeal of bourbon. Arguably, bourbon has surpassed scotch as the drink of choice in the U.S.
Read Chuckwagon Roundup Drink Click Here
Elite Street Eats
Monterey Bay Fish Grotto: Dining in a Fish Bowl
By Kathleen Walls
Monterey Bay Fish Grotto is one of those rare places that is more than the sum of its parts. Sure, it's serves great seafood. It has a chef that is not afraid to blend his Eastern European traditions with modern recipes. It sits high on top of Mount Washington overlooking Pittsburgh and offers spectacular views of the city. All wonderful but combined, it creates a dining experience that transcends each of the parts.
Read Elite Street Eats- Click Here
Fork in The Road
A Trip on The Strip
By Kathleen Walls
Pittsburgh was named #1 Food City in the US in 2015 by Zagot. One section of the 'Burgh stands out as the heart of its foodie movement, The Strip. Sounds like a naughty adult club but it's PG rated, mostly. It a mile and a half long section of Pittsburg filled with every type of ethnic restaurant and some drinking that will take you back in history.
Read Fork in the Road - Click Here
Guest Column
Iowa by Trail

By Kathy Barnett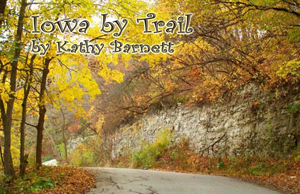 With over 3,000 miles of trails for all ages, skill levels and seasons, it only seems appropriate for Iowa to claim the title of "World Capital of Trails." Currently cyclists, hikers, walkers, runners and other outdoor enthusiasts can enjoy miles and miles of multi-use land trails across the state. During the winter, snowmobilers and cross country skiers can find as many as 1,000 miles of trails in the parks and along Iowa's county road grid system to glide along the newly fallen snow.
Happy Trails
Starved Rock: Illinois History and Legend
By Tom Straka
Photographs by Pat Straka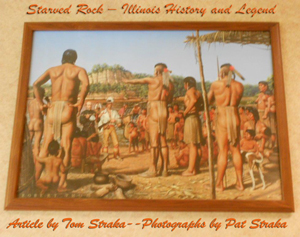 Some of the most interesting roadside history involves the lesser-known sites that don't make the American history books or History Channel. Illinois has lots of those, and Starved Rock State Park is one of its most popular ones. It's located very close to the intersection of Interstates 39 and 80, about halfway between Rockford and Bloomington. In 1673 it was also located at one of the earliest traffic routes across Illinois, the Illinois River. That is when King Louis XIV of France sent Louis Joliet and Father Jacques Marquette to explore the unknown midlands of the continent, with a mission to locate the river called by the Native Americans "Messipi," or the "Great Water."
Read Happy Trails - Click Here
History's Highway
Nash Farm: Grapevine's Window into Yesterday
By Kathleen Walls
My favorite Grapevine historic/agri adventure is Nash Farm, the oldest operating farmstead in Tarrant County. It all began in 1843 when General Sam Houston negotiated a treaty of peace between the Republic of Texas and 10 American Indian nations with claims on the area. The following year, the first settlers started arrived in covered wagons. In 1859 Thomas Jefferson Nash came from Kentucky to the Grape Vine Prairie to create a better life for his family. He found a piece of farmland he loved and bought the farm for $500. It proved a good investment. Thomas, his family, and his brother, William, ran the farm for many years.
Read History's Highway- Click Here
Information Highway
( a different way to promote travel)
Take a Tour
Want to visit fun places but you are not sure what to see there? How about taking a tour that is like having a friend who knows that city well along to take you to the coolest places. You can do that for under $5 now.
Inn Roads
Everything is Bigger at Gaylord Texan
By Kathleen Walls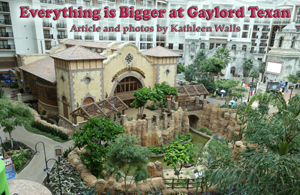 The Gaylord Texan Resort is six miles from DFW Airport and light years away from average. The Gaylord Texan is a total resort with dining, shops, multiple indoor and outdoor pools, a spa, a fitness center, and pretty much everything you need to have a wonderful time all within the resort.
Museum Row
Frontier Texas--It's for Real
By Kathleen Walls
Some museums pack a punch. You walk away feeling "been there, done that" in real time. Frontier Texas is one of those. You feel as if you are listening to real people talking just to you when you experience an encounter with one of Frontier Texas's nine spirit guides. Spirit guides are not supernatural phenomena although they create an almost perfect likeness of a living, breathing person. They are three-dimensional hologram images of several Native Americans, a former slave, a frontier soldier, a buffalo hunter, a cattle driver, a frontier woman running her boarding house, and Cynthia Ann Parker, the white mother of the last Comanche chief, Quanah Parker, that Frontier Texas uses to bring the era when Abilene was the frontier (1780-1880) vividly to life. It's also the official visitor center for Abilene and the Texas Forts Trail Region.
Off The Beaten Path
Filoli: Not your Average Country Home
By Kathleen Walls
Filoli Mansion and Gardens is a bit off the beaten path and way out of the ordinary. It's near Woodside about 25 miles south of San Francisco. Many visitors might miss it. Big mistake! This is one of California's real treasures with the emphasis on real. Filoli is a California Historical Landmark and is listed on the National Register of Historic Places.
Read Off The Beaten Path- Click Here
On the Road with Grandma
Treasures and Pleasures in Tarpon Springs
by Roberta Sandler
Whether you're a grandparent or a grandchild, the first thing about Tarpon Springs, Florida that will grab your attention is the proliferation of sponges. All sizes and shapes. Soft. Squeezable. They sit on sponge-fishing boats. They nestle in "for sale" baskets in front of shops along the downtown historic district's Dodecanese Boulevard. They're represented on signs advertising Tarpon Springs. Everywhere, sponges.
Read On the Road with Grandma- Click Here
Photos from the Roadside
Shooting the Antelope
byJim DeLillo
The slot canyons of Page, Arizona are on Navajo lands. By law, only native Navajo can conduct business on the property. This has resulted in several resident outfitters running operations to visit the twisty, narrow, photogenic canyons. It is strictly controlled by the Navajo Parks and Recreation Department, which serves to protect the area from overuse and preserve its history.
Product Review
Keysocks
By Kathleen Walls
You're headed for the airport. Big question, what to wear? Casual with tennies and socks? Not this time. You're meeting someone important at the destination airport so you want to look your best but if you wear heels, you can't wear socks. If you don't wear socks, it means trotting around on that nasty airport terminal floor barefoot. Who knows if the person just in front of you has a fungus or infection in his feet? You've got to walk barefooted right where he stepped. Ugggh!
Read Product Review - Click Here
Renee

's Route
Where Texas Gets Real! Grapevine, Waco and Granbury
by
Renée S. Gordon
Grapevine is one of the oldest settlements in Texas and as such it's sites and attractions chronicle the state's history in a unique way. Simultaneously the city manages to be thoroughly modern with more than 200 restaurants and 20 hotels designed to fit every taste and budget. Grapevine is located a few miles from Dallas Forth Worth Airport (DFW) entrance and is a great destination, hub for travel throughout the state or day trip from the airport. Organized tours are available from DFW that are a perfect adventure during a layover.
read Renee's Route- Click Here
Renee

's International Route
Harmony of the Seas, Cruising in a BIG Way!
by
Renée S. Gordon
If there were ever a time to getaway this is it and if there were ever a place to have a total vacation experience it has to be a Royal Caribbean cruise aboard their newest ship, the Harmony of the Seas. Amazing, is a perfect word to describe this state-of-the-art marvel because the ship does indeed astonish and surprise you at every turn.
Read Renee's International Route- Click Here
See the USA with Warren
Georgia's Golden Isles
by Warren Resen
Most travelers on I-95 in southeastern Georgia probably zip by the Brunswick interchange (EXIT 36) barely pausing to give thought to the signs announcing Georgia's Golden Isles.
Scenic Road
San Angelo's Eye Candy
By Kathleen Walls
Have you ever wondered where one of the world's most prestigious collections of waterliles in the US can be found? Probably the last place you would guess is San Angelo, Texas but you would be wrong.
Smooth Traveler
Way up North in Wisconsin

by
Renée S. Gordon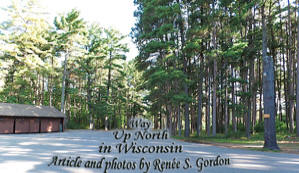 The first nonindigenous people to visit what is now Wisconsin was a 1634 group, led by Jean Nicolet, in search of the Northwest Passage. A small group of priests, fur traders and hunters followed. French control gave way to British control until the 1783 Treaty of Paris ceded control to the United States and the largest group of settlers began entering the region. They established the dairy, lumber and mining industries. Dairy farming was their first major industry and the state continues to be the country's leading dairy producer. The area prospered and in 1848 Wisconsin was granted statehood.
Read Smooth Traveler- Click Here
Tasting Trail
Grown Up Fun in San Mateo County
By Kathleen Walls
Sophisticated adults traveling in San Mateo County, California will have a lot of opportunities to taste test some of California's finest wines and craft beers right at the source. I visited there recently and found some fun tasting opportunities. Here are just a few I found on a recent IFWTWA trip.
Read Tasting Trail- Click Here
Tibbs Trails and Tastes
Thoroughbred Country S.C. means more than horses
by Christine Tibbets
Superb lodging with fine dining in arm's reach could be reason enough for choosing a travel destination, but what about bookending a dozen art and culture experiences with that lodging?
Travel Without Borders
Munich: Beer, Bikes, Bratwurst and Bavarian Beauty
By Roberta Sandler
If you're old enough to remember the popular '50s TV show, "Your Show of Shows," you probably remember a classic comedy skit in which regular cast-members Sid Caesar, Imogene Coca, Carl Reiner and Howie Morris are mechanical revolving Bavarian figures on a huge clock (Glockenspiel). Suddenly, there's a glitch, and the figures turn in wrong directions, repeatedly bump into each other and smack each other with hammers.
Read Travel without Borders- Click Here
Wet Roads
Slow Trip in Time on the Tule Princess
By Kathleen Walls
Steamboats were at their heights as the world entered the industrial age. It was an age of glamour and leisurely travel way before the time of jets and high speed interstates. You can catch a glimpse of that time on the Tule Princess, the last operational, full size walking beam steam engine, powering a side wheel paddle steamboat anywhere in the world. The Tule Princess is navigating on Lake Nasworthy in San Angelo, Texas.
Public Disclosure-- Please Read
I recently learned of a law requiring web sites to let their readers know if any of the articles are "sponsored" or compensated. We also are to let readers know if any of our links are ads. Most are not. They are just a way to direct you to more information about the article where the link is placed. The hotel link on this page is a paid link, however it is one I feel is very helpful in booking a hotel. I think readers are smart enough to know an ad when they see one but to obey the letter of the law, I am putting this statement here to make sure everyone understands. American Roads and Global Highways may contain affiliate links. Further, as their bios show, most of the feature writers are professional travel writers. As such we are frequently invited on press trips, also called fam trips. On these trips most of our lodging, dining, admissions fees and often plane fare are covered by the city or firm hosting the trip. It is an opportunity to visit places we might not otherwise be able to visit. However, no one tells us what to write about those places. All opinions are 100% those of the author of that feature column.