Welcome to the new issue of American Roads and Global Highways . It's a fully packed issue as usual with lots of fun places brought to you by some of the best travel writers around. We feature both domestic and international travel. By the way, if you are planning a trip abroad and need a fast US passport
check out this site. When I appled for mine awhile back using regular channels it took about a month. Here you can get it as fast as within 24 hours.
American Roads and Global Highways is proud to announce our collaboration with Weekender Extended. Their editor, Kathy Barnett, who has been a popular guest writer now has a regular column. Get to know Kathy at our contributors page and go read the latest issue of her ezine where you will find an article by me. Weekender Extended, which, like American Roads and Global Highways, also covers places to go, things to do and people to see for the fun side of life!
Another new feature is our blog. Here you will find timely subjects that occur between regular issues and general travel information.
Some ways to Save Big on Domestic Airlines. Promo Code : DOMESTIC20
.
And if you waited until the last minute to book your flight get Instant Savings On Last Minute Flights. Promo Code : LM20
Looking for the Cheapest Hotel with Great Comfort & Luxury. Book Now & Save Big!
Agri Lanes
Todd Syrup Farm: Raising Cane Since 1835
by Kathleen Walls
Can you imagine one family raising cane since 1835? Well, that's just what Joe Todd's family had been doing. The cane they have been raising isn't the kind that gets you in trouble. It's the kind that sweetens your pancakes and biscuits. Through good times, bad times, multiple wars and a depression The Todd family raised cane. They also ground it and made delicious syrup from it. Joe Todd, now in his 80s, along with his children and grandchildren are still making mouthwatering cane syrups.
Ancient Trails
Petra Up Close
by Kathleen Walls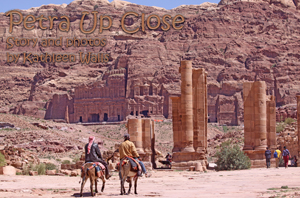 I have read hosts of the most beautifully written accounts of it, and they give one no idea of it at all…so you will never know what Petra is like, unless you come out here... T.E. Lawrence ~ February 1914.
This is how Lawrence of Arabia summed up Petra in a letter to a friend. He's right; it must be seen to be fully appreciated. It is a step back in time to one of the earliest known civilizations. It is one of the new Seven Wonders of the World as well as being named a UNESCO World Heritage Site built by an ancient civilization called the Nabataeans around the third century BC.
Art Trails
New Mexico's ARTesia
by Anne Jenkins
The old adage, never judge a book by it's cover, perfectly describes Artesia, a rural town in South Eastern New Mexico. On the edge of the dusty desert town the state's largest oil refinery dominates the vast landscape. It's an uninviting sight and tempts you to keep driving right out of town. On the drive between the famous towns of Roswell and Carlsbad you might glimpse into the small town but, at first glance, there's not much to draw you in. Wait, don't hit the pedal and keep going. Turn in to town, park and stroll the streets for a rewarding couple of hours. They have done a wonderful job of highlighting their history and heritage with public art throughout the town. To be fair, the oil industry might not be pretty but it, along with ranching, keeps the town alive and helps finance the art.
Chuckwagon Roundup
I'll have the House Special
by Kathleen Walls
Some restaurants are known for certain iconic meals you just have to have when you visit them. Blue Plate Specials began as a way to offer a complete low-priced meal during the depression. Today they are more representative of a local culture or special food grown or found in the area. Sometimes they are recipes passed down through a family and have become iconic over the years. Below are some of my recent favorites.
read Chuckwagon Roundup Click Here
Civil Rights Trails
It's More Than a Building: Cherry St. AME Church
by Kathleen Walls
The story behind the Cherry Street African Methodist Episcopal Church in Dothan, Alabama plays out like a classic drama of good versus evil; might versus right. Today it's a classic red brick church; the oldest in Dothan and recognized as the "Mother Church of the A.M.E. Denomination in Alabama."
read Civil Rights Trails-Click Here
Exploring With Eleanor
Motoring through Georgia's Heartland
By Eleanor Hendricks McDaniel
Centered in Georgia's rich red clay are old mansions, family farms, literary giants, contemporary art and crafts, and landmark sites. This remarkable area has been designated as the state's Historic Heartland. The Heartland Trail rolls through small towns and cities. So a road trip is the way to go.
read Exploring With Eleanor- Click Here
Elite Street Eats
Up, Down, and Anyway at the Loft
By Kathleen Walls
You can have fun up or down at The Loft in Columbus, Georgia. My favorite way is dining Downstairs at The Loft. Tom Jones, the executive chef, makes sure each dish is perfect. Our waiter, Seth, made sure we had full glasses, everything we needed to enjoy out meal and to top it off he kept us entertained with his priceless personality and cute humor.
read Elite Street Eats - Click Here
Fork in The Road
The Old Mill Lives On
By Kathleen Walls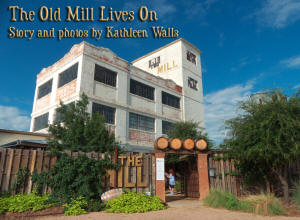 The Mill Winery is an unusual combination of old and new. The Texas Mill and Elevator Company was built to meet the needs of the young town of Abilene in 1910. Situated between the two railroad tracks for ease in shipping when the railroad was the major transportation for freight, it originally milled flour then switched to grain, hay, and feed. As progress moved on, the mill shut down. It sat empty and desolate.
read Fork in the Road - Click Here
Happy Trails
Jefferson Davis in Kentucky
By Tom Straka
Photographs by Pat Straka
The two great leaders of the Civil War, Abraham Lincoln and Jefferson Davis, were both born in Kentucky, about100 miles apart. Lincoln's birthplace is now a National Historic Park, while the Davis birthplace is a state historic site. The site is located just off Interstate 24 in southern Kentucky (ten miles east of Hopkinsville in Fairview). It includes the fourth tallest monument in the country; or in terms of world records, the tallest poured in place concrete obelisk in the world (sitting on a foundation of solid Kentucky limestone). World record aside, it is pretty impressive. The small park and visitor's center/museum are interesting enough warrant an excursion off the interstate.
read Happy Trails - Click Here
Information Highway ( a different way to promote travel)
Take a Tour
Want to visit fun places but you are not sure what to see there? How about taking a tour that is like having a friend who knows that city well along to take you to the coolest places. You can do that for under $5 now.
read Information Highway - Click Here
Inn Roads
Small Hotel, Big Welcome: Dinah's Garden Hotel
By Kathleen Walls
Dinah's Garden Hotel bills itself, "A lush oasis in the heart of Silicon Valley." It certainly lives up to that promise. On a recent visit to Dinah's, John Hutar, the hotel's general manager, showed us around the gardenlike hotel grounds.
Museum Row
Back to the Future at Space Science Center
By Kathleen Walls
Want to take a trip to the moon or maybe Mars? Unless you are an astronaut or a very lucky multi-millionaire, it's not going to happen. That is unless you visit Coca Cola Space Science in Columbus, Georgia. I recently visited and it was a blast. Literally!
Off The Beaten Trail
A Taste of Grapevine
By Kathleen Walls
We've all familiar with Dallas and Fort Worth but did you know right in between those two Texas big names is one of Texas's best kept secrets, Grapevine? No matter your interest, there's something for everyone here whether you explore the streets of its historic downtown or sample the fruit of the vine on its urban wine trail. How's this for a typical day in Grapevine.
read Off The Beaten Trail - Click Here
On the Road with Grandma
Empress of the Seas: Small Ship, Great Getaway
by Roberta Sandler
If good things truly come in small packages, you and your grandkids should hit the road and head for a cruise port where you can embark on a cruise getaway on a smaller ship.
read On the Road with Grandma- Click Here
Photos from the Roadside
A Night of Opera and Nostalgia
by Jim DeLillo
It was a brisk Thursday night in New York, and I stood in awe of the towering glass windows before me – the sacred entrance to the Metropolitan Opera House. Clutched in my fingers was a ticket for that evening's performance of The Barber of Seville, a personal favorite.
read Photos from the Roadside- Click Her
Renee's Route
Finding Frederick Douglass in Baltimore
by Renee S. Gordon


Recently Trump commented, "Frederick Douglass is an example of somebody who's done an amazing job and is getting recognized more and more". His comment seems to indicate a lack of knowledge about Douglass and I thought I would begin my Baltimore journey tracing Douglass "amazing job" through sites in Baltimore. He lived in many places, including Canada and England, but Baltimore had a special significance for him.



read Renee's Route- Click Here
Renee's African Route
Southern Africa Sojourn, Johannesburg to Zimbabwe
by Renee S. Gordon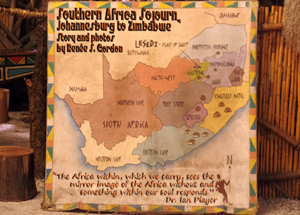 Johannesburg is not only a gateway to other regions in South Africa, it is also a portal to other countries on the African continent. The Oliver R. Tambo Airport, the largest in Africa, is welcoming, modern and easily navigated. Oliver Tambo, after whom it was named, was the president of the African National Congress (ANC) from 1967-91. Accessibility and ease of transport make Joburg a natural stop to rest, regroup and explore the country's unique history prior to embarking on additional adventures.
read Renee's Route- Click Here
Renee's International Route

Turks and Caicos, Paradise Regained
Renee S. Gordon
Turks and Caicos Islands (TCI) is an archipelago of pearls strung out south of the Bahamas and 600-miles from Florida. The eight large, and more than ninety smaller islands, are situated on a plateau, surrounded by the Atlantic Ocean and a pristine barrier reef. Two distinct island groups make up this British Overseas Territory, Turks Islands includes Grand Turk and little Salt Cay, and Caicos Islands comprised of East, West, North, South, and Middle Caicos. Of these only five of the large islands and a few little ones are inhabited, offering visitors a huge number of deserted beaches and cays to choose from for an even more private getaway.
read Renee's International Route- Click Here
Scenic road
Dothan's Murals
By Kathleen Walls
Dothan, Alabama is a small city with a big story. It's the heart of the Wiregrass Area. Dothan's murals tell the story of the Wiregrass Area and even of the state of Alabama.
See the USA with Warren
Discover Louisiana North
by Warren Resen

The State of Louisiana goes by many names: The Bayou State, Pelican State, Sportsman's Paradise, Sugar State, and Creole State among others. Rather than a case of multiple personalities, it is a testimonial to Louisiana's diversity.
Tibbs Trails and Tastes
Wisconsin Northwoods: Connect To Lakes, Forests, Lodges
by Christine Tibbets
Woods are everywhere in the Wisconsin Northwoods with lakes chained together in intriguing, accessible ways. Figuring out how to fully experience both calls for immersing in the charms of a dozen hospitable communities.
Traditional Trail
A Good Trip to Goodwood Museum and Gardens
By Kathleen Walls
Goodwood Museum and Gardens began life as an elegant cotton and corn plantation. It witnessed history, the Civil War which forever changed life in the South, and personal turmoil.
read Traditional Trail- Click Here
Travel Without Borders
Costa Maya: the festive side of Mexico
By Roberta Sandler
Western Caribbean cruises frequently include a port stop in Cozumel, Mexico, but in recent years, another port has become part of the itinerary: Costa Maya.
Read Travel Without Borders - Click Here
War Trails
On The Trail of Lawrence in Jordan
By Kathleen Walls
This April we commemorate the entrance of the United States into WWI. Almost all countries were impacted by WWI but one that I recently visited played a unique part in the war. We often feel that one person who is neither a king or ruler or even a high-ranking official can't have much impact on history or world events. But one "little" person did have a tremendous effect on the events that transpired in that war and perhaps still influence world conditions today. T.E. Lawrence was a young British army sent to the Middle East before American became involved in the war. He was a slim wiry young man that stood about 5'5" but he cast a tall shadow over future world events. The world remembers him today as Lawrence of Arabia.
Weekend Explorer
The Heritage Trails in Northern Indiana Amish Country
By Kathy
Barnett
It's what connects the circle of communities together. Each is different in its own way. However, they all celebrate many things in common, like the famous quilt gardens. Together, they make one of America's most scenic drives. It doesn't matter which town you start in as each one offers visitors delicious dining, unique shopping, relaxing accommodations, and fun events for the whole family to enjoy.
read Weekend Explorer- Click Here
Public Disclosure-- Please Read
I recently learned of a law requiring web sites to let their readers know if any of the are "sponsored" or compensated. We also are to let readers know if any of our links are ads. Most are not. They are just a way to direct you to more information about the article where the link is placed. The hotel link on this page is a paid link, however it is one I feel is very helpful in booking a hotel. I think readers are smart enough to know an ad when they see one but to obey the letter of the law, I am putting this statement here to make sure everyone understands. American Roads and Global Highways may contain affiliate links. Further, as their bios show, most of the feature writers are professional travel writers. As such we are frequently invited on press trips, also called fam trips. On these trips most of our lodging, dining, admissions fees and often plane fare are covered by the city or firm hosting the trip. It is an opportunity to visit places we might not otherwise be able to visit. However, no one tells us what to write about those places. All opinions are 100% those of the author of that feature column.