2-2020
There was a time, not so long ago, when travel was a luxury for those with time, money and imagination but creative minds and the internet have altered that narrative. Today you can travel from anywhere to interesting places and see sights that once you only heard about. In these times of sheltering in place the ability to access information, virtually visit national and international destinations and in some cases experience them interactively, is priceless. If you are homeschooling or in need of a family activity or for sheer entertainment, there are a plethora of places waiting for you to log on and start your learning adventure. You can bring the world into your home and here are a few national sites to start pique your curiosity.


Google Arts & Culture
https://artsandculture.google.com/
This site is absolutely mindboggling and I highly recommend it for your initial journey into the virtual universe. This nonprofit project was launched, in the form of an online platform, in 2011. It began with 17 international museums and currently showcases works from greater than 2,000 worldwide museums and archives. The site offers, among other highlights, access to 360-degree videos, virtual tours of famous locations and thematic and personalized walking tours. The overarching goal of the initiative is to place the world's cultures, heritage and wonders at your fingertips and accessible to everyone. You can chose to start at the beginning with a 3-D visit to a 36,000-year old art gallery, the Chauvet Cave. artsandculture.google.com/project/chauvet-cave
The British Museum
artsandculture.google.com/partner/the-british-museum
The British Museum was established by Parliament in 1753 and welcomed visitors in 1759 as the first, free, national museum to interpret knowledge of all the fields of human endeavor and culture. The foundation of the museum's holdings were the 70,000 item, 'natural and artificial rarities', volumes, manuscripts and coins collected by Sir Hans Sloane purchased in 1753. He had financed his collection partially with profits from Jamaican plantations. The Cotton, Harley and Royal Libraries were also purchased at that time. The current collection contains 8-million objects, approximately 2,335,338 in an online database. Highlights of the collection include the Rosetta Stone, The Mausoleum of Halikarnassos, Parthenon sculptures and Egyptian hieroglyphics. britishmuseum.org/research/collection_online/search
The Egyptian Museum
https://artsandculture.google.com/entity/egyptian-museum/m019pjh
The current museum in Tahrir Square dates from 1897, opening in 1902. In 107 halls the museum exhibits the recently unearthed mummy of the female pharaoh Hatshepsut, monumental sculptures, jewels, funerary objects and 1500 treasures from Tutankhamon's tomb including the 24.5-lb gold mask. A new, $1-billion, museum is scheduled to open later this year that will include those treasures and more and a series of narratives. The new museum is on the Giza Plateau overlooking the pyramids.
The Louvre
https://www.louvre.fr/en/visites-en-ligne
A 12th-century fort once stood where the Louvre is today and a portion of the current structure dates from that time. Until the late 1800s it was home to the heads of state. Today it is the most visited art museum in the world, largely because of the acquisitions of the Winged Victory of Samothrace and the Mona Lisa. The Louvre provides virtual tours of its permanent collection that include a map. Mona Lisa can now visit you.
The State Hermitage Museum
hermitagemuseum.org/
St. Petersburg, Russia's State Hermitage Museum began in 1764 when Catherine the Great acquired the 225 piece art collection of a Berlin merchant, Johann Gotzkowsky. It was then a private gallery for her collection adjoining the Winter Palace. Nicholas I reconstructed it and opened the imperial collection to the public (1840-52) and after the 1917 revolution the collection was owned by the state. The majority of the collection is housed in the Winter Palace, former home of the Romanovs, but the museum consists of 5 connected buildings. A virtual visit here is a must for the art and architecture.
Rijksmuseum
https://www.rijksmuseum.nl/en
The Netherlands national museum, The Rijksmuseum, opened in The Hague in 1800 and relocated to Amsterdam in 1808. After several moves a specific building was constructed to house the collection and opened in 1885 to Protestant criticism of its Neo-Gothic style. This huge edifice exhibits the world's largest collection of Dutch art. Fourteen virtual tours are offered including one in which you step inside Rembrandt's 1642 The Night Watch.


The Smithsonian Institute
si.edu/openaccess
In 1829 James Smithson left a will that stated should his sole heir die childless, as he did in 1835, his fortune was to be left to the US to establish the Smithsonian Institute in Washington, DC. He had suffered as a duke's illegitimate son and, though he became a renowned scientist, he was never accepted into society. Having never been to the US he left his fortune of $500,000 ($15.5-mllion) to the country. Today the complex is the world's largest museum and consists of a National Zoo and 19 museums displaying 150-million objects. Smithsonian Open Access allows you to download, share, and reuse millions of the Smithsonian's images. This includes images and data from across the Smithsonian's museums, research centers, libraries, archives and zoo. nmaahc.si.edu

Right about now you might be in the mood for a little exercise. Think big! The entire world is at your fingertips.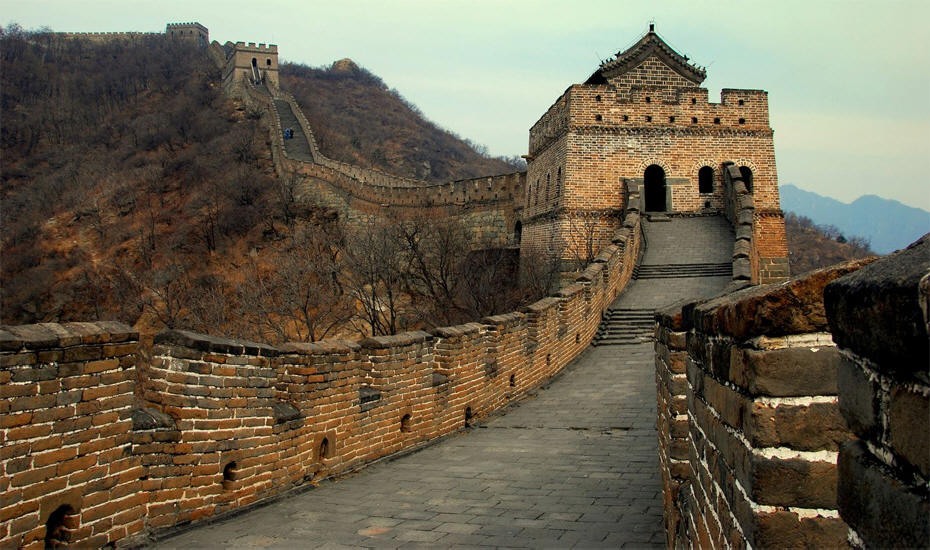 The Great Wall of China:
thechinaguide.com/destination/great-wall-of-china
The Great Wall is the longest man-made structure, 13,701.7-miles, in the world and is more than 2, 300-years old. It crosses 9 provinces and traverses a variety of terrains. Chinese Emperor Qin Shi Huang began constructing the wall and watchtowers to protect his northern borders. He ordered that a single strong wall be built with lookout towers from which soldiers could guard and protect the empire. More than 3,000-miles are accessible and it has been visited by hundreds of heads of state. You can take a virtual walk on the Great Wall.

.

Renee Gordon has written a weekly travel column for the Philadelphia Sun Newspaper for the past fifteen years and has published articles on local, national and international travel in numerous publications. Her columns focus on cultural, historic and heritage tourism and her areas of specialization are sites and attractions related to African American and African Diaspora history. Renee has been a guest radio commentator on various aspects of tourism and appeared in a documentary, "The Red Summer of 1919". As an educator for thirty years she was an English teacher, event and meeting planner, served as an educational consultant and intern-teacher mentor. She contributed to textbooks on women's history and classroom management and has facilitated workshops on both subjects. Renee considers herself a "missionary journalist" and as such she continues to promote heritage and sustainable tourism.
2013 Recipient of African Diaspora World Tourism Flame Keeper in Media Award for Travel Writing
Affiliations
IABTW- International Association of Black Travel Writers
PBJ - Progressive Black Journalists
We'd love your comments!
ad
Connect with us on:
American Roads and
Global Highways has so many great articles you
may want to search it for your favorite places
or new exciting destinations.