Published 6-20-2019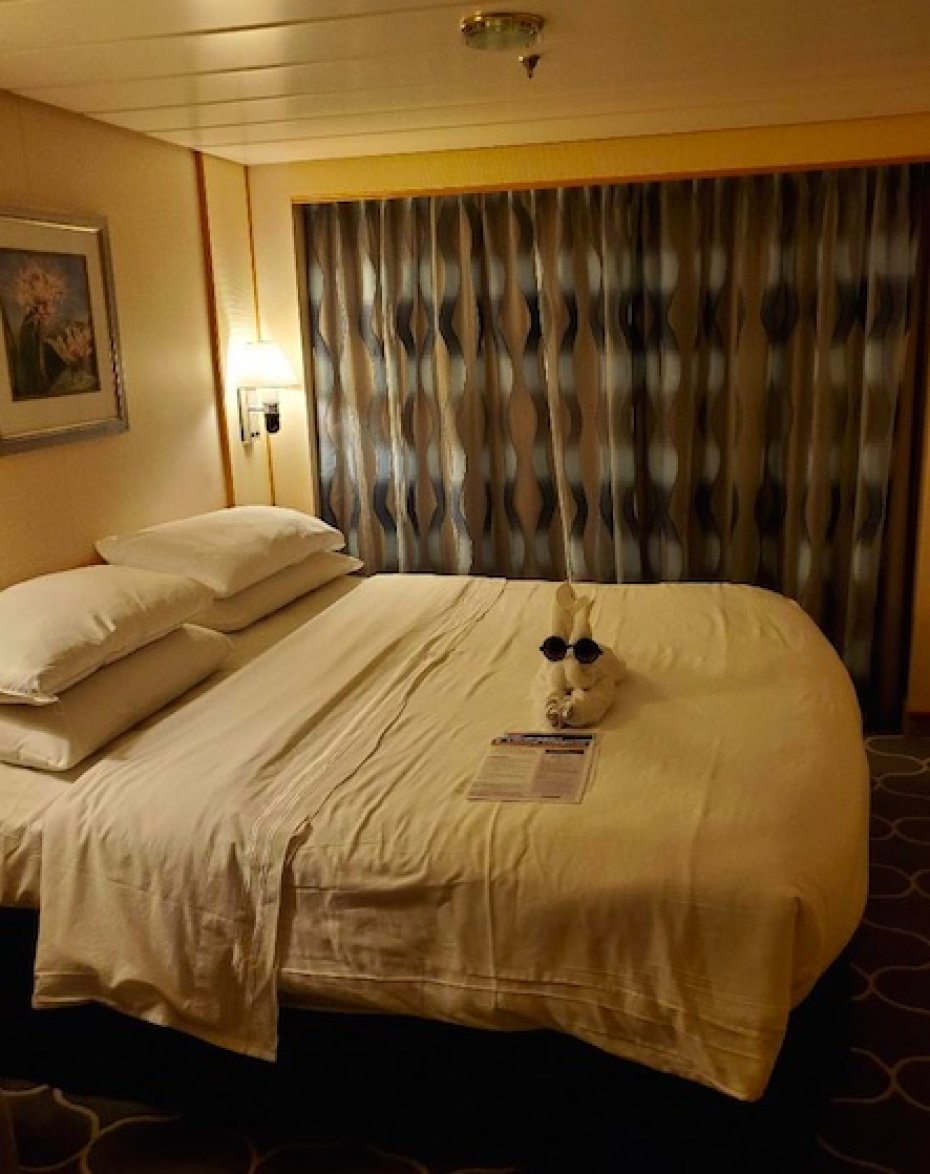 Royal Caribbean International Cruise Line's first passenger ship, The Song of Norway, set sail in 1970 heralding the launch of the line. Over the ensuing years Royal Caribbean has consistently been on the cutting edge in all phases of the industry, technology, design, art, architecture, personalized service, entertainment, amenities and environmental responsibility. As a result of this attention to detail Royal Caribbean has been voted, for 16 consecutive years, "Best Cruise Line Overall" in the Travel Weekly Readers' Choice Awards.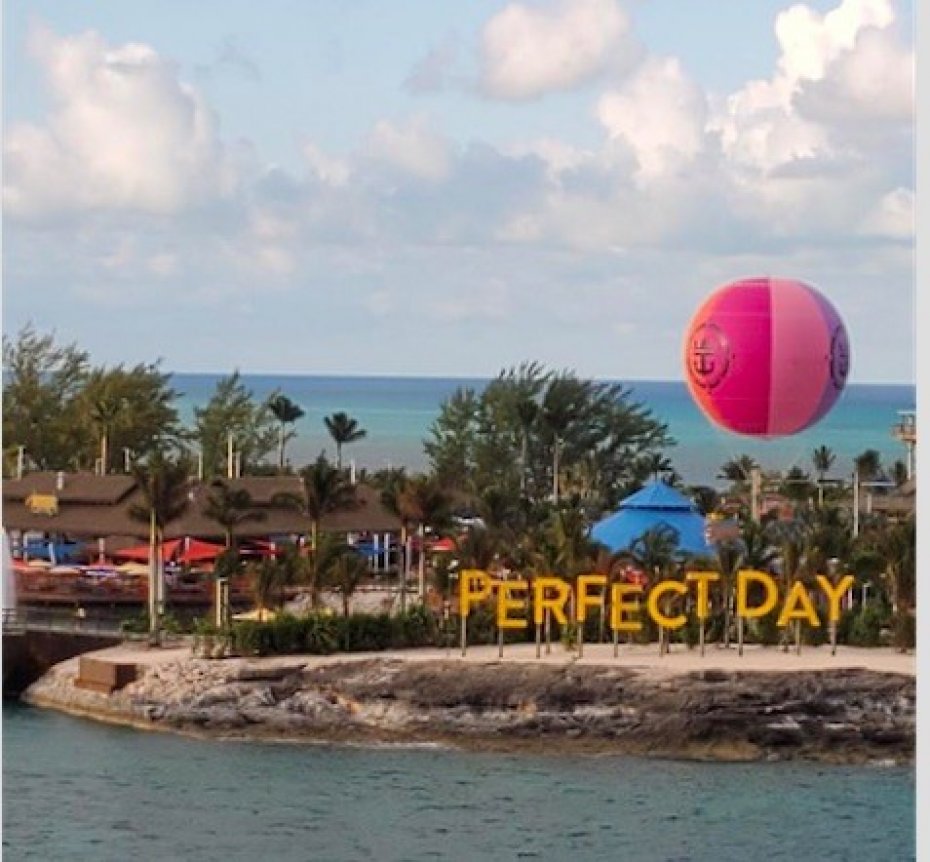 In 1986 Labadee, a Haitian island in the Eastern Caribbean, was leased for use as a port and private resort for Royal Caribbean's guests. Labadee's success led to the 1988 purchase of Little Stirrup Cay, part of the Bahamas' Berry Islands chain. Early private island cruise ports featured more natural settings but that experience evolved into one emphasizing the ability for visitors to craft their own ideal vacation and Little Stirrup Cay, christened Coco Cay in 1990, is perfect. The white sand island, one-mile long and 1/3-mile wide, is now the venue for the "Perfect Day at CocoCay". Coco Cay is the first in a planned international collection of Perfect Day Island destinations.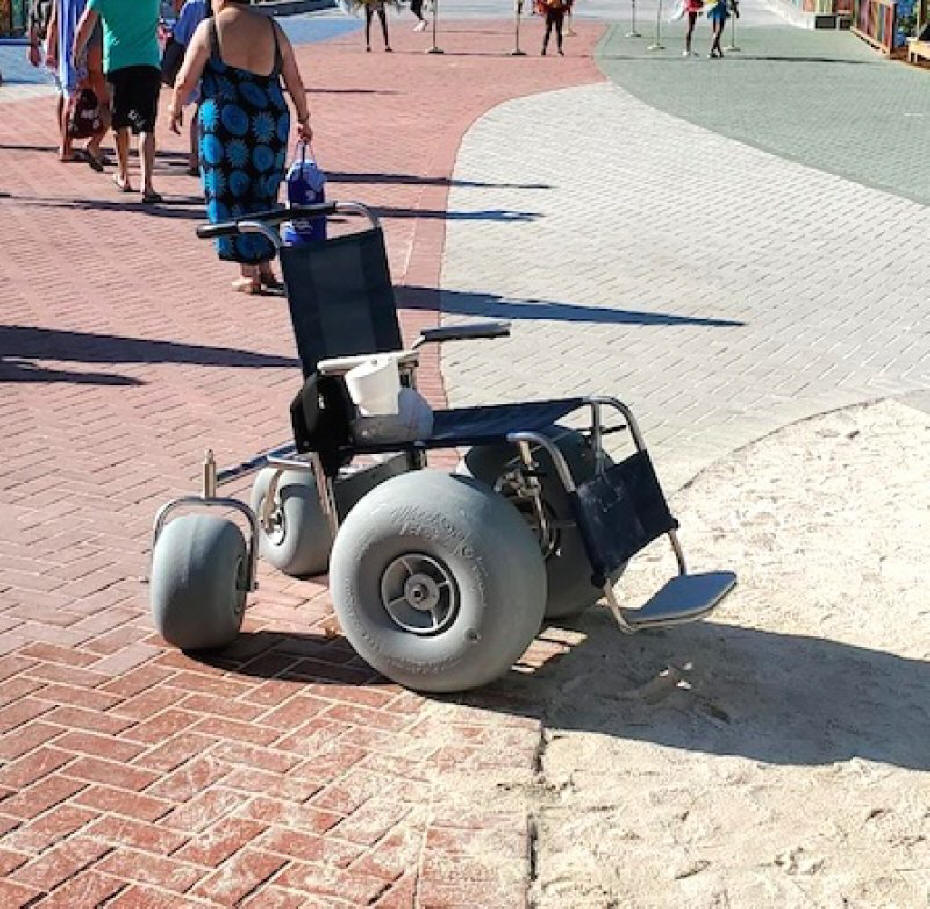 The revitalized design of Coco Cay places emphasis on creating a perfect experience that has an all-encompassing range of activities for all ages, interests and ability levels. The island is walkable and beach wheelchairs and a regularly scheduled tram service are available. Visitors have ready access to lockers, changing rooms, restrooms and a First Aid Station. CocoCay's $250-million make-over includes a pier that allows guests to step off the cruise ship and onto a promenade featuring great views, photo ops and lined with Bahamian entertainers and welcoming staff members ready to help you make the most of your perfect day.


The resort is constantly expanding and Sports Courts and Coco Beach Club, with overwater cabanas, is scheduled to open in December. Currently Chill Island, Harbor Beach, South Beach, Oasis Lagoon and Thrill Waterpark are accepting guests and shopping opportunities in the CocoCay Shop and CocoCay Island Market are located in the heart of the island. There are three complimentary dining venues and four bars including Oasis Lagoon's swim-up bar with 23 in-water seats and underwater music.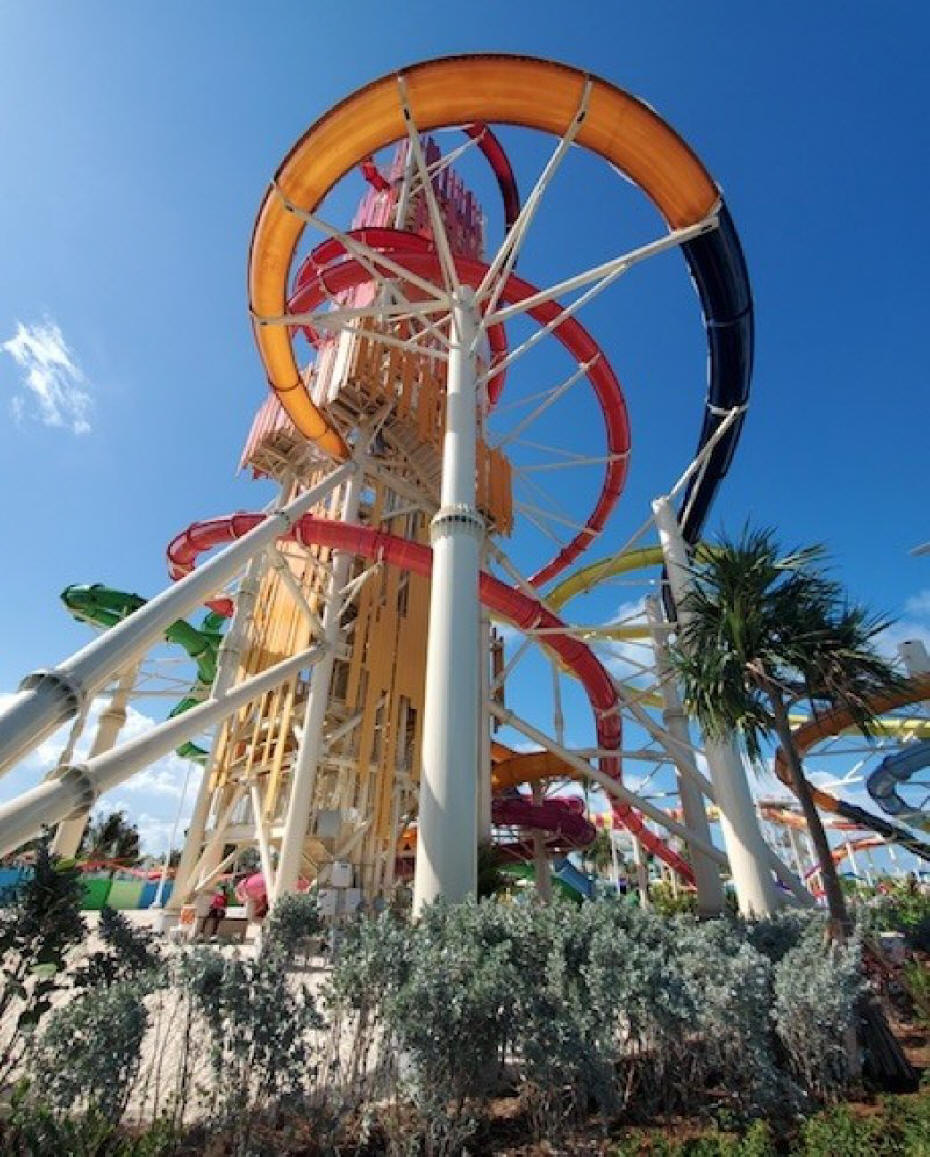 The attractions are designed to take you to the next level and they begin at the entrance. At the end of the promenade guests get to start with a thrill or chill. Chill Beach is to the left and Thrill Waterpark is to the right.
Captain Jill's Galleon, in the center, is reminiscent of a pirate ship but it is replete with waterslides and water cannons. Only steps away Thrill Waterpark boasts 13-waterslides, Daredevil's Peak the 135-ft. tallest waterslide in North America and the Caribbean's largest wave pool. Adventure Pool, a water-based obstacle course, showcases a rock-climbing wall.


Zip Line Takeoff is a 1,600-ft. long ride that zips you above the island. Reservations are recommended. Up, Up and Away is a thrilling, but relatively tame, tethered hot-air balloon ride. The 12-minute ride can soar as high as 450-ft. but be aware that the altitude and if rides are available at all is determined by the wind currents. The balloon offers the highest viewpoint in the Bahamas. Reservations are recommended. Guests may also choose from a menu of adventure tours including snorkeling, scuba diving and even swimming with pigs.


CocoCay is a private destination for Royal Caribbean guests exclusively. Sailings depart from Florida and the Northeast on a selection of 11 different ships. The Bahamas & Perfect Day trip is perfect for all ages of travelers as well as a girlfriends' getaway, honeymoon, reunion, anniversary, birthday or for simple rest and relaxation. Comprehensive information is available online including departures, shore excursions, schedules, pricing and reservation tools. www.royalcaribbean.com/cococay-cruises

What are you waiting for, curate your perfect day!

.

Renee Gordon has written a weekly travel column for the Philadelphia Sun Newspaper for the past fifteen years and has published articles on local, national and international travel in numerous publications. Her columns focus on cultural, historic and heritage tourism and her areas of specialization are sites and attractions related to African American and African Diaspora history. Renee has been a guest radio commentator on various aspects of tourism and appeared in a documentary, "The Red Summer of 1919". As an educator for thirty years she was an English teacher, event and meeting planner, served as an educational consultant and intern-teacher mentor. She contributed to textbooks on women's history and classroom management and has facilitated workshops on both subjects. Renee considers herself a "missionary journalist" and as such she continues to promote heritage and sustainable tourism.
2013 Recipient of African Diaspora World Tourism Flame Keeper in Media Award for Travel Writing
Affiliations
IABTW- International Association of Black Travel Writers
PBJ - Progressive Black Journalists
We'd love your comments!
ad
Connect with us on:
American Roads and
Global Highways has so many great articles you
may want to search it for your favorite places
or new exciting destinations.