"There is no law west of St. Louis and no God west of Fort Smith."
People tend to forget that America's frontier changed over time. The earliest European settlements were along the coast and gradually settlers and explorers, following Indian trails and waterways, moved inland. Early 18th-century events opened the Louisiana Territory and made western Arkansas the frontier, the last stop between "civilization" and Indian Territory and from 1817 until 1897 Fort Smith was the westerly outpost of law and order.
There is no archeological evidence that there were permanent native villages in the area prior to the establishment of Fort Smith in 1817. It was situated at what was known as La Belle Pointe, where the Arkansas and Poteau Rivers met, and named after General Thomas Smith. The log structure was 132-ft. square with 10-ft. walls and was tasked with maintaining peace among the Indian tribes, preventing whites from encroaching on the Indian Territories and keeping Arkansas Territory settlers from harm. The US Army abandoned the first fort in 1824.
Urged by white settlers work was begun on a new fort in 1838. The new fort was built of stone and surrounded by an eight-ft. stone wall. Two years later, future US president, Col. Zachery Taylor, took command and in 1845 it became a supply depot. During the Civil War the Confederates held the fort until they abandoned it in August of 1863. Union forces then held it for the remainder of the war. Black regiments were stationed there and it was a base for U S Colored Troop recruitment.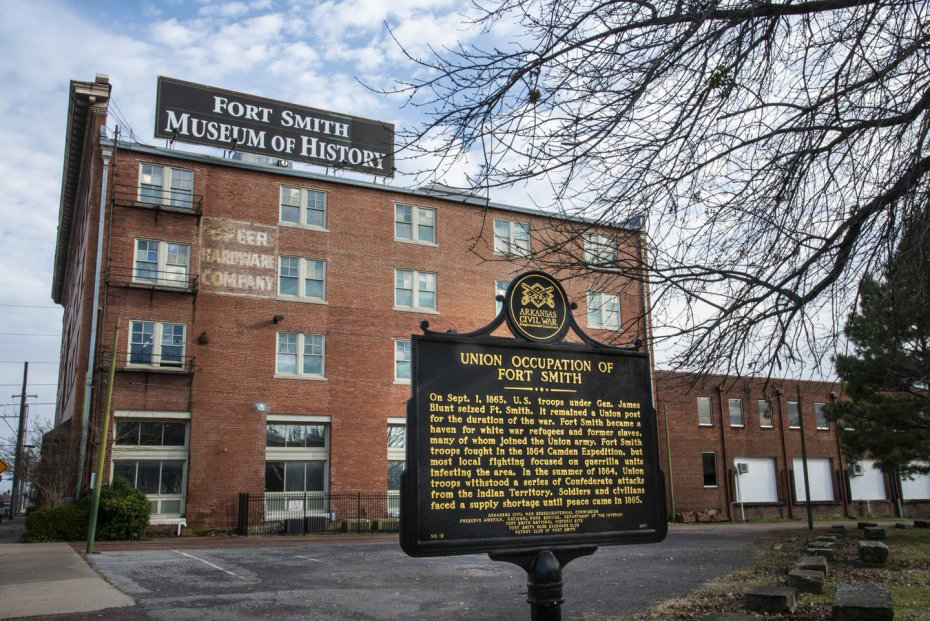 Possibly the most famous of Parker's federal marshals was a former slave named Bass Reeves. Born in Arkansas in 1838 his owner, William Reeves, moved to Texas when Bass was 8. At the outbreak of the Civil War Bass was forced to accompany his owner's son George to war as his body servant. Bass took this opportunity to flee to Indian Territory and live among the Creeks and Seminoles and learn their traditions and languages.
Because of these skills, his ability with a gun, his tenacity and fearlessness, at the age of 38 he was named the third African American marshal and the first west of the Mississippi. He was ambidextrous and was an expert marksman with either hand but with all his abilities he could neither read nor write and after having someone read him the warrants he would memorize them. During his 32-years as a deputy he is credited with arresting 3,000 miscreants and killing 14 in the line of duty. Bass stood 6'2" tall, weighed less than 200-lbs. and arrested blacks and whites alike. Records indicate that in 1882 Bass arrested Belle Starr, the Bandit Queen, once brought in 19 horse thieves at once and in 1902 arrested Benny Bass, his son. Benny had murdered his wife and run away but Bass arrested him and brought him back for trial. He was sentenced to 20-years in Leavenworth.
When Reeves marshaling career ended in 1907 he joined the police force in Muskogee, Oklahoma where he died in 1910. In November of 2011 the bridge over the Arkansas River connecting Muskogee and Fort Gibson was named in honor of Reeves who served longer than any other US Deputy Marshal and captured more criminals. Bass Reeves' story has been told and retold but the real man rarely receives the credit. The movies using elements of Bass' life include Hang Em High and The Naked Spur.
On May 26, 2012 Ross Pendergraft Park became the home of a 12-ft. bronze, equestrian, statue, the Bass Reeves Legacy Monument. Reeves, rifle at the ready, is accompanied by his faithful dog. The $300,000 sculpture was created by Harold Holden in Norman, Oklahoma and traveled with an escort of law officers from more than one dozen different agencies, the 168-miles. Reeves' fame in the area is such that the statue was funded completely by private donations.
Just as Parker's marshals were legendary, so too were the criminals they captured and incarcerated at Fort Smith. The worst of the worst fled into Indian Territory because it was so vast and odds of capture appeared slim. The court also had jurisdiction over Arkansans, blacks who were Native American freedmen and the Arkansas-Oklahoma Indian Territory. Although Parker was known as "hanging judge" he was considered fair, was a believer in Indian rights and never attended a hanging.
Note: This is an updatred version of a 2013 story.